LepideMigrator for Exchange
If you're thinking of migrating your Exchange and/or Office 365 environment then you've come to the right place. Now, sure you can do it manually – provided you have time on your side and nerves of steel but we believe there's a better way. Our entire aim when we created our LepideMigrator range was to deliver the fastest, most cost effective and simplest means of migrating to and from Exchange and Office 365 – and we think we've done a pretty good job – and more importantly, our customers and our MVP associates think so too.
Free trial
Get Quote
Demo Request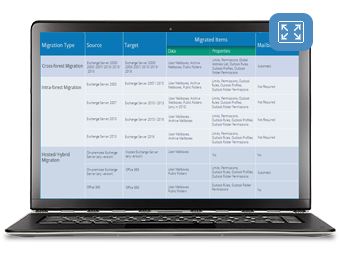 We cover migration within all types of Exchange deployment scenarios
Supported Exchange Migration Scenario's include:
Cross-forest Migration
Intra-forest Migration
Hosted/Hybrid Migration

We migrate both to and from Exchange 2003/ 2007/ 2010/ 2013/ 2016

From Exchange 2003 to 2007/2010
From Exchange 2007 to 2010/2013
From Exchange 2010 to 2013/2016
From Exchange 2013 to 2016

From any on-premises Exchange Server to Hosted Exchange Server (any version)
From any on-premises Exchange Server to Office 365
Office 365 to Office 365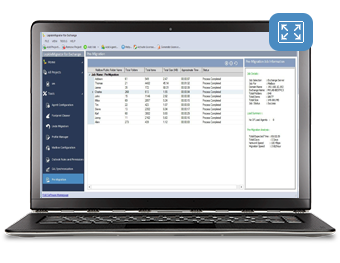 We provide pre-migration analysis help you plan your migration
One of the biggest challenges with Exchange migration is working out the most effective method. To help overcome this we provide a pre-migration analysis feature. We ask you a few situational questions such as network speed and the number of systems you want to utilise. We gather information about the items you wish to migrate, analysing things such as item counts, mailboxes and Public Folder sizes. We then present you with a detailed summary of relevant migration scenarios.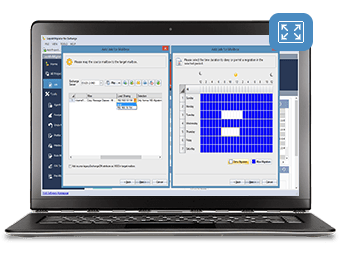 We enable you to spread the load of the migration across multiple systems
We can utilize the processing power of any networked computer to speed up the Exchange Server migration by sharing the load. This is particularly useful when carrying out larger migration projects. We can also split the migration out into stages and create a schedule to automatically run whenever suits you best. You can even specify blackout times to avoid any potential user or resource disruption.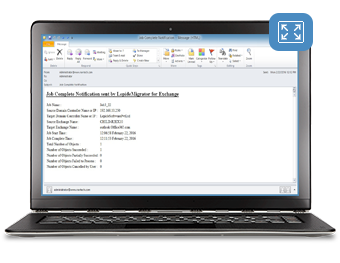 We provide alerts and reports to help you track the status of the migration
We offer real time alerts either via the console or delivered to any email account you specify to keep you aware of the migration progress. These alerts will give you important summary reports showing job status, job success or job failure.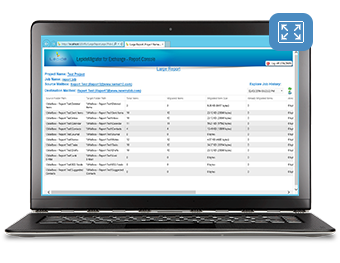 We provide a web based reporting console
Often users, other than the administrator, are interested in the Exchange migration progress but should not have access to the actual migration console. Our web console allows users with the right administrative permissions to see the exact migration status with the right details about what is being migrated, remaining tasks, options to start/stop the migration and much more.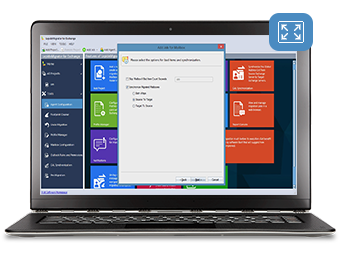 We allow Exchange migration in co-existence mode
To minimize disruption, we support co-existence on changes to new and existing items such as calendar entries, invitations, schedules, contacts etc. Throughout the migration we support complete two-way synchronization from source to destination and destination to source.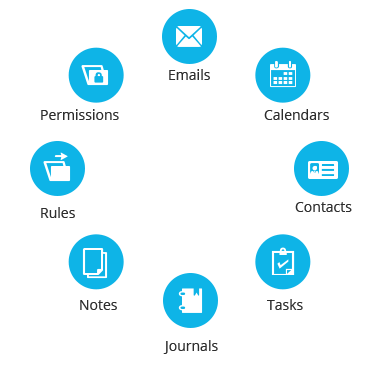 We migrate everything to ensure no impact to the end user
This solution doesn't just migrate mailboxes and Public Folders. It migrates outlook rules/folder permissions, outlook profiles, the mailbox and Public Folder permissions along with the entire Global Address List. The user will not experience any disruption during the process.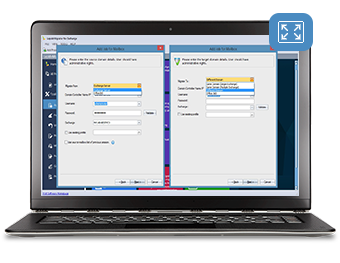 We can migrate to and from any version of Exchange or Office 365 with ease
We're completely agnostic of Exchange versions. We can migrate any version of Exchange to any other version of Exchange. Likewise, we can migrate to and from Office 365 along with Office 365 to Office 365. Read more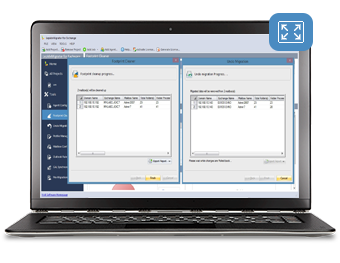 We provide migration roll back
After the migration has been completed you may wish to undo specific changes. With LepideMigrator you can roll back tasks within the migration project at the click of a button.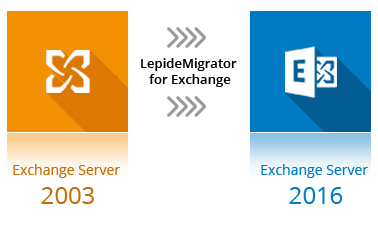 We migrate Public Folders without having to 'double hop'
It's common for Public Folders to sprawl out of control both in terms of size and number of folders, and as you've probably discovered Exchange Public Folder migration can be a little laborious with native tools. This is especially true if you have legacy Exchange servers where your only real option is a double hop migration. Our approach to Public Folder migration is simple and effective and we take these pains away. Read more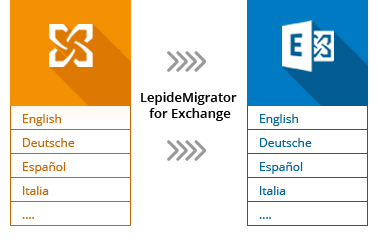 We support multiple languages
We support the migration of all languages and characters, so whatever language your source and destination mailboxes are in – we will migrate them.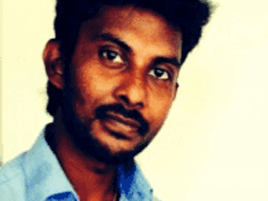 Kingson Jebaraj

Microsoft MVP
"With more and more organizations looking to migrate to Office 365, Lepide has designed LepideMigrator for Exchange to be an effective solution for carrying out the task quickly and easily."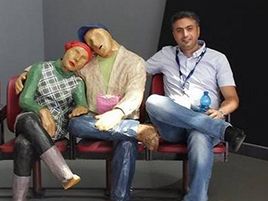 Yaniv Totshvili

Exchange MVP
"I believe, LepideMigrator for Exchange is one tool which I, as an Exchange Server administrator, will definitely keep with me if I have to do any Exchange migration."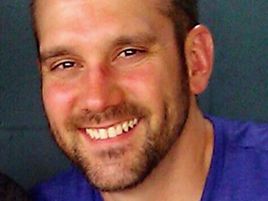 Stacey Branham

Microsoft Enterprise Messaging Expert
"Using the Lepide Exchange Migrator makes Exchange migrations from end-to-end a breeze and I don't ever want to migrate without it!"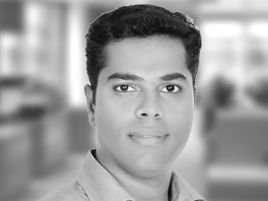 Krishna Kumar

Ex. MVP
"Migration using a 'LepideMigrator for Exchange' is much simpler to configure and manage than a native migration tool. It provides option to migrate the account with SID History and also copy the password from the source to target account..."
"LepideMigrator for Exchange is a reliable solution that migrates easily without any issues."
Jonathan Ngu (Solution Architect - STAR21 PTY LTD)
"LepideMigrator for Exchange is cost-effective, feature rich and easy to use. We would recommend it to anyone in a similar situation as ours."
Tariq Mir (IT Manager - Moby Media Group)
"LepideMigrator for Exchange was very easy to install, use and manage. The support they provided in the early stages of use was very helpful."
Dan Wright (Managing Director - SaberVox)
"Very simple in all aspects. Through utilizing the Lepide Exchange Migrator, we were able to successfully migrate our Public Folders with ease via the seamless and informative GUI."
Matt Ellis (Dept. of IT - Wyoming Authority)
"Overall the experience has been great. The solution was very easy to install and use, and the support and sales staff at Lepide were very helpful."
Justin Cooper (Systems Administrator - CRC Insurance Services, Inc.)
#ChoseLepide