Group Policy Auditing with LepideAuditor Freeware Edition
Group Policy Objects offer IT admins a centralized way to manage the resources and settings of their IT infrastructure. A slight error in these settings can have serious repercussions to the security of your organization. With LepideAuditor Freeware for Group Policy auditing, you can get valuable insight into the changes being made to Group Policy Objects to help overcome the limitations of native auditing methods.
Freeware Features

Easy-to-use
LepideAuditor Freeware is easy to install, configure, and use. After adding the domain, you can view the changes made to Active Directory and Group Policy Objects in the predefined report. It is also very easy to modify the listing of an added domain.

Instant Visibility
Predefined audit reports show all changes that have been made, and the Radar Tab will show the detail for all changes made to Group Policies in general.

Noise-free auditing environment
Our solution records every change made to Group Policies and processes the raw log to convert them into intelligent audit data. This audit data is stored and displayed in the predefined report. Only one audit entry is displayed for one configuration change or user activity.

Better than Native Auditing
Relying on native auditing for Group Policy isn't practical. To help you identify threats to your IT security faster, LepideAuditor Freeware provides you with easy-to-generate details on configuration changes and user activities.
"All Environment Changes" report gives information on configuration changes made to Group Policy Objects.
Also, you get answers to the 'when and where' questions, essential for auditing.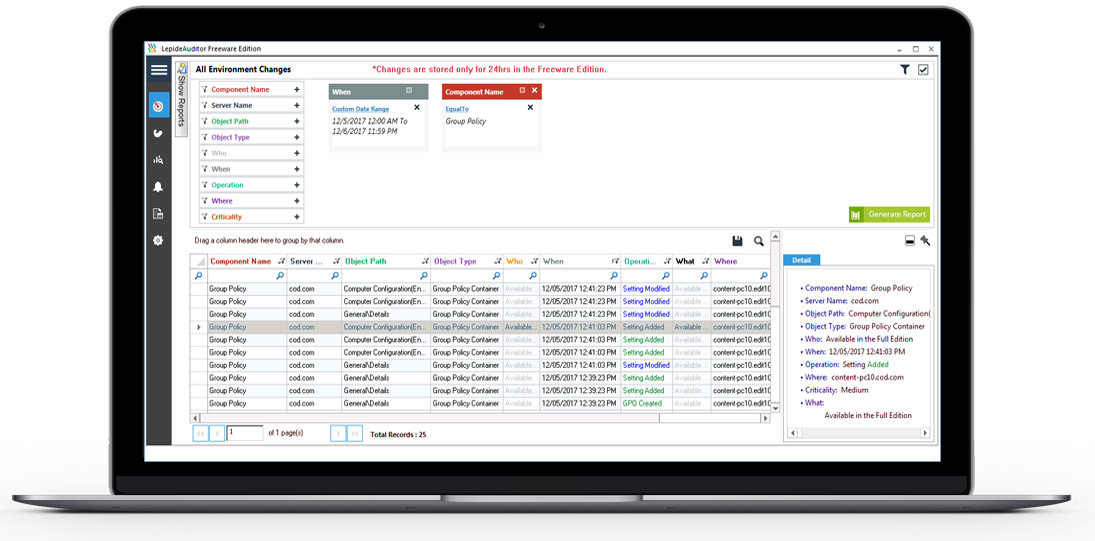 Compare Freeware Edition of Lepide Group Policy Auditor to the Enterprise Edition
| Functionality | LepideAuditor Freeware Edition | LepideAuditor Enterprise Edition |
| --- | --- | --- |
| Configuration changes in Group Policies | | |
| Before and after values for all changes | | |
| All Environment Changes Report | | |
| Multiple predefined audit reports | | |
| "When" and "Where" details of the events that are reported | | |
| "Who" and "What" details for each reported event | | |
| Customizable Radar Tabs | | |
| Run multiple instances of the solution | | |
| Compliance reports (HIPPA, PCI, FISMA, GLBA, SOX, and GDPR) | | |
| Available Report(s) can be saved in CSV, PDF MHT formats | | |
| Report Scheduler to share the reports | | |
| Real-time alerts | | |
| Alerts sent as updates to LiveFeed, as email, or as push notifications to LepideAuditor App | | |
| Connectivity to LepideAuditor App (available for both Android and Apple platforms) | | |
| Backup and restore the state of Group Policy objects | | |
| Long-term Storage of Audit Logs | | |
| Archive audit logs | | |
| Import data from archive | | |
| Secure Web-based Report console | | |
| Role-based Delegation to users to access Audit Reports | | |
| Console auditing | | |
Read more about Lepide Group Policy Auditor Enterprise Edition
❝ LepideAuditor has brilliant search capabilities and was easy to use from the perspective of a non-technical end user – highly recommend it.❞

❝ LepideAuditor provided us with complete visibility over what was happening in our IT environment in a simple, cost-effective and scalable way.❞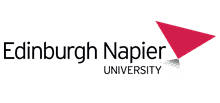 ❝ We're very pleased with how much more insight LepideAuditor gave us and impressed with the attentive customer service they provided.❞

❝ LepideAuditor takes the strain out of change auditing and regulatory compliance with one of the most comprehensive solutions on the market. ❞