LepideAuditorTM
LepideAuditor is a simple, cost effective and scalable solution to audit and monitor changes that take place across Active Directory, Group Policy, Exchange, SQL Server, SharePoint, File Servers and Office 365 (Exchange Online). It provides the easiest yet most comprehensive means of answering critical questions pertaining to 'who, what, where and when' changes are made. It provides audit detail in a single log showing a single change in either a meaningful report direct to the console or a secure web portal or through a series of detailed real time alerts. LepideAuditor also comes with a number of invaluable inbuilt features to help keep track of inactive user accounts, remind users when their passwords expire and restore and rollback specific changes made to Active Directory and Group Policy in just a single click. LepideAuditor is designed to address common auditing and monitoring challenges faced by IT operations managers, systems administrators, IT security managers and Audit & Compliance personnel.

Insider threats, data breaches, privilege abuse and ransomware all taken care of.

Maintain system uptime, restore unwanted changes and troubleshoot user management issues.

Easily meet all manner of compliance requirements, including GDPR, HIPAA, SOX and more.
Using our intuitive 360 dashboard we give you a birds eye view of your whole environment. You can see instantly see a summary of the total number of changes made to each platform, total number of changes per administrator, changes by source and even changes by trend to help you identify change / event anomalies. The 360 dashboard also shows you critical information pertaining to the performance of specified servers to help you identify and potential continuity or performance issues. And our 'Pièce de résistance' is our LiveFeed feature at the lower half of this dashboard which shows you all changes being made - as they happen.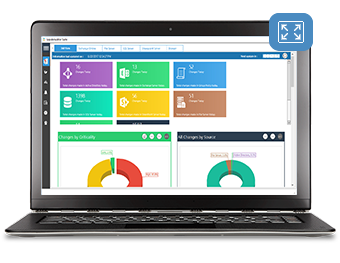 Our advanced reporting console offers over 300 pre-set reports to help with a whole range of systems management, security and compliance challenges. We make it easy to quickly identify the all-important 'who, what, where, when and from' associated with any change and provide complete query and drill down functionality. The solution allows you to schedule any of the reports to automatically deliver to any specified email address. All reports can be viewed either directly in the main console or through a separate and secure web based console on a delegated basis. Delegating specific reports to specific users ensures complete security and peace of mind that the right people have the right access to the right audit data. All of our reports are offered in a variety of formats such as PDF, CSV or MHT.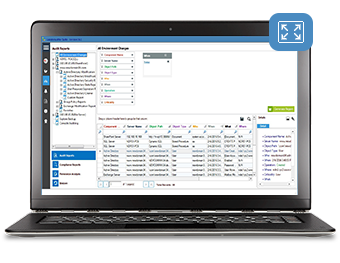 Half the battle for IT teams is ensuring they understand WHEN things are happening. With this information they can make relevant decisions as to whether action is required. To address this we offer two different types of real time alerts. We can either offer an alert based on a single condition, or a single event or we offer threshold based alerts where you can define a policy for when you want an alert to be sent. For example, we can alert you based on a multiple event occurrence over a pre-defined time and date criteria. This helps potentially spot suspicious behaviour or anomalies within environment. LepideAuditor gives you the option to automatically run a customized script whenever a selected critical change is detected in your IT environment. A user can create VBScripts, PowerShell Scripts and DOS-based .BAT files in order to automate many actions.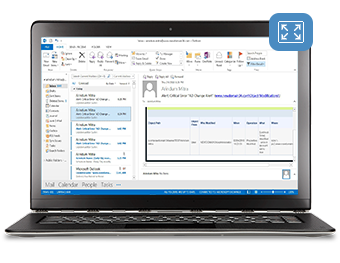 LepideAuditor mobile app is designed to work on iPhone, iPad or any Android enabled device. It provides a really simple means of keeping tracking of changes being made to the IT environment, while providing a LiveFeed straight to the app. This gives IT the insight they need, when they need it and where they need it. Read more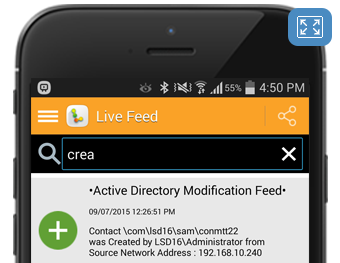 Mistakes happen. From time to time a change is made and for whatever reason you need to restore and rollback the change. Maybe a user account was modified in error or worse still an OU was deleted by a junior Admin. Either way, you need to fix it and fix it fast. Using our Active Directory and Group Policy roll back solution, we enable you to roll back changes made in a matter of a single click.. It restores everything to exactly as it was before the change – including group memberships, attributes, permissions etc. It's simply the easiest way to roll back and restore Active Directory or Group Policy changes. Read more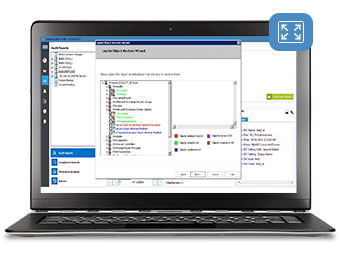 In addition to the wide variety of on-premises platforms audited by the solution, LepideAuditor enables you to report and alert on changes made to numerous cloud platforms; including Office 365 and Dropbox. Instantly see changes being made to files, folders, permissions and configuration changes, as well as Dropbox shares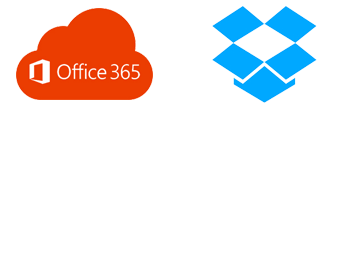 LepideAuditor displays the effective permissions currently applied on the audited folders, subfolders and files by comparing the NTFS with the share permissions.
It even provides detailed information on historical permission changes between two specific time intervals. Our solution displays the changes made in the permissions of files and folders, Active Directory objects and Exchange objects.
LepideAuditor also allows you to explore what specific users or groups have access to, as well as displaying a list of all open shares and the means by which they were 'opened.'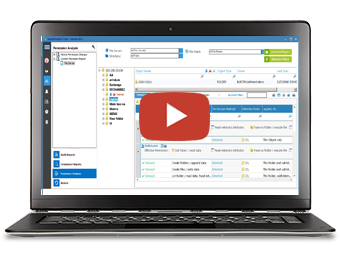 ❝ LepideAuditor has brilliant search capabilities and was easy to use from the perspective of a non-technical end user – highly recommend it.❞

❝ LepideAuditor provided us with complete visibility over what was happening in our IT environment in a simple, cost-effective and scalable way.❞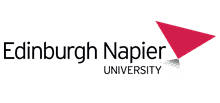 ❝ We're very pleased with how much more insight LepideAuditor gave us and impressed with the attentive customer service they provided.❞

❝ LepideAuditor takes the strain out of change auditing and regulatory compliance with one of the most comprehensive solutions on the market. ❞