"LepideAuditor is straightforward to use and effective right off the bat. Plus, the level of patience, attentiveness and technical knowhow is far beyond most support and sales teams I've seen before. "
"While price was a factor, we ultimately chose Lepide as they were able to offer us threshold alerting, a way of separating out reporting duties to a web console and a site license with extended support and maintenance. "
"LepideAuditor is a perfect fit for our IT Security and Compliance requirements. It helps us cut out a lot of wasted time and money and now we know we can be compliant with industry standards."
"All the features that LepideAuditor has are simple to use and give us all the information we need to know that our data is secure and that we can be compliant with industry standards."
"LepideAuditor is a very helpful means of monitoring the activity around our valuable data and core infrastructure. The audit logs are structured in a presentable format via intelligent reports."
Start Analyzing User Behavior and Spotting Anomalies
A fundamental step in any data-centric audit & protection strategy is to ensure you know what changes your users are making to your data and whether these changes are affecting your security. For this, you'll need a solution like Lepide Data Security Platform, that provides permissions analysis functionality.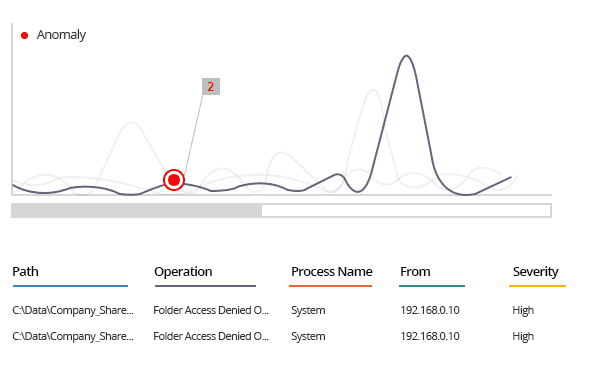 Automatically Spot Anomalous User Behavior In Real Time
With Lepide Data Security Platform you can identify single point anomalies to easily understand when users are doing something that is outside of normal behavior.
The UEBA section within Lepide Data Security Platform allows you to determine exactly why something has been flagged as based upon numerous factors including, time, event criticality, unusualoperation and location.
Analyze user behavior based upon a predefined learning period to accurately identify potential insider threats.
Get a Free Report on the Current Threats to Your Security
If you're interested in seeing where your cybersecurity strengths and weaknesses lie, then our professional risk assessment service may be for you.
Our engineers will do all the heavy lifting for you and generate a detailed report to show you where your biggest security threats are – all for free with no obligation!
Schedule Free Risk Assessment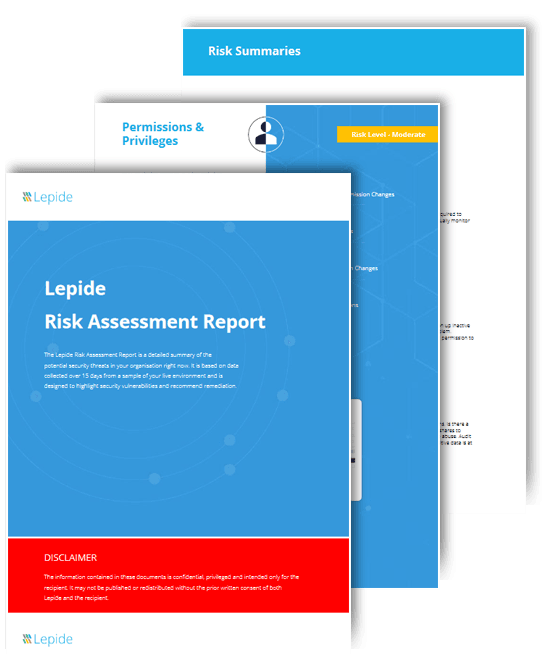 Ready To Start Using Lepide?
We offer a fully functional free trial that runs for 15-days with no obligation at the end. If you don't want to trial the solution, you can schedule an in-depth, personalized demo by clicking on the link below.
START FREE TRIAL
Schedule a Demo