Detecting and Preventing the Spread of Ransomware with LepideAuditor
Friday 12th May saw one of the largest ransomware attacks that the world has ever seen, affecting over 200,000 people in over 150 countries. We at Lepide have known about the dangers of ransomware for some time and have been on a mission to raise awareness of just how damaging it can be. Just in case you didn't already know:
In the USA, top delivery service FedEx was affected
In Spain, telecoms and gas companies were struck
In the UK, 48 NHS trusts were disrupted
In France, some Renault factories had to completely stop production
In Russia, the country's interior minister reported over 1000 of its computers were affected
In the light of this attack, our CEO (Aidan Simister) will be hosting this webinar to discuss how using LepideAuditor can help detect and prevent the spread of ransomware – complete with a live demo.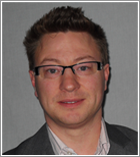 About the Speaker
Aidan Simister - CEO at Lepide
Aidan Simister, CEO at Lepide, has worked in the IT industry for over 20 years and is passionate about ensuring that all organisations - regardless of size, sector or budget - have the ability to defend themselves against security breaches.
Register for this webinar