5 Critical IT Security Issues Often Overlooked
Despite many organisations implementing complex security solutions, we see many instances of the same organisations struggling to answer what are fundamentally basic questions around what's actually happening within their IT systems. In response to this, we are hosting a webinar, complete with a live demonstration, to go through a combination of key questions pertaining to data security, privileged users and access rights that we believe all companies should be able to instantly answer.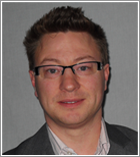 About the Speaker
Aidan Simister - Regional Director at Lepide
Aidan Simister, Regional Director at Lepide, is a veteran in the field of IT security, having worked in the industry for over 20 years. Today, Aidan heads up the global expansion for Lepide as he attempts to raise awareness of the rising number of insider threats that pose serious security risks to organisations of all sizes and sectors.
Free Amazon vouchers (worth $25 each) to be given away to three randomly selected participants.
*Only one voucher will be given per person. Recipient must attend the entire duration of the webinar to qualify
Register for this webinar