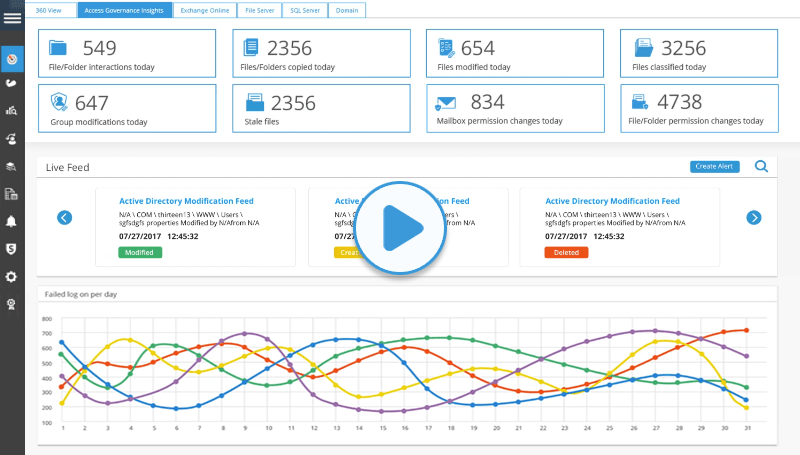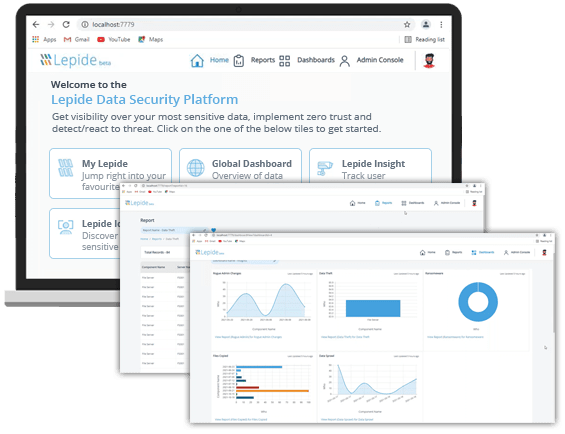 Introducing a New
Web Console *BETA*
The Lepide Data Security Platform now has a completely customizable web interface from which users can generate any number of pre-defined reports instantly, as well as edit, customize or create reports from scratch. Reports can be combined into custom dashboards so that you can access the most important information to you, all from a single web page.
The web interface is the first step towards a fully SaaS version of the Lepide Data Security Platform, with the objective of making enterprise-level data-centric security more accessible for the wider market.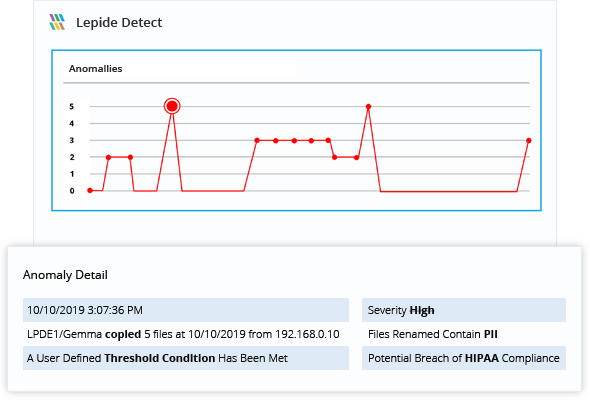 Detect Anomalies in User Behavior
Building upon our existing anomaly detection technology we have now shifted the focus and developed it to become user centric.
This means that you can automatically detect unusual or suspicious behavior for individual employees across multiple data sources or systems.
Making the employee the center of an investigation, or pro-active monitoring and alerting, gives you the ability to quickly identify your highest risk users as and when they perform actions outside of their normal, learned behavior.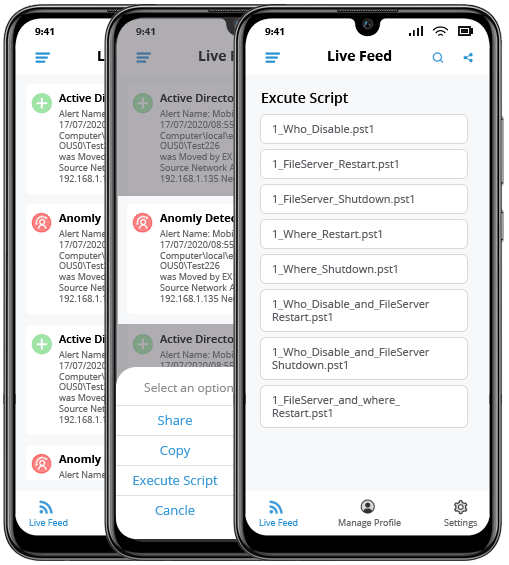 Execute Threat Response From Your Mobile
We have given our mobile application a facelift, keeping it in line and consistent with our branding and messaging but also making them more intuitive and easy to use, just like the rest of our Data Security Platform.
Not forgetting the ability to initiate a response to a potential threat directly from the mobile application, you really can make the right decision from anywhere at any time to protect your most valuable data and your critical IT systems.
And More!

Sensitive Data with External Users Report
Understand when data is being shared externally on Teams, to detect potential incidents that could lead to breaches

More User-Related Information on Alerts
List all operations performed by a user responsible for triggering an alert

50 New Reports for Microsoft 365
Get more visibility over potential threats and changes taking place to sensitive data in your Microsoft Office 365 environment

Pre-Defined Threat Response Templates
Built In actionable scripts added to the solution that can be configured in threat models
Want to Get Started?
Fill in the below form and one of our product experts will be in touch to chat about your requirements.