Audit Critical IT Systems with LepideAuditor
The simplest, most cost-effective way to monitor and audit changes made across your IT environment.
LepideAuditor
LepideAuditor is a simple, cost effective and scalable solution to audit and monitor changes that take place across your critical systems, both on-premise and in the cloud. It provides the easiest yet most comprehensive means of answering critical questions pertaining to 'who, what, where and when' changes are made. Audit detail is provided in a single log showing a single change in either a meaningful report directly to the console, a secure web portal or through a series of detailed real time alerts. LepideAuditor also comes with a number of invaluable in-built features to help keep track of inactive user accounts, remind users when their passwords expire, and rollback specific changes made to Active Directory and Group Policy. LepideAuditor is designed to address common auditing and monitoring challenges faced by IT Operations Managers, Systems Administrators, IT Security Managers and Audit & Compliance personnel.

Over
5,000
Organizations Use LepideAuditor to Protect
Their Businesses Against Data Breaches


What Does LepideAuditor Do?
At Lepide, we believe all organizations should have a proactive and continuous means knowing how their most privileged users are interacting with their critical systems and data. Knowing this is critical to ensuring a secure IT environment, streamlining operations and meeting compliance. Whether you're trying to address data leakage, privilege abuse, insider threats or compliance – we're here to help. LepideAuditor, our simple to use, realistically priced solution gives you the visibility you need, where you need it most.
Intuitive Dashboard Get a bird's eye view of your whole environment with a summary of the total number of changes made to each platform, per administrator, by source and even by trend. Our dynamic LiveFeed displays changes as they happen to keep you informed.
Granular Reports Over 300 pre-set reports help with a whole range of security and compliance challenges. Easily identify answers to the 'who, what, where and when' auditing questions. Delegate these reports to specific users through a secure web console.
Real Time Alerting Get alerts based on a single condition/event or threshold-based, where you can define a policy for when you want an alert to be sent (e.g. a multiple event occurrence over a pre-defined time period). Alerts are all delivered in real time.
Permission Analysis See the effective permissions currently applied on audited folders, subfolders and files. Get detailed information on historical permission changes between two intervals. Explore what users or groups have access to and analyze open shares.
Meet Compliance Demands Hundreds of pre-defined reports are included in the solution to enable you to meet compliance demands more easily. The reports will help meet the stringent audit requirements of GDPR, PCI, HIPAA, SOX, FISMA and many more.
Mobile App The LepideAuditor mobile app is designed to work on iPhone, iPad or any Android enabled device. It provides a really simple means of keeping track of changes being made to your IT environment via a LiveFeed straight to the app.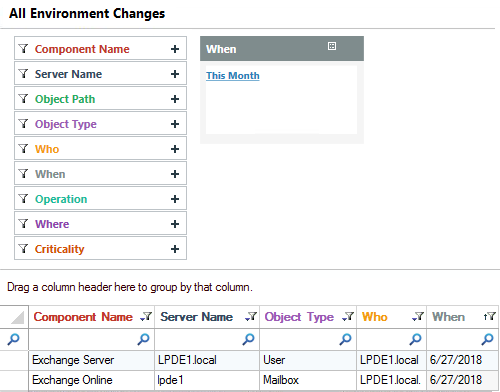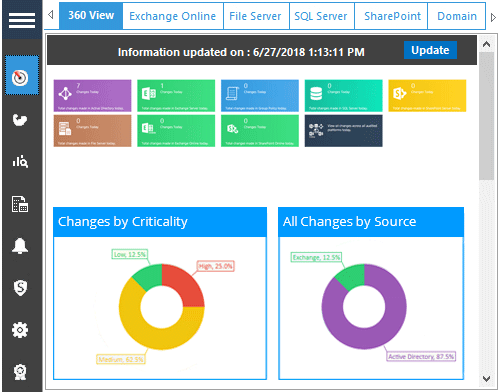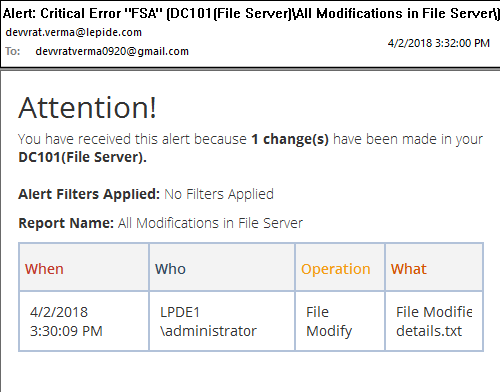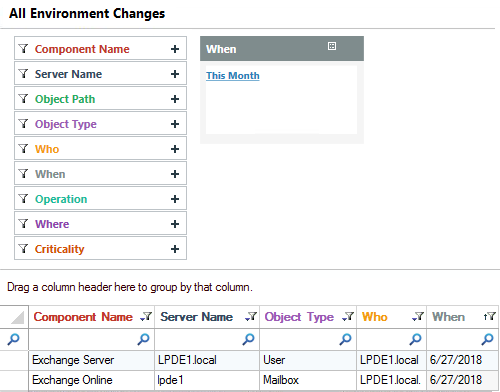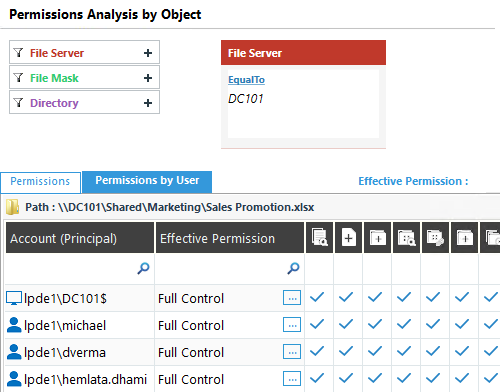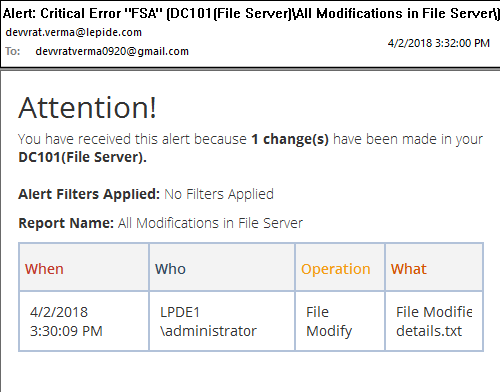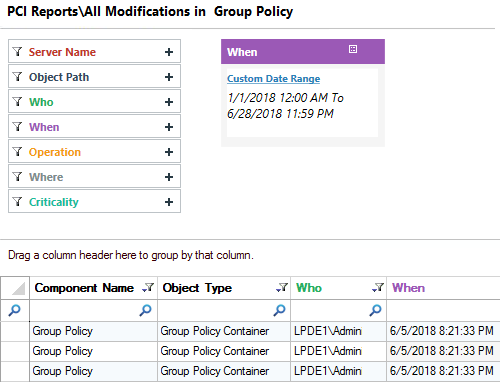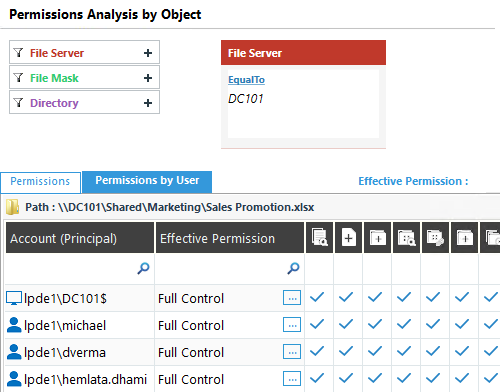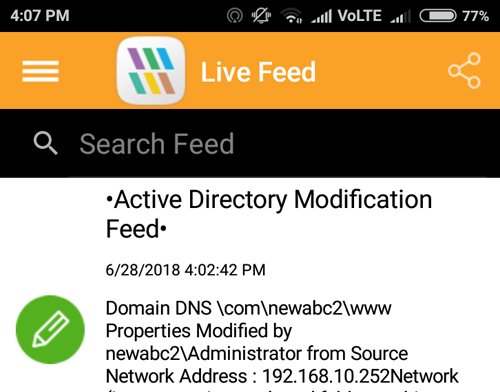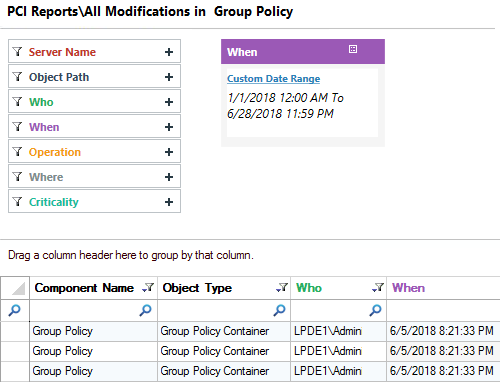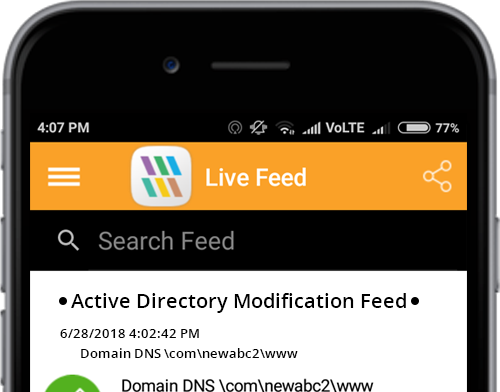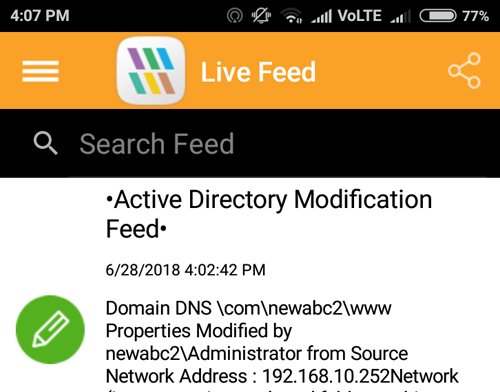 Monitor and Analyze Your Data to Strengthen Your IT Security both On-Premise and in the Cloud
Why Choose LepideAuditor?
With data breaches on the rise and the increased stringency of compliance mandates, LepideAuditor is a must have for any organization serious about their IT security.
Real insight and intelligence into changes taking place to critical systems and sensitive data
Automate your response to potentially damaging changes through custom script execution
Get ready for that upcoming compliance audit with hundreds of compliance ready reports
Start Free Trial
Schedule a Demo

"Lepide have been nominated in three categories in the 2018 Computing Security Awards: Cloud-Computing Solution of the Year, Security Solution of the Year and the Customer Service Award.

" LepideAuditor has brilliant search capabilities and was easy to use from the perspective of a non-technical end user - highly recommend it.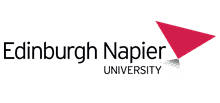 " LepideAuditor provided us with complete visibility over what was happening in our IT environment in a simple, cost-effective and scalable way.

" LepideAuditor provided us with complete visibility over what was happening in our IT environment in a simple, cost-effective and scalable way.

" LepideAuditor takes the strain out of change auditing and regulatory compliance with one of the most comprehensive solutions on the market.
Lepide® is a registered trademark of Lepide Software Private Limited. © Copyright 2018 Lepide Software Private Limited. All trademarks acknowledged.