Protect Data, Meet Compliance and Detect Threats
Lepide leverages Data-Centric Audit & Protection for enterprise-level insight into your data and the surrounding systems, whether on-premise or in the cloud. We help all members of the IT and security teams get value, from fixing technical, point problems to proving that your data is secure for compliance audits.
Protect Core Systems – On-Premise and in the Cloud
You can also integrate with any of your favorite apps or SIEM solutions for even wider coverage.
Improve Breach Detection With SIEM Integrations
Integrate Lepide Data Security Platform with any SIEM solution to help you simplify your response to security threats and protect your SIEM investments. Get greater context to changes and send alerts to your inbox, SIEM, syslog and more.
Learn More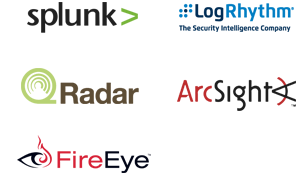 Hundreds of Pre-defined Threat Models
Don't spend your time writing complex rules, scripts or queries to report on the security of your data and potential threats. Simply deploy one of our predefined threat models.
Brute Force Attacks
Threat Surface Area
Ransomware Attack
Permissions Escalation
Business Disruption
Mass Delete Behavior
Password Compromise
Mass Data Copy
Critical Files Moved
Schedule a Personalized
Data Risk Analysis
Our reports are 100% obligation-free and non-intrusive.
A dedicated engineer will do all the heavy-lifting and you'll get a comprehensive report that highlights at-risk sensitive data, flags access control issues, and quantifies risk - so that when you're asked what you're doing to prevent becoming the next cybersecurity headline, you're already ahead of the game.
Schedule Now