sales@lepide.com
+1-800-814-0578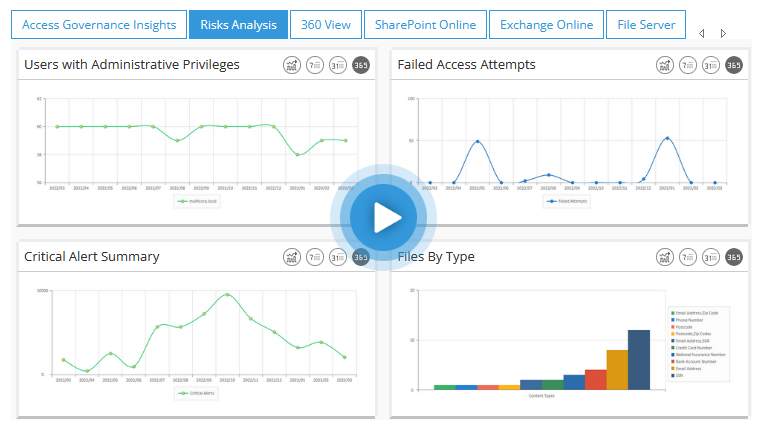 Addressing a wide variety of use cases from one, consolidated console

Ransomware Protection

Active Directory Security

Cloud
Security

Handling Data Breaches

Data Loss Prevention

Data Access Governance

Insider Threat Detection

Data
Classification

Compliance Management
Want to see it in action?
Take a virtual tour of the Lepide Data Security Platform in our web-based demo. See how Lepide aligns with your use case, whether it be ransomware, Active Directory security, Microsoft 365 security, data protection, data access governance or more.
Launch in-browser demo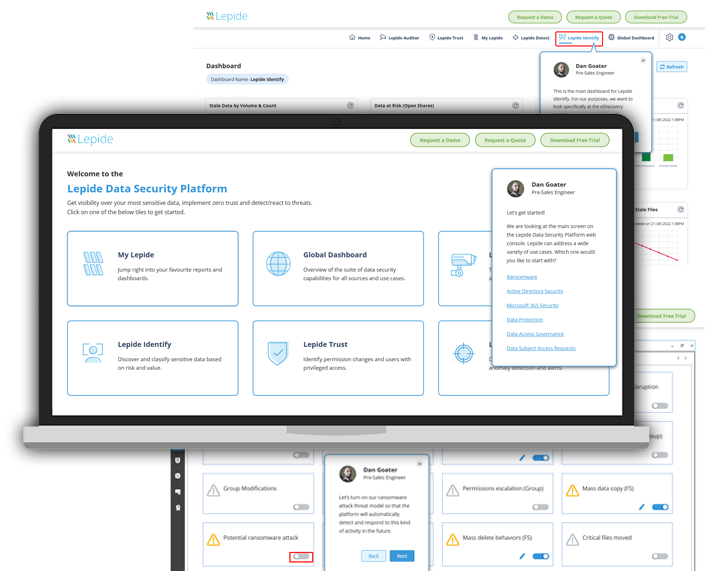 How the Lepide Data Security Platform is structured
Complete coverage for your on-premise, cloud, or hybrid environment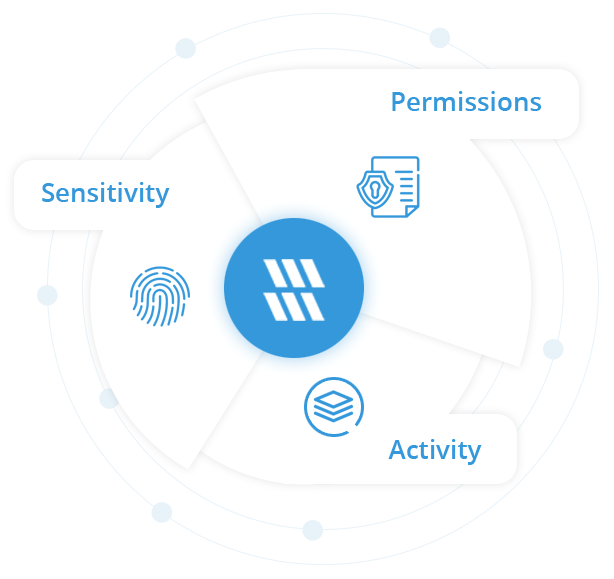 Find out how our Platform works
Some data security vendors seem to make security unnecessarily confusing. But not us. We're transparent about how our Platform works. Take a look for yourself.
What makes our technology different?

Machine learning
The Platform gets smarter the longer it runs, detecting and reacting to threats more accurately.

Hundreds of threat models
Execute automated responses when the solution detects ransomware, malware, insider threats and more.

Real time alerts
Get alerts on user behavior and changes to data and systems delivered to your email or mobile in real time.

Enterprise scalability
Divert resources to individual pieces of functionality as required to ensure smooth and reliable scalability.

Integrate with SIEM
Seamlessly integrate with SIEM solutions to add context to reports and streamline your threat response.

Universal auditing
Best in class coverage for both on-premises and cloud platforms with our universal auditing integrations.

We use Lepide for the security of our Azure and On-prem environment, its real time alert system is awesome!

Read more case studies
Integrates with Your Favorite Apps and Solutions

Our Success Stories
Western Connecticut Health Network
Lepide is straightforward to use and effective right off the bat. Plus, the level of patience, attentiveness and technical knowhow is far beyond most support and sales teams I've seen before.

Drayke Jackson

Security Engineer

Edinburgh Napier University
We chose Lepide as they were able to offer us threat detection and response, and a way of separating out reporting duties to a web console – all from one platform.

Kevin Gallagher

Senior Systems Administrator

City of
Danville
Lepide is a perfect fit for our IT Security and Compliance requirements. It helps us cut out a lot of wasted time and money and now we know we can be compliant with industry standards.

Agnel Dsilva

Information Technology Administrator