File Server Auditing
Data is key asset for many businesses. Ensuring you have adequate auditing and monitoring tools in place is more important than ever before. We believe all organisations should instantly be able to see 'who, what, where and when' files and folders are created, accessed, modified, COPIED or deleted at the click of a button. We also think it's essential that organisations are easily able to track and compare permissions across their data. This solution addresses the challenges of the rise of the insider-threat and the reporting requirements associated with common regulatory compliance mandates. We give IT the power to see more, faster. This solution is specifically designed to work on Windows File Server and NetApp Filers… and more platforms soon to be added! This solution is available standalone or as a part our comprehensive LepideAuditor.
We offer auditing for both Windows File Servers and NetApp filers
Through our integration with the Fpolicy framework and the assigned file policy we're able to capture events to audit and monitor file and folder activity on your NetApp We treat NetApp Filers the same as we would any traditional Windows File Server auditing all CIFS, Shares, permissions and more.
Read more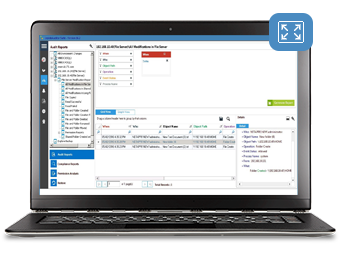 We give you detailed reports to show you when files are being created, modified, copied or deleted
Our file server auditor is a simple way to keep track of all changes as they happen. With all of our solutions we offer a single log for a single change displaying simply who, what, where and when the changes are made. We report on all attempts of file or folder creation, deletion, copy or modification in any way –including any changes pertaining to permissions. We also detail the time, drive, directory, file name, process and event. All of the reports are delivered on schedule either in CSV, PDF, HTML, DOC or TXT or via secure web console for further manipulation as needed.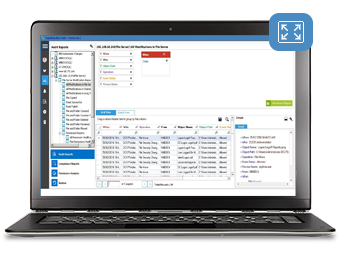 We analyze the current effective permissions on your shared files/folders
Current Permission analysis of file servers shows the effective permissions applied on the Shared Folders. Our solution compares the applied NTFS with the Share Permissions to analyze the currently effective permission on a selected file or folder. It also displays the scope of the applied permission by showing the folder level where permission inheritance gets broken and whether the effective permission is direct, indirect or inherited. Reports can be filtered, sorted, saved and investigated for all 13 possible permissions.
Read more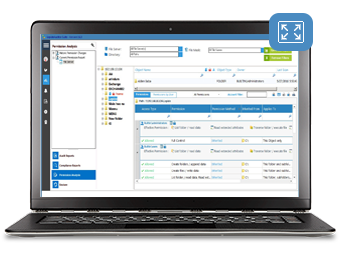 We analyze historical permission changes of your files/folders
File Server permission analysis displays the historical changes in the permissions of files and folders. The administrator can also compare the permissions for the selected file or folder between two specified time intervals. You can save separate reports for both "Permission History" and "Compare Permission" in PDF, MHT or CSV formats on the disk. It also displays the scope of the permission changes.
Read more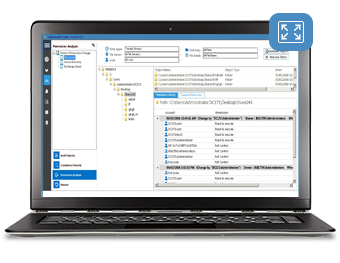 We've designed this solution with compliance in mind
A common driver for installing a solution such as this is regulatory compliance. This solution addresses the ever increasing demand to prove to auditors that adequate steps are being taken to ensure data is being responsibly monitored. It provides a wide range of detailed reports that directly map to the common requirements of compliance standards such as PCI, SOX, HIPAA, ISO and GLBA.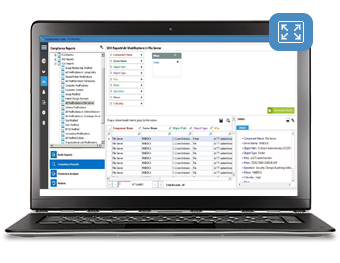 We show the original value before the change was made
Naturally – you want to know if any of your files have been modified but the real value comes from the context. We think it's important to show you what it was changed from. The before values allow you to truly understand the purpose of the event and enable IT teams to identify issues faster.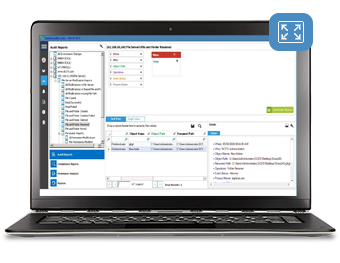 We're one of a small number of providers who can accurately show file copy events
While it's fair to say we're not the only provider of file auditing and monitoring solutions on the market we're actually one of the very few that can accurately show you when a file has been copied. We think this is pretty important when trying to keep track of your critical data. Especially given that copied files are the main source of data leakage.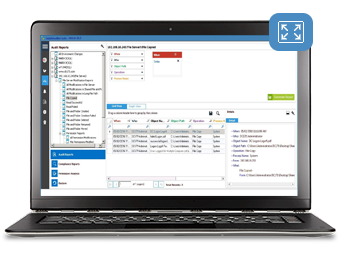 We give you real time alerts and Threshold alerts for a more pro-active approach to file server auditing
When it comes to file change auditing we think it's important to be pro-active. We're one of the very few vendors in this space that give you real time alerts on file or folder change events. To us, simply having a report without the instant notification is too risky. We think only real time is good enough if you are to stand any chance of avoiding data leakage or abuse. We also provide threshold alerts, allowing you to define when the alert is sent. For example, you can specify that the alert to be sent when a particular event occurs three time in one day by the same user. All these alerts can be delivered either via the console, direct to your inbox or via SMS.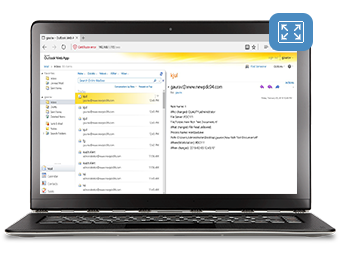 We help you keep track of file and folder permissions
Privilege management is essential in the modern business. It's vital you know when permissions are being changed, who's changing them and what they are being changed too. It's also important to know which users and groups have which permissions across your files and folders. Using LepideAuditor for File Servers will allow you to view a specific file or folder and instantly see historic permissions, compare permissions between two dates and run detailed permission change reports. It provides real time alerts and detailed reports to enable you to easily keep track of permission level changes .
Read more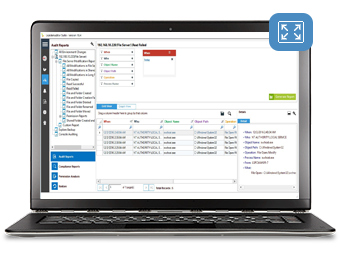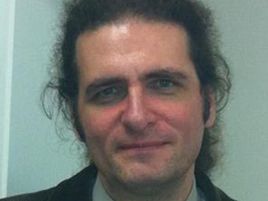 Yves Gourlé

Microsoft MVP
"LepideAuditor for File Server is quite convincing, it adds just enough to File Server auditing capabilities that are often requested and (very) complex to implement with native tools in Windows Server."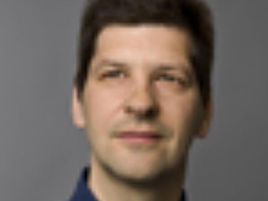 Elvis Gustin

Microsoft MVP
"Lepide did a great job with this product. It is very easy to manage and easy to install and configure."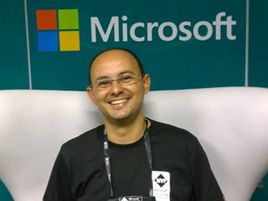 Vinicius Mozart

Microsoft MVP
"Lepide brought great results with a very simple and objective setting. The features of this tool are extremely important for an organization."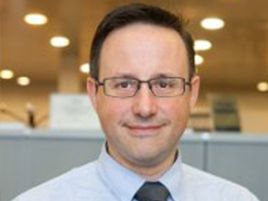 Josep Ma Solanes

Microsoft MVP
"LepideAuditor is a simple, yet very powerful time allows to have full visibility of what is happening in the file."
"Due to lack of auditing, our users were not fully accountable for their actions in the wake of data loss incidents. LepideAuditor for File Server fulfilled all our monitoring and reporting needs by tracking deleted data and generating instant alerts."
Nasseerudin Coowar (System Administrator - BrandActiv)
"LepideAuditor is an outstanding solution. It helped us track down which users were making changes to our File Server. We were particularly impressed by its intuitive UI and the fact that it provided simple but powerful real-time alerting and reporting."
Robert Platts (IT Manager - PMPED)
"LepideAuditor for File Server established enterprise level security controls within our organization, which would otherwise be impossible to do with any other solution on the market."
Brett Tristam (Systems Administrator - Midwestern Regional Council)
"LepideAuditor for File Server helped us track employee details and their activities in the File Server. It's very user friendly and the support from Lepide has been great."
Shyamkumar PV (IT Support Specialist - Unii Engineering Consultancy)
"We can fully depend on LepideAuditor for File Server for all out auditing needs."
Hassan Saeed (Assistant Computer Technician - Ministry of Tourism, Maldives)
"Thanks to LepideAuditor for File Server we now have full visibility as to what is happening on our file servers."
Alexander Martemyanov (Infrastructure Engineer - Wesfarmers Chemicals, Energy & Fertilisers)
"LepideAuditor for File Server was cost effective for our use. We are able to check who did this (deleting files and moving data) and educate them on proper use."
Darius Jusionis (IT Director - Largo Concrete, Inc.)
"It is the only solution we found, out of many, that is able to recognize file movement without incurring substantial investments in full-fledged SIEM solutions. It is easy to deploy, easy to configure, and easy to manage."
Philip Tan (IT Manager - Wong & Partners)
#ChoseLepide