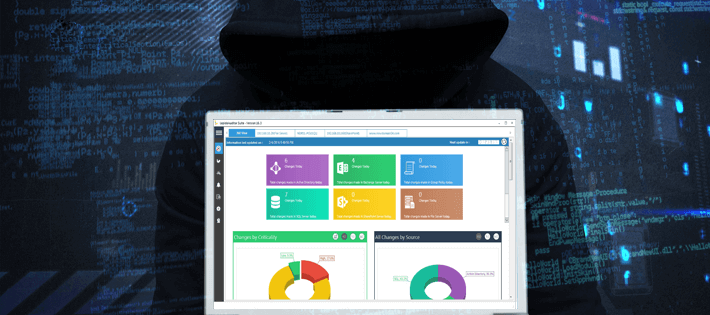 Back in May, thousands of computers running Microsoft Windows were hijacked by the WannaCry Ransomware 'Cryptoworm'. Some of the well-known victims included FedEx, Britain's National Health Service and Spanish telecom giant Telefonica.
The attacks didn't stop there. Over the pursuing months, hackers launched a global security attack affecting a total of 74 countries and crippling many organizations, including Russia's Internal Ministry and multiple healthcare facilities across the UK.
In short, hackers in 2017 have been ambitious! If you haven't suffered a data security breach so far, you have either been incredibly well prepared or very, very lucky.
So, are you prepared? I'm going to take you through 8 ways LepideAuditor, our award-winning auditing solution, helps you spot potential security breaches.
If you reach the end of this article and think to yourself, "I can do all that already," then you're in a fortunate position! If not, then it's probably worth taking the free trial. Let's get started:
1. Notifies Unusual Password Activity
Changes made to a user's password by someone other than legitimate account owner could be a sign of an ongoing attack. LepideAuditor extracts unusual password change events for Active Directory users.
The solution offers a complete overview of password status; including expired passwords, password changes, reset passwords, passwords soon to expire along single or multiple domains. A long list of predefined reports to help address security, system management and compliance can be delivered directly to your inbox via email or exported to CSV, PDF, and MHT formats.
2. Spots Anomalous Change Activity
An unusual spike in activity concerning your Active Directory objects, or other server components, should raise red flags. LepideAuditor sends real-time or threshold alerts as emails to multiple recipients, updates to LiveFeed reports on Radar Tabs or as push notifications to LepideAuditor App. These alerts help notify you when multiple changes or unusual user activities are occurring.
3. Detects Sudden Permission Changes
Often perpetrators attempt to change permissions in multiple server components such as Windows File Server, NetApp Filer, Active Directory, Exchange Server, SharePoint, SQL Server or Office 365 (Exchange Online and SharePoint Online). LepideAuditor audits the changes in permission modifications for all these server components and keeps you aware of any sudden changes. The solution also enables you to take quicker action to review permissions and correct them, if necessary.
4. Serves as your Rapid Action Force
LepideAuditor is designed and structured to identify threats before they cause damage. Through real-time alerts and email notifications delivered instantly, IT administrators can swiftly spot activities and change events that require a closer look.
The solution allows you to rollback changes made to Active Directory Objects and Group Policies. You can also execute user-created custom scripts upon detecting selected critical changes in any of the components, which allows you to take real-time action to fix a security breach.
5. Sharpens your visibility into user activity
Defending against 'trusted' internal users, who already have legitimate access to systems and information is often the most difficult thing to do. However, LepideAuditor integrates security monitoring with identity management, giving you a deeper insight into the "who, what, when and where" details of system access and changes. With this information within easy reach, IT administrators can see if an activity or an individual poses a real threat.
6. Audits Mailbox Access
By far the most common method for business communication in organizations happens via Exchange Server. So, think of the damage that could be dealt if someone other than you is accessing your mailbox and reading critical business emails.
LepideAuditor provides different reports to show who accessed your inbox, when and what changes were made. Similarly, you can check all accesses to mailboxes by delegated owners or non-owners, in a matter of clicks.
7. Tracks user activities
Even your most trusted employees can be the cause of a data breach, whether intentionally or not. To avoid this, IT security managers must track all user activities in real-time across the entire IT infrastructure. LepideAuditor gives you a complete audit trail of all the events that happen to critical IT network resources and provides answers to the "who, what, when, how and where'" audit questions in real-time.
8. Delivers compliance-ready reports
Every organization has compliance mandates to deal with, and they can be frustratingly complex and time consuming. With LepideAuditor, IT administrators can meet regulatory compliance requirements by dynamically monitoring and analyzing log data from all the network devices and applications. Predefined reports for numerous regulatory compliances; including GDPR, HIPAA, SOX, PCI, GLBA, FISMA and more are generated to help you meet these compliances quicker.
Manage security threats proactively!
By leveraging a proactive approach to security, IT administrators can vastly reduce the likeliness of a data breach. To learn more, download the free trial of LepideAuditor to see just what it can do for you.