Active Directory Auditing for Free
Native auditing simply isn't powerful enough to meet the modern day audit requirements of Active Directory. That's why we created a free version of our award-winning Active Directory auditing tool. With LepideAuditor Freeware you can see the changes made to users, groups, group memberships, organizational units, permissions, and other objects. Once installed, it's yours, for free, forever!
Freeware Features

Easy-to-use
Installing, configuring and using LepideAuditor Freeware is very easy. You can see the configuration changes using the predefined report and intuitive radar tab.

Instant visibility
Our in-built dashboard consolidates audit data from Active Directory objects to get reliable audit logs. You can also quickly view audit changes 24 hours a day and easily identify any potential security risks.

Noise-free auditing environment
The solution collects raw logs and transforms them into meaningful, precise and actionable information about user activity, without any system noise.

Better than Native Auditing
Unlike native auditing, the Administrator are not required to delve deep into the unmanageable pool of event logs. Our solution shows only one single meaningful record for a single change that is easily notifiable.
"All Environment Changes" report gives information on all changes made to Active Directory Configuration.
Also, you get answers to the 'when and where' questions, essential for auditing.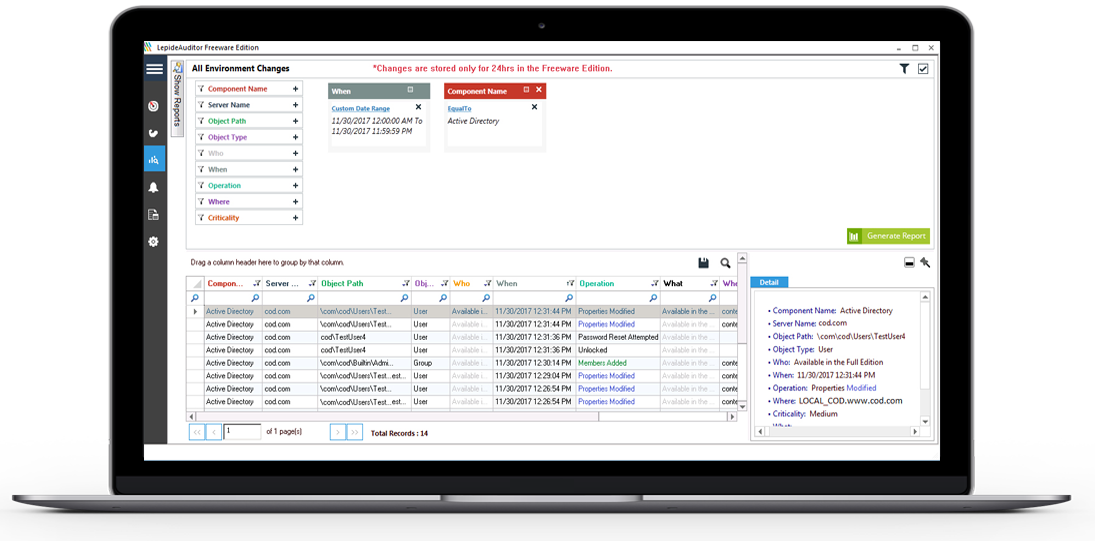 Compare Freeware Edition of Lepide Active Directory Auditor to the Enterprise Edition
| Functionality | LepideAuditor Freeware Edition | LepideAuditor Enterprise Edition |
| --- | --- | --- |
| Configuration changes in Group Policies | | |
| Before and after values for all changes | | |
| All Environment Changes Report | | |
| Multiple predefined audit reports | | |
| "When" and "Where" details of the events that are reported | | |
| "Who" and "What" details for each reported event | | |
| Customizable Radar Tabs | | |
| Run multiple instances of the solution | | |
| Compliance reports (HIPPA, PCI, FISMA, GLBA, SOX, and GDPR) | | |
| Available Report(s) can be saved in CSV, PDF MHT formats. | | |
| Report Scheduler to share the reports | | |
| Real-time alerts | | |
| Alerts sent as updates to LiveFeed, as email, or as push notifications to LepideAuditor App | | |
| Connectivity to LepideAuditor App (available for both Android and Apple platforms) | | |
| Backup and restore the state of Active Directory objects | | |
| Restore objects from tombstone state | | |
| Single-click Rollback of changes | | |
| HealthCheck | | |
| Real-time HealthCheck Alerts | | |
Read more about Lepide Active Diretory Auditor Enterprise Edition
❝ LepideAuditor has brilliant search capabilities and was easy to use from the perspective of a non-technical end user – highly recommend it.❞

❝ LepideAuditor provided us with complete visibility over what was happening in our IT environment in a simple, cost-effective and scalable way.❞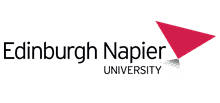 ❝ We're very pleased with how much more insight LepideAuditor gave us and impressed with the attentive customer service they provided.❞

❝ LepideAuditor takes the strain out of change auditing and regulatory compliance with one of the most comprehensive solutions on the market. ❞