Privileges & Permissions Analysis Software
Ensure that the only employees able to access your most sensitive data are those that have a legitimate business requirement to do so. Anything more than that puts you at risk.

Discover Current Permissions
See who currently has access to your most sensitive data.

Investigate Historic Permissions
Generate a list of historical permission changes over time.

See Permission Changes
Spot changes in permissions that could lead to excessive access.

Spot Membership Changes
Help maintain appropriate access levels by spotting group membership changes.

Discover Excessive Permissions
Enforce a policy of least privilege by spotting excessive permissions.
Monitor Permissions and Access Levels
A fundamental step in any data-centric audit & protection strategy is to ensure you know who has access to your sensitive data and when these access levels change. For this, you'll need a Data Security Platform, like LepideAuditor, that provides permissions analysis functionality.
Need More Proof of LepideAuditor's ROI?
If you're interested in seeing where your cybersecurity strengths and weaknesses lie, then our professional risk assessment service may be for you.
Our engineers will do all the heavy lifting for you and generate a detailed report to show you where your biggest security threats are – all for free with no obligation!
Schedule Free Risk Assessment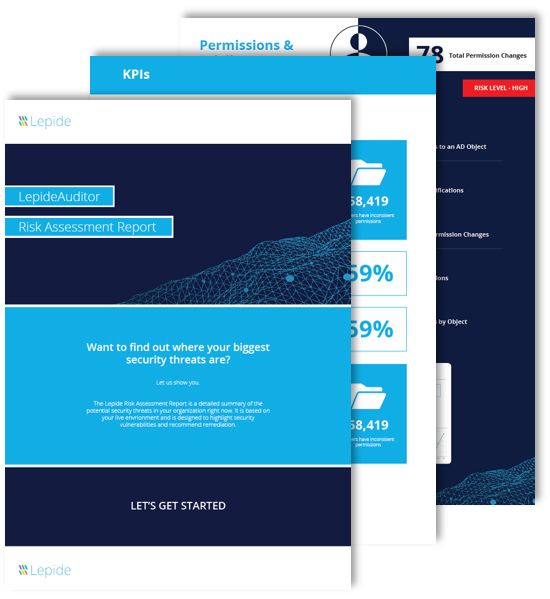 What Else Can LepideAuditor Do for You?

Discovery & Classification
Find out where your most sensitive data is and why it's sensitive.
Learn More ->

User & Entity Behavior
Track user interaction with your data/systems and identify anomalies.
Learn More ->

States & Changes
Get insight into environment states & changes that pose a risk to your data.
Learn More ->