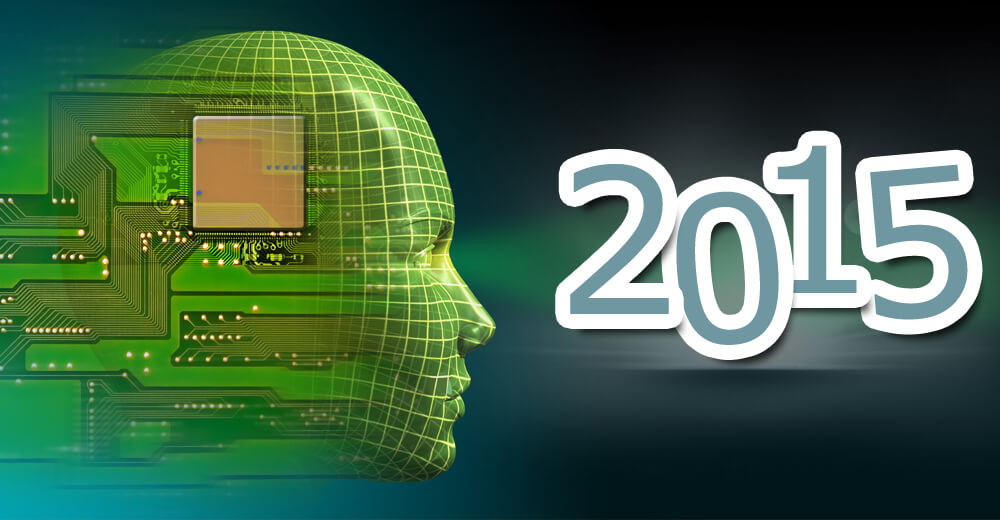 It's time to sip up coffee, welcome the New Year, and sneak peek some of the top futuristic technology trends for the year 2015. It's not the first time that these technologies have come up for discussion here; we have been flirting with the idea of implementing them throughout 2014 as well. As the worldwide IT and telecommunication spending goes into trillions of dollars, a significant portion of this will be covered by new technologies. Business decision makers would better do by keeping themselves abreast of the latest technological trends that are knocking that glass door cabin.
According to the recent surveys and updates, I predict some of the amazing technologies that would play vital role in the year 2015.
Cloud all the Way: The use of cloud computing is bound to expand further, as offerings like Office 365 (cloud-based) replaces the traditional software. Both businesses and consumers will turn to cloud based solutions for services, storage, computing and application. According to the Forbes's survey, 75% of the respondents are already using cloud based platforms and an additional study predicts that over 50% of IT will move to the cloud in the next few years.
Innovative Security Technology: With the growth of "Internet of Things" and cloud based applications the requirement for a greater security will be the top priority. 70% of the most common connected devices contain serious vulnerabilities as reported by HP. Hence, the growing awareness and concern about data breaches will lead to latest security oriented software integration with devices, making them more secure and may be a little less flexible and more harder to program.
Big Data Will be Replaced by Better Data: Big Data will get better, as their will be more pressure to sift through the infinite detailed information, in order to map out better marketing strategies for the future. 2015 will be the year when companies from all the sectors – stock market to the health insurance – will be hiring data scientists using predictive technology to make sense of the enormous amounts of data.
Generation of XaaS: Businesses will now be able to find Anything-as-a-Service (XaaS)- as in the Software (SaaS), Platform (PaaS), Infrastructure (IaaS), Delivery (DaaS), etc. As tracked by Gartner, IaaS is expected to achieve 41.3% growth per year. Thereby making it the fastest accelerating area of public cloud computing. The on-demand services will transform the way we design, manage, and run the business.
Organizing the Data Online: Until recently we use to hire programmers, but now businesses will seek online data base builders. Online database builders will offer simple and effective solutions for managing projects and other data, just the way WordPress gave users access to user friendly and programming free web development.
Software Defined Network will take off: 2015 will see revolution in networking as defined by software. Mobile, big data, social and cloud trends will feed demand for more flexible network solutions. Hence, causing networking to shift dramatically from status quo to a new era of software defined networks.
To conclude, if you miss the bus of these technological changes and fail to transform fast enough and "right enough", you could surely be one of those organizations that saw a swift decline just because their business strategy makers, covered by the shades of complacency, fail to incorporate the right technology at the right time.