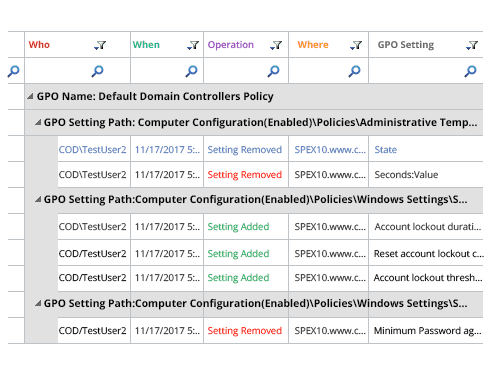 Track All Modifications Made to Group Policy Objects
Our solution enables you to track all modifications made to Group Policies such as created, deleted, modified, renamed, linked and more. Whether a group policy is applicable only an organizational unit or entire domain, we help you audit it. The audit data is displayed in the predefined audit reports, which you can create a long-trail of the changes to identify the anomalies in the modification trend.
Read more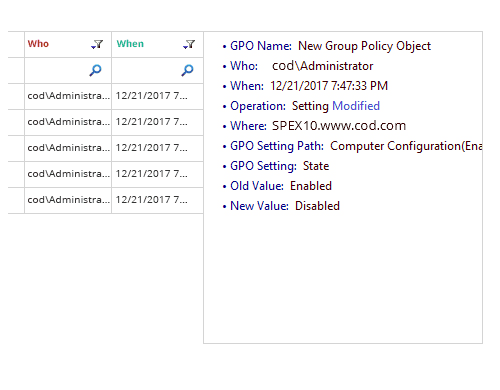 See Both the Before and After Values of Changes
Naturally, you need to know whether a Group Policy has changed, but the real value comes from the context. Our solution shows you the before and after values for every change to improve the level of detail in every report. This will help enable IT teams to make quicker decisions and resolve IT issues faster through improved systems management.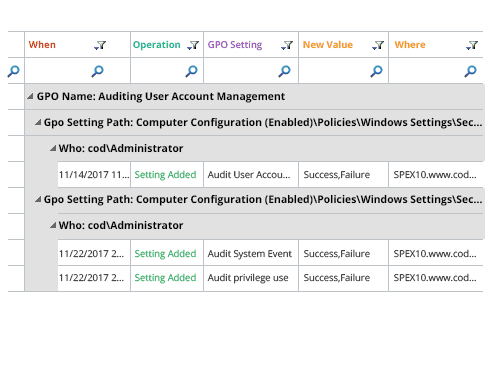 See Changes Made in Security Setting Policies
Security group policies include the policies for IP security, network settings, auditing, registry, wireless networking, event log and more. These policies come in handy to ensure the security settings in the IT environment. Any unwanted or unplanned change can damage the IT security of the organization. Lepide Group Policy Auditor lets you undo such changes over time with its real-time detection and alert mechanism.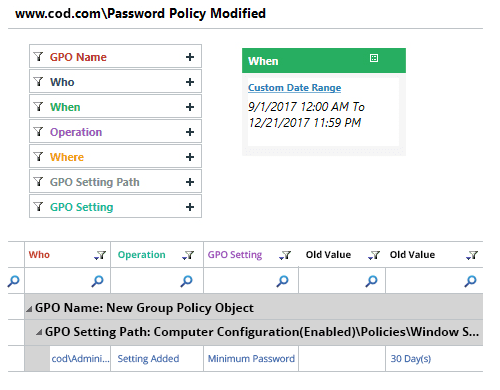 See All Changes in Password Policies
Numerous password policies are enabled and configured to maintain IT security. Any unwanted changes in such policies can lead to a security breach. Lepide Group Policy Auditor tracks such changes, records them, shows them in audit reports and generates real-time alerts to notify you before it is too late.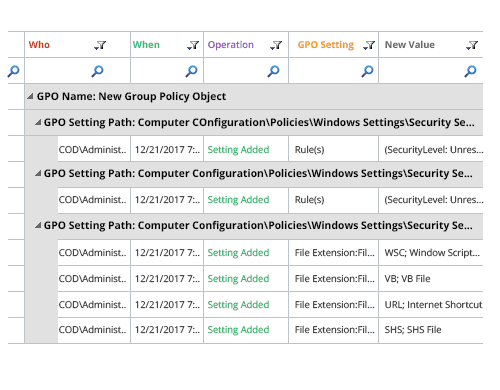 Audit Changes in Software Restriction Policies
Software restriction policies are used to block users from installing unwanted software applications; including ransomware or malware. If any such policy is modified, the chances for installation of unwanted applications, especially a malware, are increased greatly. Our Group Policy Auditor tracks all changes made to software restriction policies and notifies you in real time.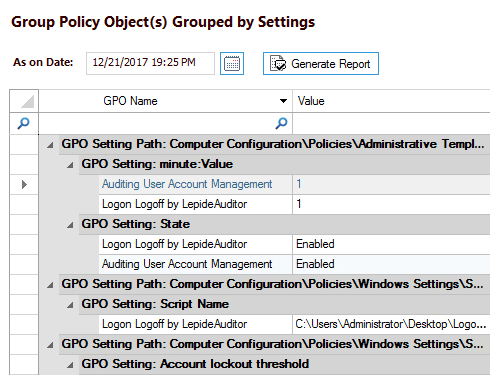 See the State of Group Policy Objects on any Selected Date
Lepide GPO Auditor periodically captures backup snapshots to save the state of Group Policy Objects. In addition to restoring entire Group Policy Objects, our solution also generates reports to show the state of Group Policies on selected dates. It shows a historical view of common settings, delegation settings, values, link status and other information regarding the group policies.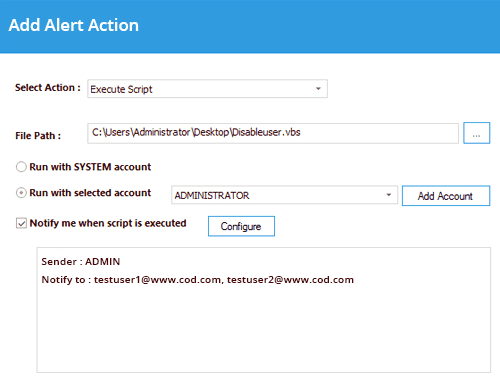 Prepare an Incident Response Mechanism
At Lepide, we know the cost of an unwanted change made in the Group Policies. Such changes have to be detected and reversed before it is too late. The inbuilt alerting mechanism lets you execute your own custom script to perform any automated action. For example, if a software restriction policy has been changed, you can execute a script to re-enable it or you can disable the user who has changed it. The inbuilt Object Restoration feature lets you restore the entire Group Policy Object to a previous ideal state.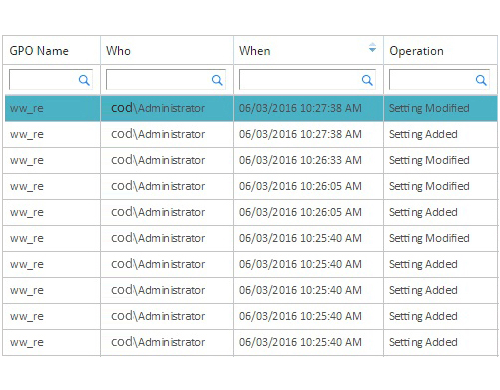 Securely Delegate the Viewing of Audit Reports
To allow for separation of duties, we also enable IT teams to determine which reports could be delegated to which users. The administrator can create accounts for different users, who will then be able to logon at a secured based Web Console to view their authorized set of reports. No reports other than delegated ones will be displayed.
‹
›