Group Policy Change Tracking
Group Policy Objects are an integral part of Active Directory, as they enable the IT Administrator to determine what a user can do on an assigned computer. Should a user have rights to install software or to change system settings? Should a user be authorized to take remote control of other computers in the network? Any decision whatsoever regarding rights of certain users can be applied through Group Policy Objects. However, problems begin to arise when multiple Administrators have the ability to change Group Policy Objects without proper change tracking mechanisms in place.
There needs to be a proper method in place to pro-actively track changes to Group Policy Objects so that you can generate useful reports and receive regular notifications whenever changes in Group Policies occur. LepideAuditor for Group Policy provides one of the easiest ways to pro-actively and continuously monitor and audit Group Policy Objects.

"LepideAuditor is straightforward to use and effective right off the bat. Plus, the level of patience, attentiveness and technical knowhow is far beyond most support and sales teams I've seen before. "

"While price was a factor, we ultimately chose Lepide as they were able to offer us threshold alerting, a way of separating out reporting duties to a web console and a site license with extended support and maintenance. "

"LepideAuditor is a perfect fit for our IT Security and Compliance requirements. It helps us cut out a lot of wasted time and money and now we know we can be compliant with industry standards."

"All the features that LepideAuditor has are simple to use and give us all the information we need to know that our data is secure and that we can be compliant with industry standards."

"LepideAuditor is a very helpful means of monitoring the activity around our valuable data and core infrastructure. The audit logs are structured in a presentable format via intelligent reports."
How We Track Group Policy Changes
Track Changes Across Multiple Domains LepideAuditor for Group Policy facilitates change tracking and auditing of multiple domains from a centralized location. The intuitive dashboard of LepideAuditor allows you to perform in-depth change monitoring of Group Policy Objects.
The same console can also be used to audit and track changes made to Active Directory, Exchange Server, SharePoint, SQL Servers and File Servers.
Track Who Made the Change LepideAuditor shows you who made the change, when the change was made and where the change occurred. It displays before and after values for every change made to Group Policies – helping to give you context to any change that is made. IT administrators can also create a trail of changes made by any particular user.
Real Time Alerts on Critical Changes LepideAuditor sends real-time and threshold alerts whenever changes in Group Policy Objects are detected. These alerts can be sent via email, as updates to the LiveFeed widget on our Radar Tab and as push notifications to the LepideAuditor App (for any Apple or Android device). Threshold alerts allow you to detect when a certain change occurs a particular number of times over a defined period.
Detailed Reports for All Changes Made Our solution comes with over 40 pre-defined audit reports for Group Policy Objects, which can be easily customized to provide you with any level of detail that you require. IT Auditors can filter these reports, sort them, group them by any column and search for a particular record. These reports can be scheduled to be delivered or saved in a shared location in PDF, MHT, or CSV file format at predefined intervals. All these reports can be sent directly to users through email.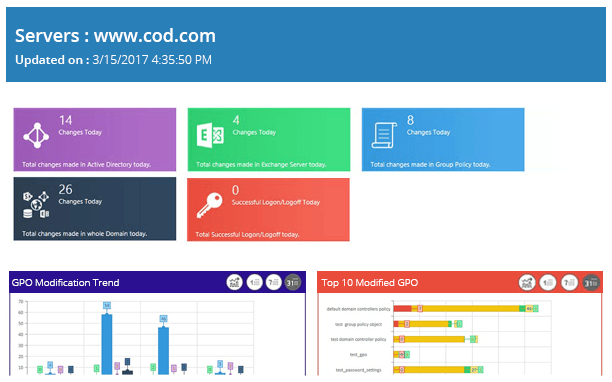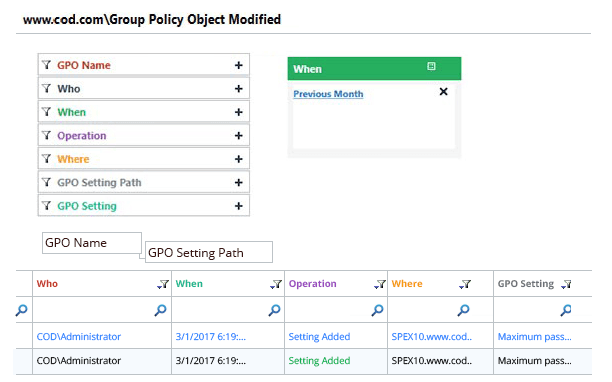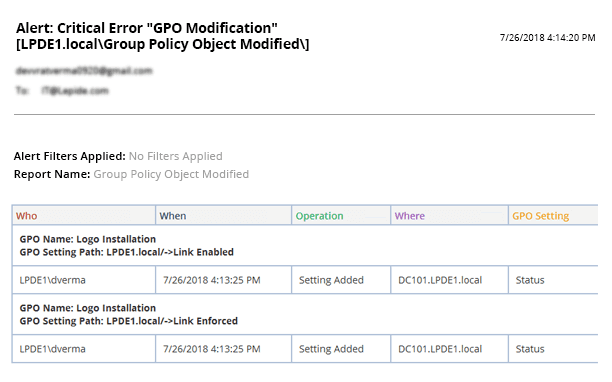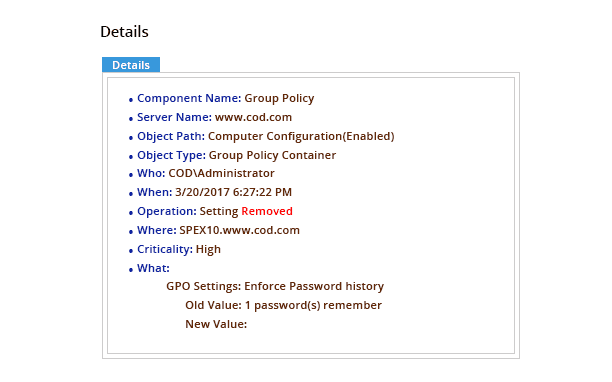 Protect Core Systems – On-Premise and in the Cloud
You can also integrate with any of your favorite apps or SIEM solutions for even wider coverage.
Ready To Start Auditing Group Policy Changes?
We offer a fully functional free trial that runs for 15-days with no obligation at the end. If you don't want to trial the solution, you can schedule an in-depth, personalized demo by clicking on the link below.
START FREE TRIAL
Schedule a Demo