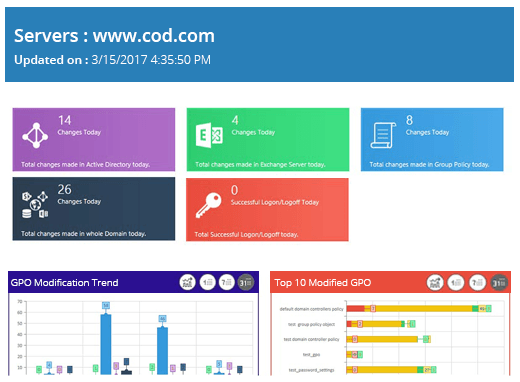 Track Changes Across Multiple Domains
Lepide Group Policy Auditor facilitates change tracking and auditing of multiple domains from a centralized location. The intuitive dashboard of Lepide GPO Auditor allows you to perform in-depth change monitoring of Group Policy Objects.
The same console can also be used to audit and track changes made to Active Directory, Exchange Server, SharePoint, SQL Servers and File Servers.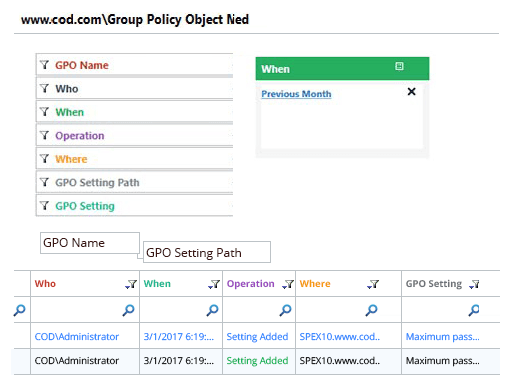 Track Who Made the Change
Lepide Group Policy Auditor shows you who made the change, when the change was made and where the change occurred. It displays before and after values for every change made to Group Policies – helping to give you context to any change that is made. IT administrators can also create a trail of changes made by any particular user.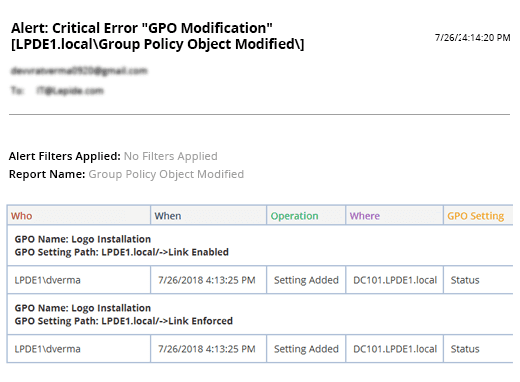 Real Time Alerts on Critical Changes
Lepide Group Policy Auditor sends real-time and threshold alerts whenever suspicious changes in Group Policy Objects are detected. These alerts can be sent via email, as updates to the LiveFeed widget on our Radar Tab and as push notifications to the Lepide Mobile App (for any Apple or Android device). Threshold alerts allow you to detect when a certain change occurs a particular number of times over a defined period.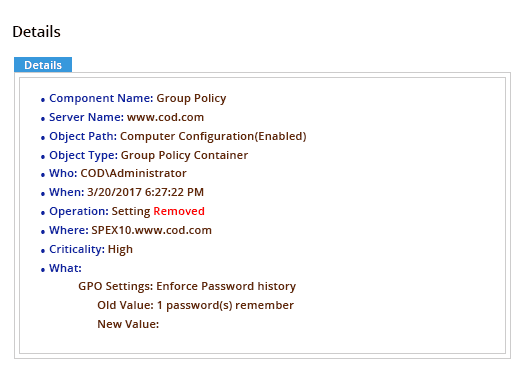 Detailed Reports for All Changes Made
Our solution comes with over 40 pre-defined audit reports for Group Policy Objects, which can be easily customized to provide you with any level of detail that you require. IT Auditors can filter these reports, sort them, group them by any column and search for a particular record. These reports can be scheduled to be delivered or saved in a shared location in PDF, MHT, or CSV file format at predefined intervals. All these reports can be sent directly to users through email.