Upcoming Webinar What's New in Lepide Data Security Platform 21.2? 21st October, 2pm EST
Register Now
✕
Have you ever tried to upload and manage images in Active Directory's thumbnailPhoto and jpegPhoto attributes using native means? It can be a laborious task. Not anymore – our bulk image editor enables you to do it easily, quickly, without any strain – and here's the best bit – for free! This solution provides a simple graphical interface in which you can upload, remove, change, and export images in bulk so that you don't have to run command line tools. It also provides a simple way to manage the images of Users and Contacts in bulk. You can login from anywhere – and you don't need any technical expertise to use it!
Key Features

Displays images of all accounts together in the entire domain or within a specific OU, or a particular account.

Exports existing images in bulk to a specific location as required

Select either single or multiple account images to edit

Uploads images in bulk to assign to thumbnailPhoto and jpegPhoto attribute.

Uploads images up to 100kb for thumbnailPhoto and of any size for jpegPhoto attribute.

Imports images matching the SAM or common name of accounts.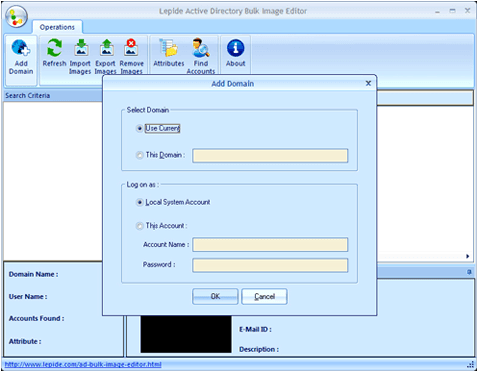 How Lepide Active Directory Bulk Image Editor works?
And it's so simple to use! With just six simple steps you will be on your way!
Launch Lepide Active Directory Bulk Image Editor after installation.
Add the domain. It can be the current domain in which you are, or any other domain.
Provide Login credentials with Admin rights.
Categorically view Accounts that are with images, without images, enabled or disabled.
Select the attribute that you want to work on; it can be thumbnailPhoto or jpegPhoto.
Import, export and remove images for a single or multiple accounts.