Active Directory Account Lockout Tool
For many organizations, understanding as and when Active Directory user accounts are locked out is critical in ensuring individuals continuously have access to the resources they need as well as making sure that all business-critical processes are running with minimal operational downtime. Lepide's Account Lockout Examiner ensures you are able to easily identify when an account has been locked out but also examine which machine the account lockout has come from. With built in remote management tools to immediately unlock the account or reset the password it becomes easy to administer and maintain the status of user and service accounts in AD.

Detect Account Lockouts
Quickly scan your Active Directory environment and detect account lockouts in real time to help simplify and speed up response.

Scan & Review Endpoints
Scan and review endpoints for stored credentials that could indicate the cause of AD account lockout (system services, mapped drives, logon sessions and more).

Remotely Unlock Accounts
If you spot an Active Directory account that has been lockout out, and you want to reverse it, you can do so easily from within the tool.

Remotely Reset Passwords
If you want to change the password for one of your Active Directory accounts, you can do so easily from within the tool.

Free Forever
All of our award-winning freeware tools are provided completely free of charge forever.
Reduce the Time it Takes to Handle Account Lockout Issues in AD
Our free Account Lockout Examiner tool notifies IT administrators about AD account lockout issues. It helps to simplify and speed up investigations into the root cause of lockouts and provides the ability to unlock user accounts from within the tool itself.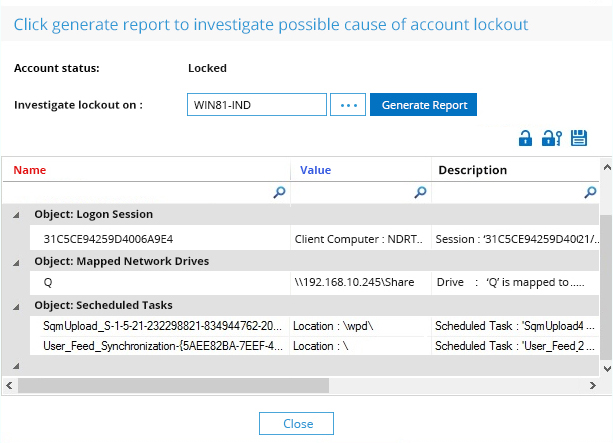 Detect account lockouts in real time
Speed up investigation into the root cause
Quickly unlock accounts through an intuitive web console
Take the strain off your IT help desk
Demonstrate compliance with your AD lockout policy
Fulfill SLAs by identifying lockouts to service accounts
"It does what it says on the tin! No more questionable oopsies about who deleted or changed what
when you weren't looking. A must have as part of your freeware collection."