Active Directory User Account Status Free Tool
Active Directory will grow and evolve with your organization so from a security, operations and compliance perspective you should be regularly auditing Active Directory and in particular, have a good understanding of the User Account Status across the domain. As an Active Directory administrator you should be able to report on this at any time. Lepide's Freeware, Active Directory User Account Status gives you the ability to quickly scan Active Directory to determine statistics around your user accounts including total number of users, enabled/disabled users, inactive users and locked users. This will help you to maintain security and meet various compliance requirements by demonstrating accountability and visibility over the user account statuses in Active Directory with a simple, easy to use, click and scan solution.

Easily Scan Active Directory
Quickly and easily scan your Active Directory to get detailed information on user account status.

See Total Number of Users
Get a report on the total number of user accounts in Active Directory – you might be surprised by how many you have!

View Enabled/Disabled Users
Report on the total number of enabled users and the total number of disabled users in your AD.

View Locked AD Users
See how many of your Active Directory users are locked so that you can take steps to unlock them if necessary.

View Inactive Users
See how many of your Active Directory users are inactive and may be presenting a security risk.

Easily Exportable Reports
Help prove compliance and speed up reporting on the status of AD user accounts with easily exportable reports.
Reduce the Time it Takes to Report on Active Directory User Account Status
Get insightful reports on the status of your Active Directory users with our easy-to-use free tool. Identify potential security issues presented by your Active Directory users and take steps to remediate them.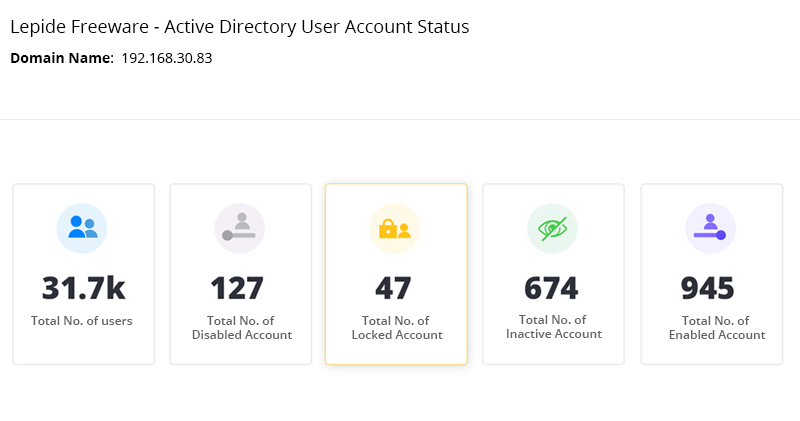 All the free tools from Lepide do exactly what they say on the tin. Get real information about critical security issues in your system and with your data. Thoroughly recommend them.