Whether its for security, compliance or systems management a common problem for the IT departments is reporting on logons. You'd think such information should be easily and readily available but the reality is it's not. So what's the solution? Lepide Last Logon reporter. This freeware tool allows domain administrators to see accurate last logon detail for all the users in the domain controller.
Key Features

Displays information in tabular format where User Name, Common Name and Last Logon Time all shown in separate columns.

Provides the report in CSV and HTML for further investigation as required

Sorts records according to any column in ascending or descending order.

Search for any record in the table by just typing a few characters.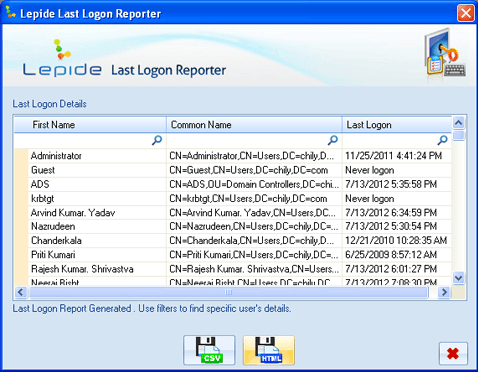 How Lepide Last Logon Reporter Works?
In just three steps we can provide you with the report you need.
Install Lepide Last Logon Reporter on any system in the domain
Specify Domain Name/IP of the Domain Controller, User Login Name and Password. You need to provide administrator's credentials to be able to view information of all users in the domain
Click Generate Reports button and there you go!