Trying to sort and manage Offline folders can be tedious and time consuming task, having to sort through information from perhaps thousands of mailboxes. Is this really the best use of your time? We don't think so – so we created this solution. Lepide Offline Folder Reporter is one of our freeware tools which helps you determine which mailboxes retain offline data in OST files and which don't, making it easy for administrators examine the mailboxes of selected domain. This tool will allow you to identify;
Users using OST files to store their offline data
Users not using OST files to store offline data
Unidentifiable offline folders, of any errors that occur during the search process
OST files or Offline Storage Folders saved in user's system are a duplicate copy of user's Exchange Mailbox. Each and every OST file is associated with a particular Exchange mailbox and cannot be used with any other mailbox. Hence, a user cannot use an existing OST file with a new mailbox after migrating to another Exchange Server. Thus, prior to migration, if you wish to find the user mailboxes associated with OST files or look out for information within OST files, this utility saves your innumerous hours by showing the users storing offline data.
Key Features

Provides offline folder report showing OST and Non-OST users.

Utilizes administrator credentials.

Quick and easy installation without any complex configuration

Reports are provided as a CSV file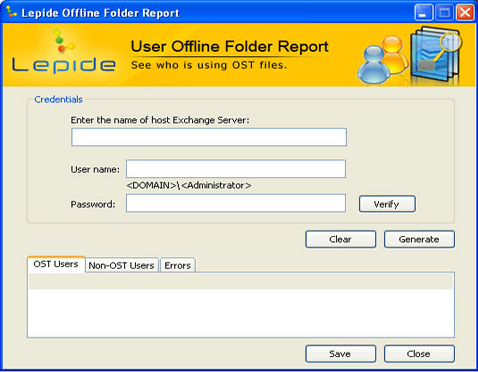 How to Use
In just four steps we can provide you with the report you need.
Install and launch Lepide Offline Folder Report solution
Enter host Exchange Server name and administrator credentials
Validate the credentials by clicking on 'Verify' button
Click on 'Generate' button to create report of OST users, Non-OST users and error list