LepideMigrator for Documents
Microsoft is continually adding more features to SharePoint (on-premises), SharePoint Online and Office 365 to make the platform a powerful content sharing medium. Migrating to newer versions of SharePoint can be challenging due to the size of the task, the time it can take and the difficulties of manual migration processes.
Our SharePoint migration solution allows you migrate entire SharePoint content, sites, lists, libraries and more to any version of SharePoint. LepideMigrator for Documents has been specifically designed for migrations to SharePoint, OneDrive and Office 365 through File Server and Public Folder migrations.
Free trial
Get Quote
Demo Request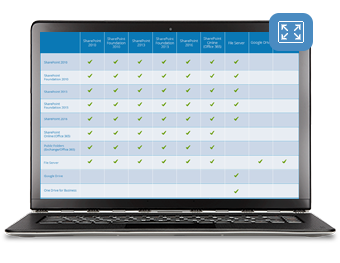 We migrate documents across numerous platforms, including all SharePoint deployments
With LepideMigrator for Documents, you can seamlessly migrate content between any two versions of SharePoint. It also allows you to migrate documents from file servers and public folders to SharePoint, Google Drive, OneDrive and more.
File Server (files/folder) to SharePoint/Office 365
File Server to OneDrive for Business
File Server to Google Drive
SharePoint 2010/2013/2016 to Office 365
Office 365 to SharePoint 2010/2013/2016
Public Folders (Exchange/Office 365) to SharePoint/Office 365 (SharePoint Online)
The table beside provides an overview of all the current migration scenarios that LepideMigrator for Documents supports. New versions are being added with every new release.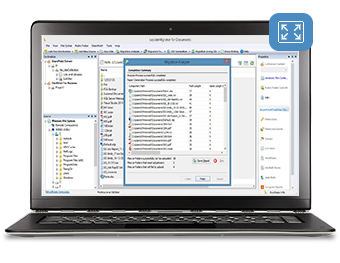 We provide migration scenario planning and pre-migration analysis
One of the biggest challenges in any SharePoint migration project is working out what you're facing before you start. To help simplify this, all our migration solutions come with a pre-migration analysis tool. This will help you determine the key facts surrounding what you want to migrate such as file size along with any information around viability, compatibility or restrictions on the destination such as issues with permissions.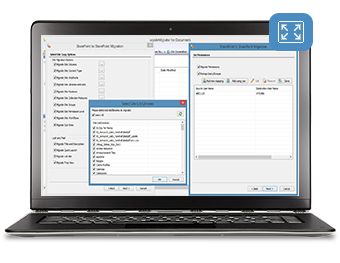 We migrate everything including permissions, properties, users and metadata
Unlike some of our competitors we migrate everything – this includes all files, folders, Public Folders, along with all the content, the meta data and all respective file permissions. We will even automatically migrate and map all the file and folder properties and meta data too. It also provides the ability to map source and destination servers based on users and their permissions.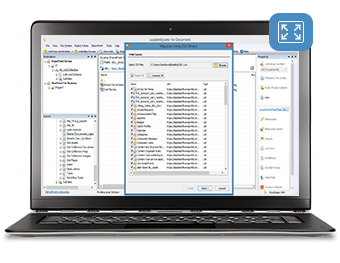 We provide the ability to carry out bulk document migration
Our SharePoint migration solution allows you to migrate data in bulk. You simply run a list of all the documents you wish to migrate in a CSV file which we use to form a migration schedule which you can either run automatically or manually as needed.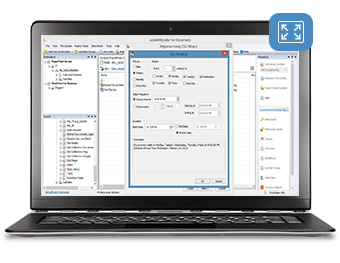 We can run the migration on a schedule that suits your environment
We provide the ability to schedule SharePoint migration to allow it to run when your resources may otherwise be idle. You simply specify a schedule based on each resource you want to migrate and sit back and let LepideMigrator do the rest. At any point in the process you can start, stop or pause the migration without risk of missing anything. Plus, we'll also give you detailed statistics so you know exactly what has happened at every point in the process.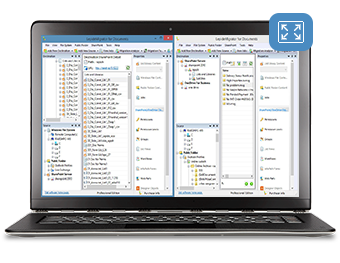 We allow multiple instances, running multiple services simultaneously
This SharePoint migration solution allows you to create multiple sessions to carry out multiple migrations in parallel to one another. We can create connections to multiple sources concurrently as required. You can also easily manage all the connections to user mailboxes, archive mailboxes, public folders, Exchange or Office 365. (Quick note; the solution is licensed per server so the data will need to reside on the same server or you may need additional licenses.)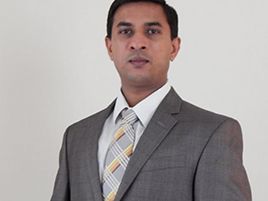 Jean Paul

Microsoft MVP
"I see, LepideMigrator for Documents offers plenty of options and features to let you migrate the content safely and swiftly to the destination SharePoint server."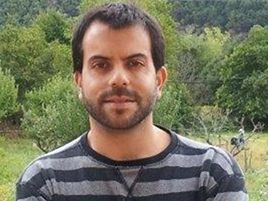 Juan Carlos

Microsoft MVP
"The LepideMigrator for Documents is a fully clad tool to perform content migration from SharePoint 2010 to SharePoint 2013 Online."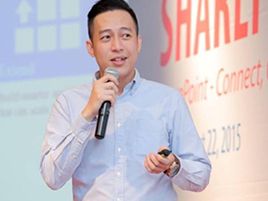 Thuan Nguyen

Microsoft MVP - SharePoint
"If you are looking for a product to help you easily and quickly migrate file system to SharePoint, SharePoint to SharePoint/Office 365, LepideMigrator is the one I highly recommend."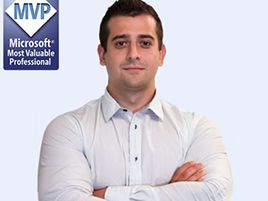 Vlad Catrinescu

Microsoft MVP
"I found the features included in the LepideMigrator for Documents really good, and I saw the business value in every feature they implemented."
"LepideMigrator for Documents far exceeded our expectations and made the whole process a fairly hands free one."
Steve Murphy - Corporate Director of IT
"LepideMigrator for Documents was quick to install, easy to use and the support from Lepide has been great."
Udaya Bhasker - Analytics & Collaborative Solutions Lead, IT & Systems
"By the help of LepideMigrator for Documents it was easy to migrate data from local or remote location to SharePoint."
Gaurav Purohit - Sr. System Administrator