OneDrive and OneDrive for Business may share the same name, but they are completely different when it comes to functionality. OneDrive for Business is not simply the professional version of OneDrive. There are key things that separate them. Whether you need to deploy OneDrive or OneDrive for Business will be determined by what you intent to store in the cloud and how you'll need to access it.

What is OneDrive?
OneDrive, put most simply, is the cloud storage that is available in your Windows File Explorer. You're almost certainly familiar with it, if you're using File Server, as it is the default saving option.
OneDrive allows you to sync and store your personal files in a single place and share them with your contacts. You can access your personal files from any connected device through OneDrive.
If you sign up for a free Microsoft account, you will automatically get access to OneDrive, with 5GB of storage. Here's what it looks like: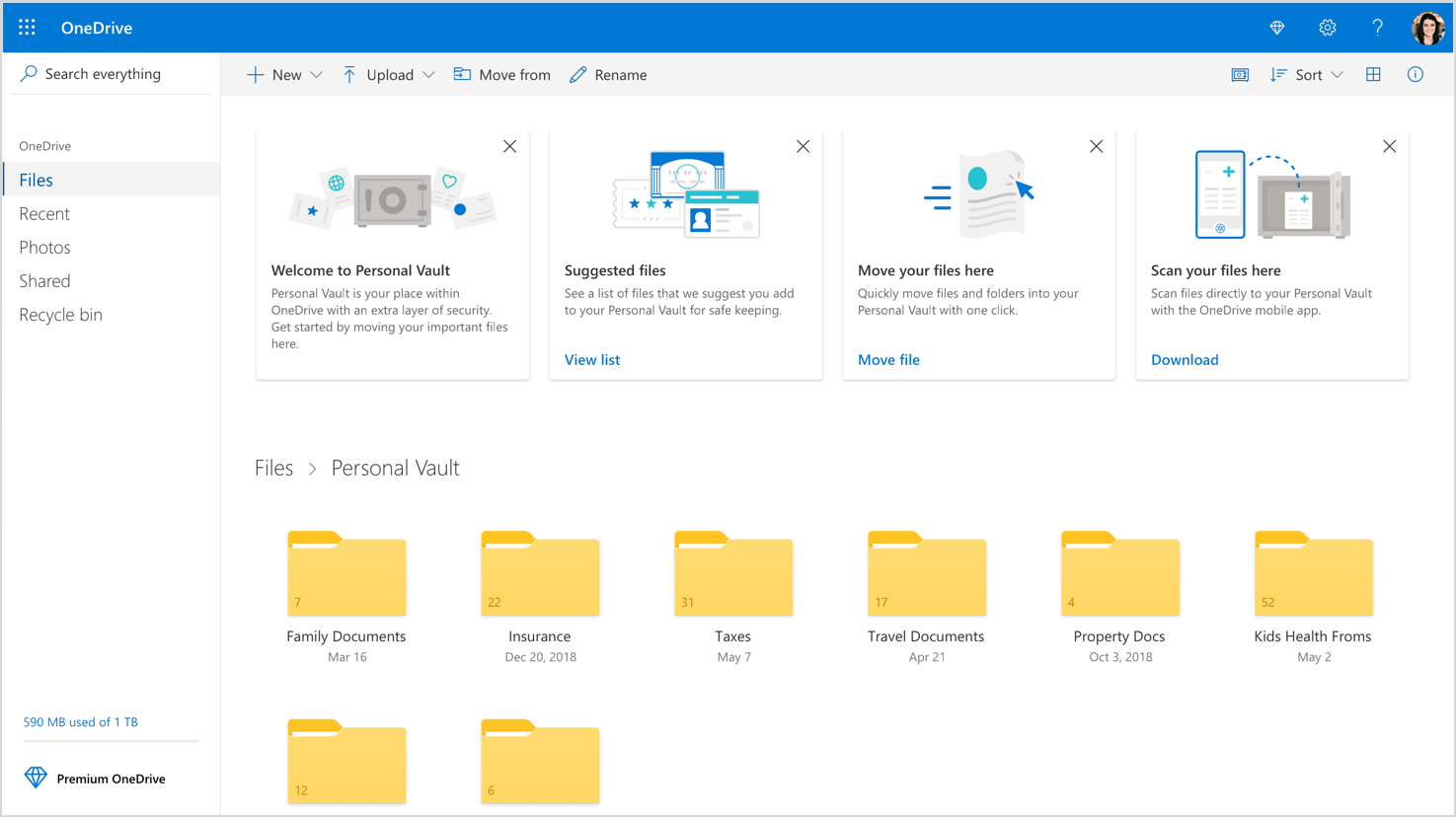 What is OneDrive for Business (ODFB)?
First things first, separate OneDrive from ODFB in your mind. They are nothing alike. OneDrive for Business focuses on cloud storage for businesses. It's intended to enable users to share and collaborate on documents with other co-workers and is managed by the organization. What individual users can do in the library is completely controlled by site collection administrators.
Each individual user has a personal storage place, however, unlike OneDrive, ODFB is powered by SharePoint. To log in, if the organization is using AD or Office 365 to create the SharePoint sites, users would have to use their AD or Office 365 password.
Because it's SharePoint, it can be deployed on-premise if required and provides a lot more options for administrators to control access rights.
ODFB also differs from OneDrive for personal users in a number of other ways, some of which include better auditing and reporting, significantly larger storage space, better integration with Office 365 for Business and other cloud-based Microsoft products.
Below is a more detailed explanation of its benefits.
Benefits of OneDrive for Business
File Sharing and Permissions
ODFB provides more granular control over who has access to what documents, and the actions that can be performed on those documents. You can set an expiry date on a shared link, manage external sharing domains and limit external sharing for specific users. Businesses can also take advantage of the improved capabilities for auditing external sharing invitations.
Data Storage
OneDrive for Business gives business users up to 1 terabyte (TB) of space each, which is far more than what most users would ever use. However, it should be noted that, by default, the data you sync from OneDrive is stored on your local drive.
Naturally, if you are syncing large amounts of data, and if you have limited space on your hard disk, you may run into problems. Fortunately, ODFB provides you with options to control what data is synced to your personal OneDrive folder.
Administrators can easily determine how much storage space their employees are using by visiting the storage metrics page. Of course, this doesn't give them any information about the amount of storage space available on the employee's advice.
Sensitive Data Discovery and Protection
With some licenses, businesses can search for sensitive content across SharePoint Online and OneDrive for Business. ODFB recognizes 51 types of sensitive information, which include credit card numbers, passport numbers and Social Security numbers.
Within ODFB, businesses can setup basic security policies and generate reports for documents that contain sensitive information. Businesses also have more control over which devices can access their data, and the IP addresses and domains that users can connect to OneDrive from.
ODFB for mobile
The OneDrive for Business mobile phone application offers a great user experience and is available for both Android and iOS devices. The mobile application allows users to easily share, move, delete and view documents, even when they are offline.
One interesting feature of the ODFB mobile app is the ability to make inline annotations to PDF documents, which includes drawing, highlighting, and commenting.
Version Controls
ODFB provides version controls which makes team collaboration that much easier. The benefits of versioning are that it allows administrators to review or restore previous versions of a document or file, and gives them visibility into who made what changes, and when.
By default, ODFB will keep the last 25 versions of a document, however, this number can be changed in the settings. To use this feature, administrators will need to turn document versioning on in the control panel.
If you would like to see how Lepide helps to audit changes made to OneDrive for Business and ensures its security, schedule a demo with one of our engineers today.