sales@lepide.com
+1-800-814-0578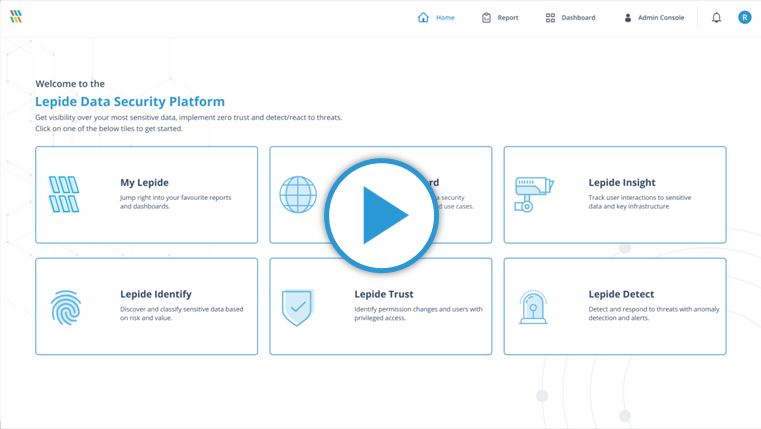 Data Loss Prevention Solution
The first step with any DLP solution is being able to detect the signs of data loss so that we can speed up investigations and response. With Lepide, you can detect critical signs of data loss, including bulk copying, moving, sharing or deleting of sensitive data.
Continuous auditing and threat response
With the Lepide Data Loss Prevention software, you can spot data loss by identifying unusual user behavior in relation to sensitive data, including mass file copying, modification, deletion or moving. Enable our pre-defined threat models to automatically detect and response to this type of behavior.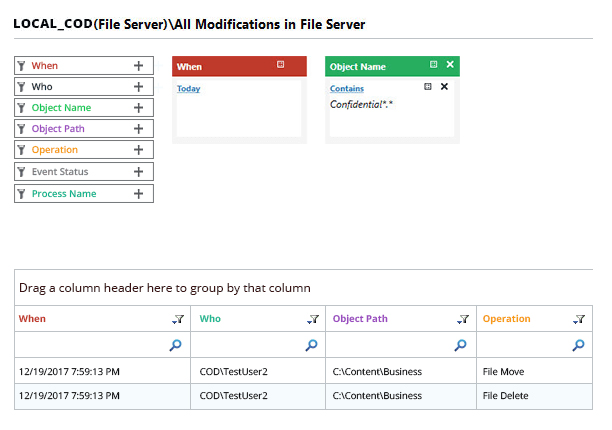 Spot data leaving the organization
Our DLP solution enables you to identify whenever data is shared outside of the organization, whether that be through Microsoft Exchange, OneDrive or MS Teams. Take action quickly to prevent data loss.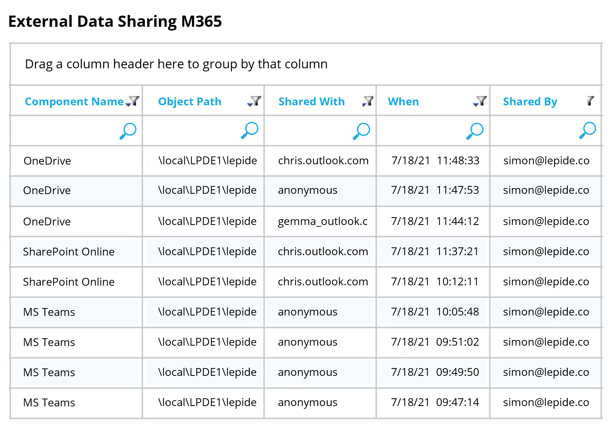 Lepide comes with multiple pre-defined threat models that can be turned on with just a single click. These threat models will detect the patterns of data loss and send real time alerts to your email, to the live feed, or to the Lepide mobile app.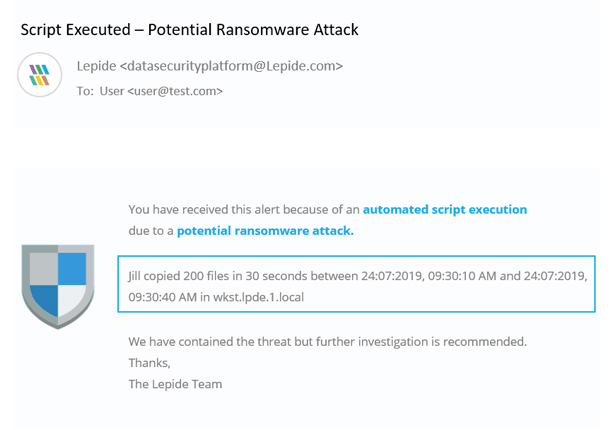 Want to see it in action?
Take a virtual tour of the Lepide Data Security Platform in our web-based demo. See how Lepide aligns with your use case, whether it be ransomware, Active Directory security, Microsoft 365 security, data protection, data access governance or more.
Launch in-browser demo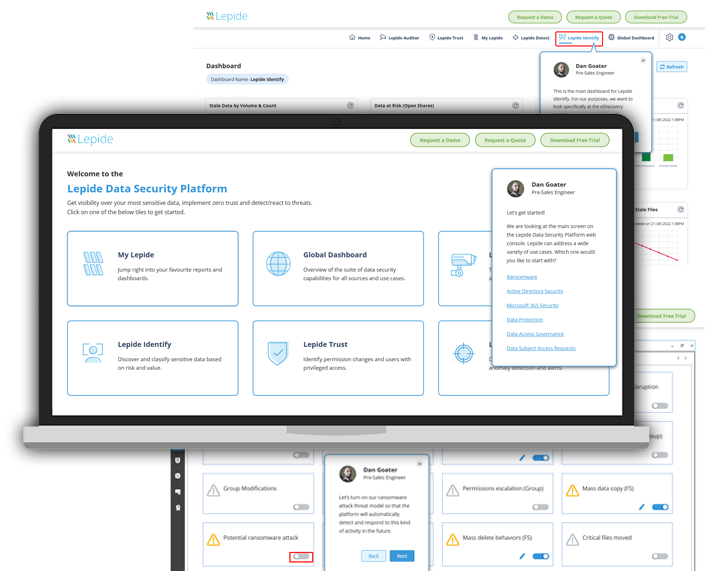 Data Loss Prevention Software to Enhance Your Security Investigations
The Lepide Data Security Platform enables you to improve the speed, accuracy and detail of your security investigations. Should the DLP solution detect the signs of data loss, you're going to need to quickly and accurately get the information you need to determine if you are under threat.
Data classification adds context
Our in-built data classification adds context to our data loss prevention software, and enables you to extract more meaningful data from the reports. See what sensitive or regulated data is being emailed or shared externally via Exchange, OneDrive, or MS Teams.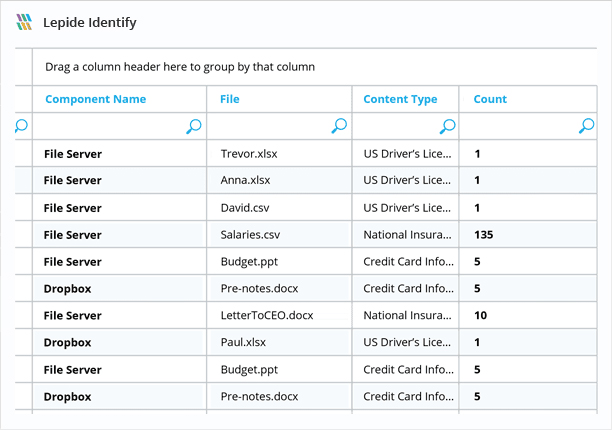 Understanding file copy events
Users copying large numbers of files that contain sensitive data can be a sign of data loss, even if the original file/folder hasn't changed. Unlike many of our competitors, Lepide can accurately audit, report an alert on file copy events. We can do this based on a pre-defined report, threshold alert, or pre-defined threat model.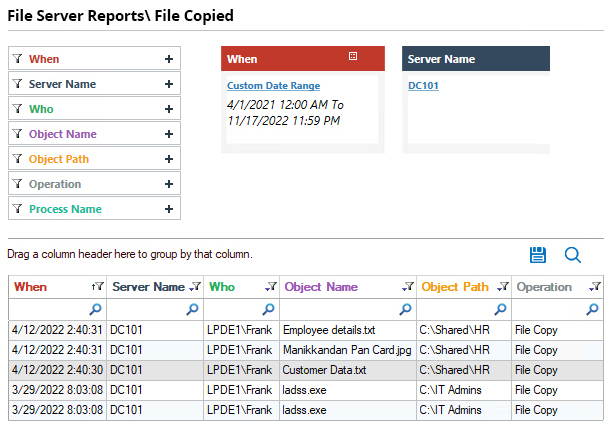 Lepide provides a full and detailed audit trail that can be stored for far longer than native audit logs. Our audit reports are easy to read, with all audit information displayed in a single pane of glass instead of spread across multiple events. This means you always have easy access to the information you need when performing a security investigation.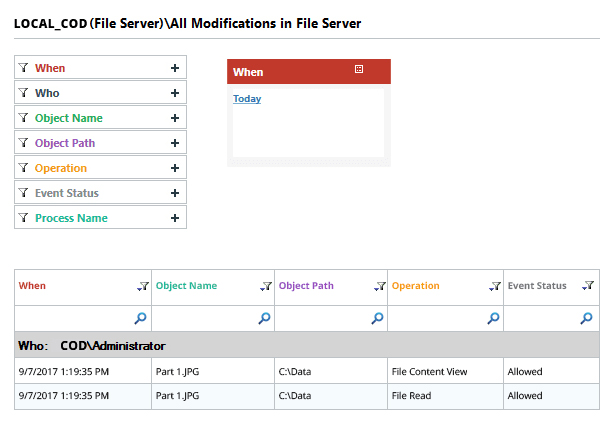 Respond to Data Loss Events
If you detect anything that might be a symptom of data loss, you have to make sure you are able to respond quickly and effectively. With the Lepide data loss prevention software, you can automate threat response when anomalous account activity occurs.
React to anomalous user behavior
With our pre-defined threat models, you can automatically detect and react to anomalous user behavior, including bulk file copying or file deleting. Lepide can execute automated responses to block or lockout the user account in question when the events are detected.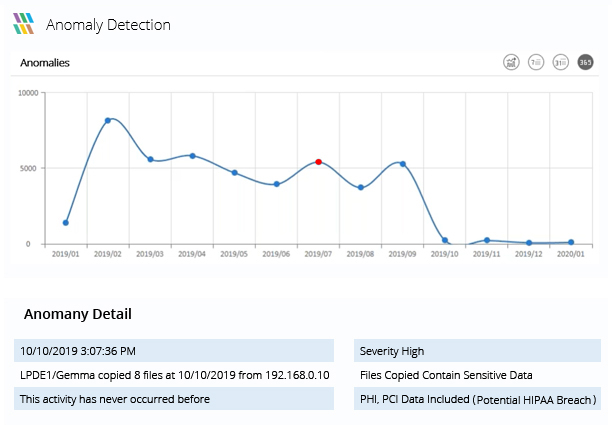 Detect and react to ransomware
Ransomware attacks can lead to major data loss incidents if you are unable to retrieve the data that has been affected. Lepide has many ransomware protection capabilities. Learn more here.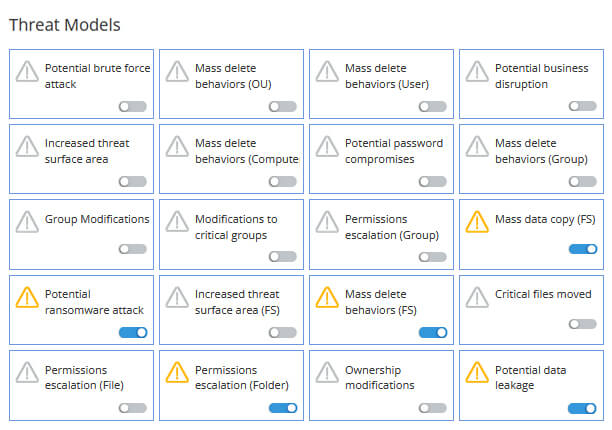 See how the Lepide Data Security Platform aligns with your data loss prevention project
Download the guide

We use Lepide for the security of our Azure and On-prem environment, its real time alert system is awesome!

Our Success Stories
Western Connecticut Health Network
Lepide is straightforward to use and effective right off the bat. Plus, the level of patience, attentiveness and technical knowhow is far beyond most support and sales teams I've seen before.

Drayke Jackson

Security Engineer

Edinburgh Napier University
We chose Lepide as they were able to offer us threat detection and response, and a way of separating out reporting duties to a web console – all from one platform.

Kevin Gallagher

Senior Systems Administrator

City of
Danville
Lepide is a perfect fit for our IT Security and Compliance requirements. It helps us cut out a lot of wasted time and money and now we know we can be compliant with industry standards.

Agnel Dsilva

Information Technology Administrator

Complete coverage for your on-premise, cloud, or hybrid environment