Detect Ransomware in Your Core IT Systems
The only way to truly defend against ransomware is to keep software up-to-date, take regular backups, secure your network with an endpoint security solution and audit your IT environment. Here at Lepide, our focus is on providing you visibility over what's happening with your data. Through visibility, you can speed up the detection of potential ransomware and automate your response. Detect and react quicker to ransomware using Lepide.
Detect Suspicious Changes
Get real time alerts for suspicious changes being made that could indicate a ransomware attack in progress.
Reverse Unwanted Changes
Find out who has access to your data and how it was granted, so that you can ensure proper data access governance.
Automate Response
Upon detection of unwanted changes, execute automated scripts to take appropriate remediation action.
"LepideAuditor is straightforward to use and effective right off the bat. Plus, the level of patience, attentiveness and technical knowhow is far beyond most support and sales teams I've seen before. "
"While price was a factor, we ultimately chose Lepide as they were able to offer us threshold alerting, a way of separating out reporting duties to a web console and a site license with extended support and maintenance. "
"LepideAuditor is a perfect fit for our IT Security and Compliance requirements. It helps us cut out a lot of wasted time and money and now we know we can be compliant with industry standards."
"All the features that LepideAuditor has are simple to use and give us all the information we need to know that our data is secure and that we can be compliant with industry standards."
"LepideAuditor is a very helpful means of monitoring the activity around our valuable data and core infrastructure. The audit logs are structured in a presentable format via intelligent reports."
Detect and Prevent and Respond to Ransomware
Lepide helps give you the visibility that you need to detect and react to ransomware threats. With Lepide Data Security Platform, you can automate your response through script execution, so that you can address ransomware threats faster.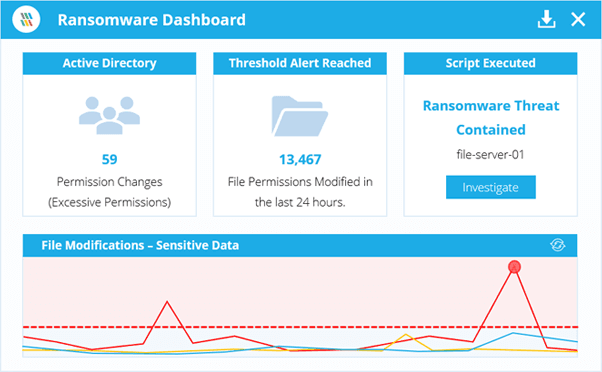 Detect Ransomware in Progress
Through anomaly spotting and threshold alerting you can detect suspicious change activity that could be indicative of a ransomware attack in progress. Detect sudden permission changes of files or users that could be a symptom of the attack.
Prevent Ransomware from Spreading
Streamline your security operations by providing the visibility over ransomware attacks. Integrate with SIEM to add full context to changes being made. Automate script execution upon the discovery of a ransomware attack in motion to automatically shut down the threat before it causes more harm.
Respond Quickly to Insider Threats
Use Lepide Data Security Platform to restore the state of Active Directory and Group Policy Objects to a previously dated snapshot. With this method, you can reverse all unwanted changes within minutes.
Protect Core Systems – On-Premise and in the Cloud
You can also integrate with any of your favorite apps or SIEM solutions for even wider coverage.
Ready to Detect and Prevent Ransomware?
We offer a fully functional free trial that runs for 15-days with no obligation at the end. If you don't want to trial the solution, you can schedule an in-depth, personalized demo by clicking on the link below.
START FREE TRIAL
Schedule a Demo