sales@lepide.com
+1-800-814-0578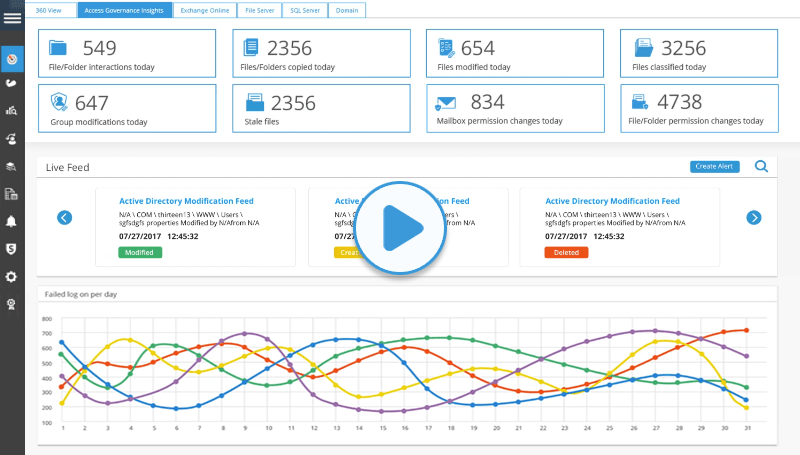 Quickly and Easily Reduce Risk to Your Data and Systems
Implement key monitoring, reporting and alerting capabilities to instantly identify areas of risk and improve current security states. Ensure that you are able to keep your Active Directory clean, rotate passwords regularly to prevent credential theft, implement zero trust, react to human error, and more.

Clean Your Active Directory
Instantly reduce your potential attack surface by ensuring that your users have appropriate access as they join, leave and move in your organization

Implement Zero Trust
Identify who your most privileged users are and what sensitive data they have access to. See what changes they are making and revoke access if needed.

Lock Down Exposed Data
Instantly generate a report of open shares (data open to everyone) and revoke access so that your sensitive data isn't over-exposed and at risk.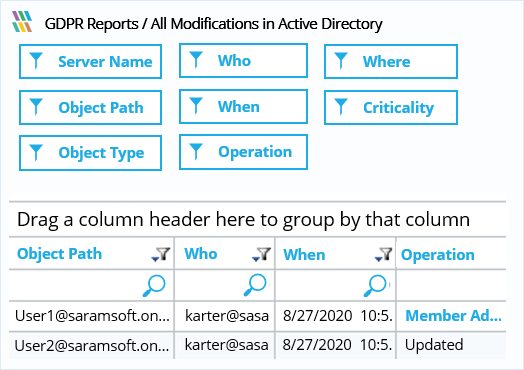 Proactively Spot Risks Posed By Changes to Your Critical Systems
A vast majority of security issues originate with human error – most commonly admin level changes to your critical systems.
Undetected changes to critical security groups or group policy, if unchecked, can cause unprecedented damage to your security efforts.
Lepide ensures you can implement security by design by enabling you to keep track of changes made to critical systems.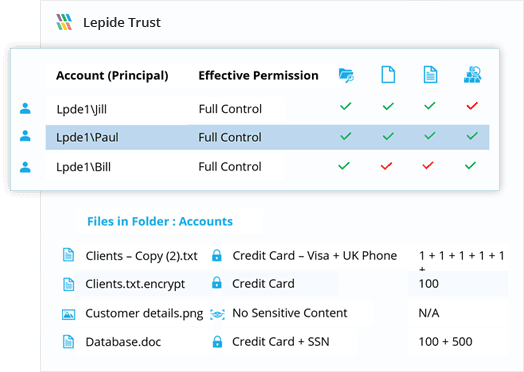 Ensure People Only Have Access to the Data They Need
If you are the unfortunate victim of a ransomware attack, you will want to make sure you can mitigate the damage by limiting the data that is at risk.
Ensuring you know who has access to your most sensitive data and whether this access is appropriate or excessive is a critical part of the process.
We give you a simple, yet comprehensive way to see exactly what your users have access to and how the access was granted. Enabling you to take the right decisions for your permissions.
On-Premise and Cloud Protection From a Single Console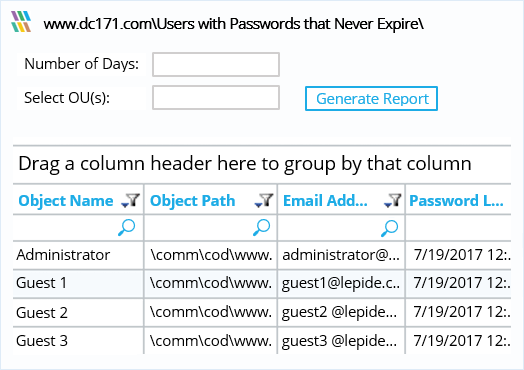 Prevent Credential Theft with Timely Password Reminders
44% of all threats come from credential theft and yet most people still don't rotate their passwords regularly.
One of the biggest threats to the security of your business is with users whose passwords never expire.
Using Lepide you're able to see who these people are and automatically notify them to remind them to reset their passwords.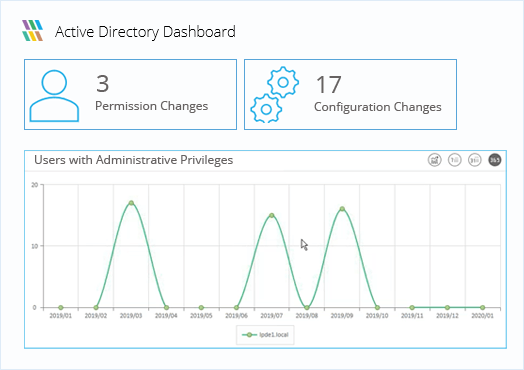 Keep Your Active Directory Clean to Reduce Threat Surface Area
Ensure that you can maintain a clean Active Directory as users join, leave and move throughout your organization.
Revoke access to ex-employees and third parties that you no longer work with to prevent inappropriate access to company resources.
Generate a list of inactive user accounts so that you can take action and reduce your overall attack surface.
Our Success Stories
Western Connecticut Health Network
Lepide is straightforward to use and effective right off the bat. Plus, the level of patience, attentiveness and technical knowhow is far beyond most support and sales teams I've seen before.

Drayke Jackson

Security Engineer

Edinburgh Napier University
We chose Lepide as they were able to offer us threat detection and response, and a way of separating out reporting duties to a web console – all from one platform.

Kevin Gallagher

Senior Systems Administrator

City of
Danville
Lepide is a perfect fit for our IT Security and Compliance requirements. It helps us cut out a lot of wasted time and money and now we know we can be compliant with industry standards.

Agnel Dsilva

Information Technology Administrator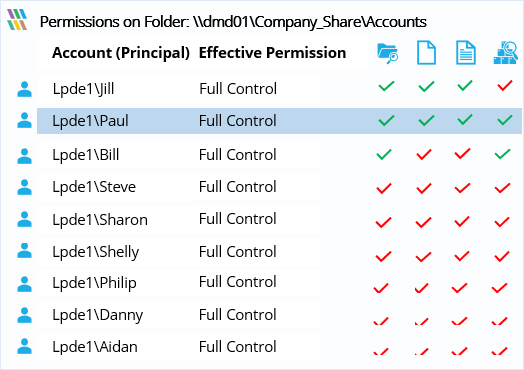 Detailed Visibility of Your Admin Level Privileges
Sometimes the biggest threats to your organization come from within. Your Admins hold the keys to your kingdom, so it's vital that you ensure you are monitoring their activity.
Stories of rogue admins or even admins simply sharing their credentials with other team members are all too common.
Lepide will help you understand what privileges your admins have and at what level so that you can implement a policy of least privilege.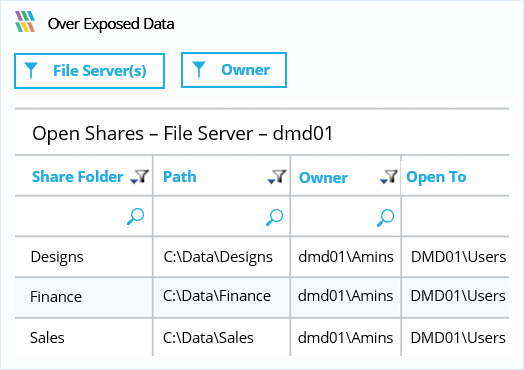 Identify Exposed Data to Prevent Data Breaches
Over-exposure of sensitive data is one of the leading causes of data breaches and security incidents.
Making sure you manage data sprawl is critical in keeping your most sensitive data secure and reducing your potential attack surface.
We help you locate sensitive data in at risk locations, such as 'open shares', to enable you to remediate and secure it – reducing your attack surface in the process.