How to Restore Deleted AD Objects with Lepide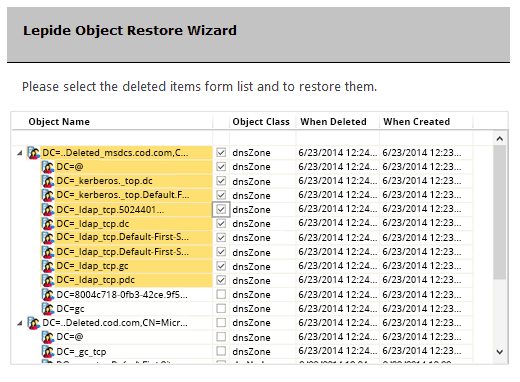 Restore Objects from Tombstone State
Deleted objects are moved to what is known as "Tombstone State," and the native process to recover from it is a cumbersome and time-consuming one. The potentially serious implications of some of these changes mean that a better process is necessary. The Lepide Object Restore Wizard provides you with an easier and quicker way of restoring such objects from their tombstone state.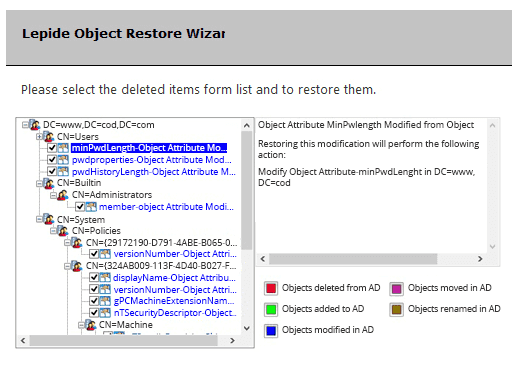 Active Directory Object Restoration
It is next to impossible to recover a permanently deleted object that is neither in "Tombstone" nor "Logically Deleted" state. Lepide Data Security Platform lets you restore such objects from a previously captured snapshot from when that object existed. Once you start Lepide Object Restore Wizard and select a backup snapshot, it compares the current state of Active Directory Objects to the selected snapshot and shows all changes including creation, modification, deletion and renaming of all objects. You can select the changes you want to restore and proceed with the wizard. You can also restore deleted users, along with their passwords, in the same way.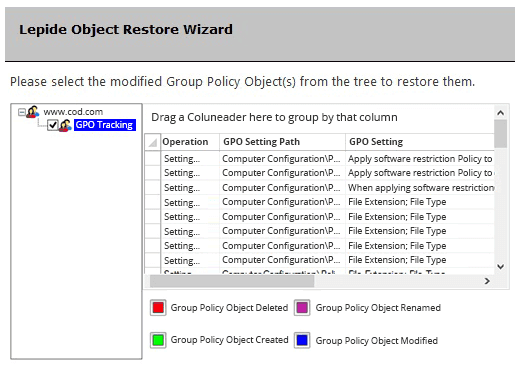 Group Policy Object Restoration
Group Policies are used to configure policies for different purposes, including IT security. Any unauthorized or suspicious change needs to be restored as soon as possible. The Lepide Object Restore Wizard compares the current state of Group Policies with the state stored in the selected snapshot and displays all changes. You can restore the entire Group Policy Object to its original state with a few clicks.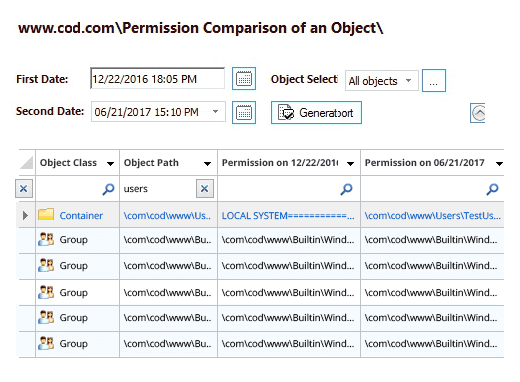 Report from Backup Snapshots
Generating a report to determine what the past state of Active Directory or Group Policy was using native method is impossible. Using backup snapshots, Lepide Data Security Platform generates numerous security reports for Active Directory and State reports for both Active Directory and Group Policy Objects. These reports provide in-depth insights on the state of objects, permissions, audit settings and object ownership as per that moment when the selected snapshot was captured.
Want to see it in action?
Take a virtual tour of the Lepide Data Security Platform in our web-based demo. See how Lepide aligns with your use case, whether it be ransomware, Active Directory security, Microsoft 365 security, data protection, data access governance or more.
Launch in-browser demo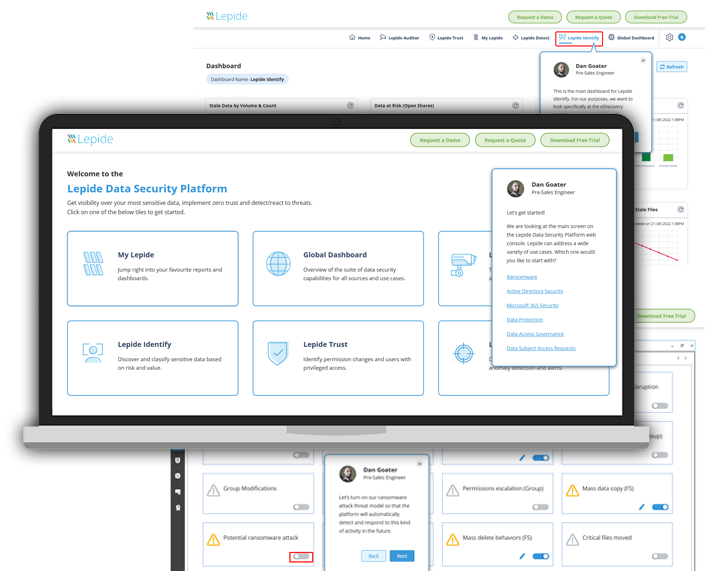 On-Premise and Cloud Protection From a Single Console
Our Success Stories
Western Connecticut Health Network
Lepide is straightforward to use and effective right off the bat. Plus, the level of patience, attentiveness and technical knowhow is far beyond most support and sales teams I've seen before.

Drayke Jackson

Security Engineer

Edinburgh Napier University
We chose Lepide as they were able to offer us threat detection and response, and a way of separating out reporting duties to a web console – all from one platform.

Kevin Gallagher

Senior Systems Administrator

City of
Danville
Lepide is a perfect fit for our IT Security and Compliance requirements. It helps us cut out a lot of wasted time and money and now we know we can be compliant with industry standards.

Agnel Dsilva

Information Technology Administrator