sales@lepide.com
+1-800-814-0578
Improve Dropbox Security with Lepide
Dropbox Business is a file hosting service that encourages collaboration through content creation, access and sharing. As millions of users share business-related content through Dropbox Business, it is important that you are constantly monitoring any changes that are taking place to file, folders and permissions, as well as getting insight into when sensitive data is shared. This is exactly what Lepide Dropbox Auditor enables you to do. Data classification, advanced filters and pre-set reports give you all the tools you need to improve the security of Dropbox.

Classify Sensitive Data in Dropbox
On-the-fly data discovery and classification helps you locate your most sensitive data as it is created or modified.

Analyze User Behavior and Spot Anomalies
Get real time alerts on user behavior, spot and react to anomalies, and get insight into Dropbox link sharing.

Monitor Permissions and Govern Access
Determine who has access to your most sensitive data and spot changes to permissions so that you can remediate them.
How We Help to Audit Dropbox Changes
Classify Sensitive Data by Compliance
On-they-fly data discovery and classification enables you to locate and sort your most sensitive data by type, content, risk value and more. Easily prove to compliance auditors that you have visibility over regulated data.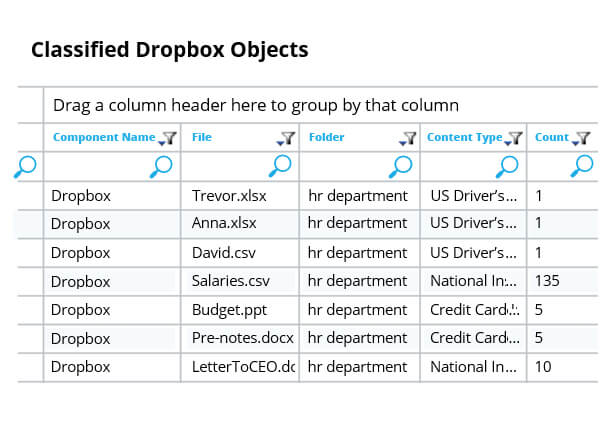 Track Changes to Files and Folders
With easy to configure reporting in Lepide Dropbox Auditor you can easily ascertain all user activity around the files being shared through Dropbox. With visibility around Files being deleted, added, renamed moved or even copied, you have complete audit trail of how your business users are interacting with your company's data.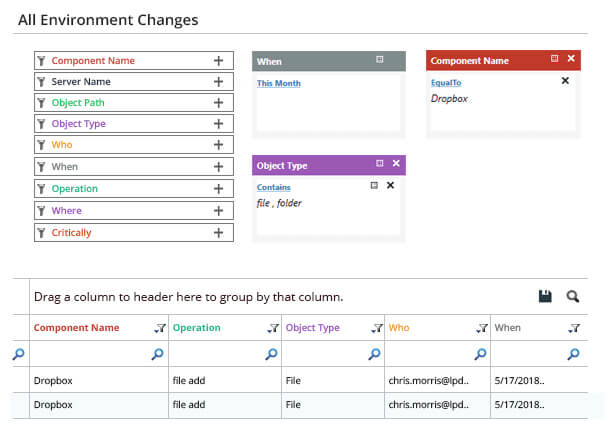 Get Insights into Dropbox Link Sharing
Having a record and insight into how and when your business data is being shared is critical in identifying the early warning signs of a potential data breach on the horizon. With the consolidated view and powerful filtering options provided in Lepide Dropbox Auditor, you can quickly get a consolidated view of all activity around Dropbox link sharing, who shared the links and when.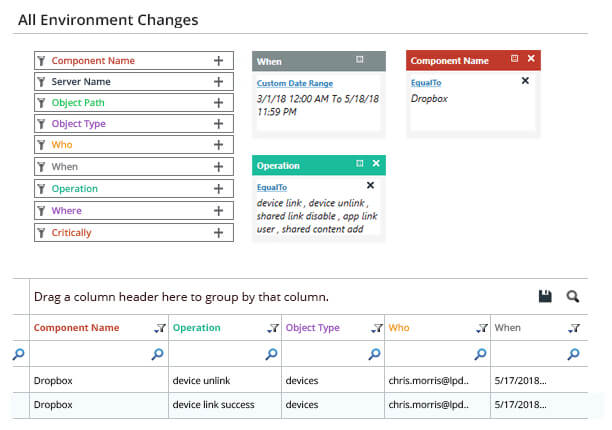 Want to see it in action?
Take a virtual tour of the Lepide Data Security Platform in our web-based demo. See how Lepide aligns with your use case, whether it be ransomware, Active Directory security, Microsoft 365 security, data protection, data access governance or more.
Launch in-browser demo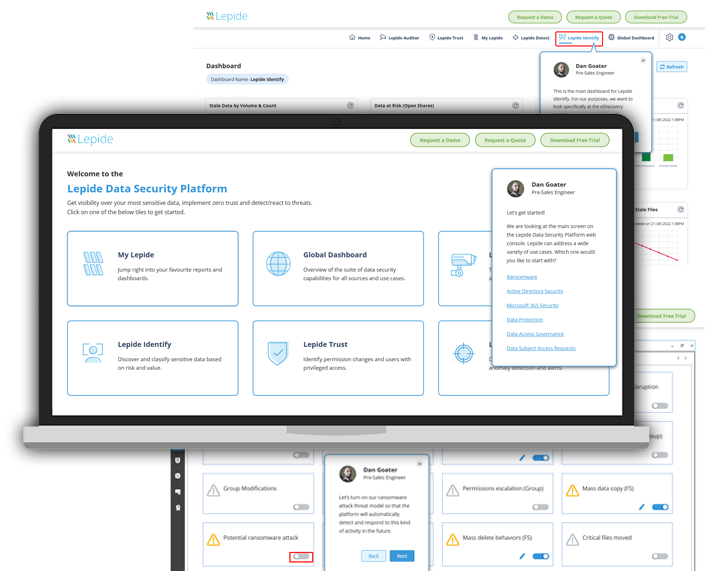 On-Premise and Cloud Protection From a Single Console
Our Success Stories
Western Connecticut Health Network
Lepide is straightforward to use and effective right off the bat. Plus, the level of patience, attentiveness and technical knowhow is far beyond most support and sales teams I've seen before.

Drayke Jackson

Security Engineer

Edinburgh Napier University
We chose Lepide as they were able to offer us threat detection and response, and a way of separating out reporting duties to a web console – all from one platform.

Kevin Gallagher

Senior Systems Administrator

City of
Danville
Lepide is a perfect fit for our IT Security and Compliance requirements. It helps us cut out a lot of wasted time and money and now we know we can be compliant with industry standards.

Agnel Dsilva

Information Technology Administrator