File Activity Monitoring Software
Easily monitor file activity on your Windows File Servers and get the vital who, what, when and where audit information in a single pane of glass with easy-to-read reports.

Monitor File Activity
Audit and monitor file activity in real time with a detailed audit trail of all changes and interactions with sensitive data.

Alert on Suspicious Activity
Detect and respond to anomalous file activity, such as bulk file copying, mass deletions, failed access attempts, and more.

Automate Threat Response
Execute custom scripts in response to anomalous or bulk file activity to shut down threats in real time.
Ensure the Security and Integrity of Files
with our File Activity Monitoring Tool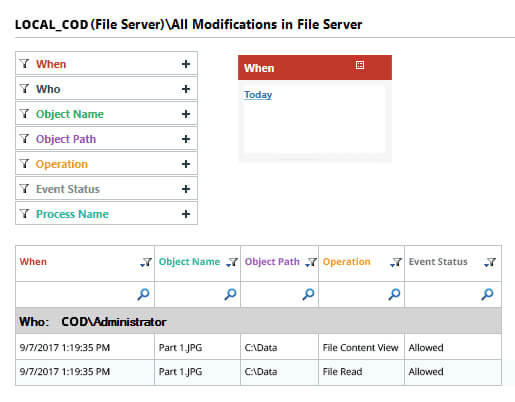 Track File Changes in Real Time with File Activity Monitoring
Spot any changes to files in real time, including modifications, copies, deletes, creation events and more. Get real time alerts when threshold conditions are met.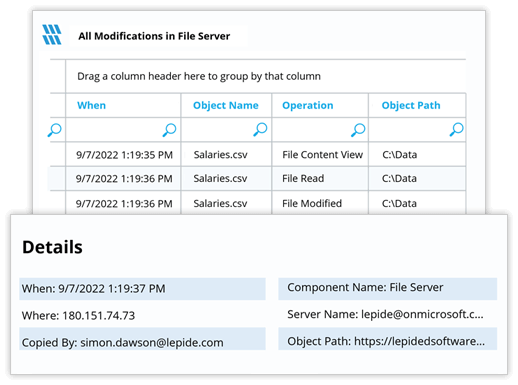 Simplify Your File Activity Monitoring
Whether you're relying on event logs, or using a state of the art SIEM, you're likely to find file monitoring to be a complex and noisy task. With Lepide, you'll get a single record for each change with all the important information you need, including who, what, when and where.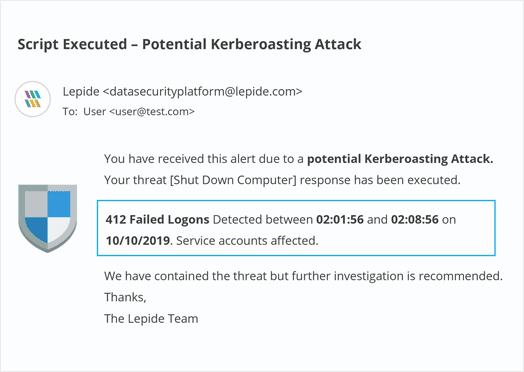 Shut Down Ransomware Attacks and Other Threats
Prevent ransomware attacks from spreading in your file systems with machine-learning-powered detection of anomalous file activity, and automated threat response actions.
Want to see it in action?
Take a virtual tour of the Lepide Data Security Platform in our web-based demo. See how Lepide aligns with your use case, whether it be ransomware, Active Directory security, Microsoft 365 security, data protection, data access governance or more.
Launch in-browser demo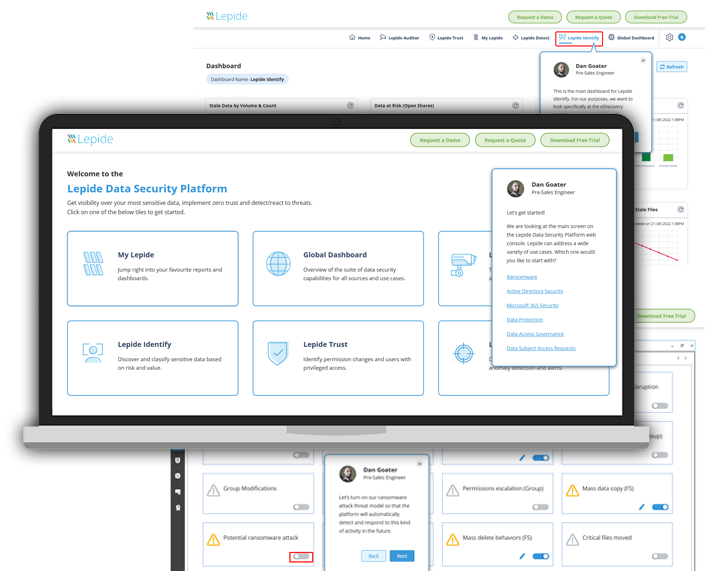 On-Premise and Cloud Protection From a Single Console
Our Success Stories
Western Connecticut Health Network
Lepide is straightforward to use and effective right off the bat. Plus, the level of patience, attentiveness and technical knowhow is far beyond most support and sales teams I've seen before.

Drayke Jackson

Security Engineer

Edinburgh Napier University
We chose Lepide as they were able to offer us threat detection and response, and a way of separating out reporting duties to a web console – all from one platform.

Kevin Gallagher

Senior Systems Administrator

City of
Danville
Lepide is a perfect fit for our IT Security and Compliance requirements. It helps us cut out a lot of wasted time and money and now we know we can be compliant with industry standards.

Agnel Dsilva

Information Technology Administrator