sales@lepide.com
+1-800-814-0578
SharePoint Online Auditing Software
Millions of organizations have already migrated from their traditional file management systems to SharePoint Online, and more businesses are migrating every day. If you're storing crucial data in SharePoint Online, it is essential that you audit this cloud environment. You should be able to see all changes taking place in order to increase your security and meet compliance demands. Lepide SharePoint Online Auditor helps simplify this task for you through easy and continuous auditing of SharePoint Online.

Classify Sensitive Data
Locate and classify sensitive data according to the sensitivity of the content and its relation to compliance requirements.

Track and Analyze Permission Changes
Determine who has access to which files and folders and track permission changes to help spot excessive permissions and at-risk data.

Automated Report Sharing
The pre-defined audit reports in Lepide SharePoint Online Auditor can be scheduled and automatically shared with selected recipients.
How Lepide Helps Audit SharePoint Online Changes
Lepide's SharePoint Online auditing tool tracks all changes made to SharePoint Online permissions and data in real time. Overcome the limitations of native SharePoint Online auditing by providing reports that are readable, actionable and detailed.
See When Data is Shared Externally
Lepide can now show you when data is being shared externally on SharePoint Online. This gives you the ability to identify and alert in real time when your most sensitive data is being shared outside your organization, helping you to detect incidents that could lead to potential data breaches.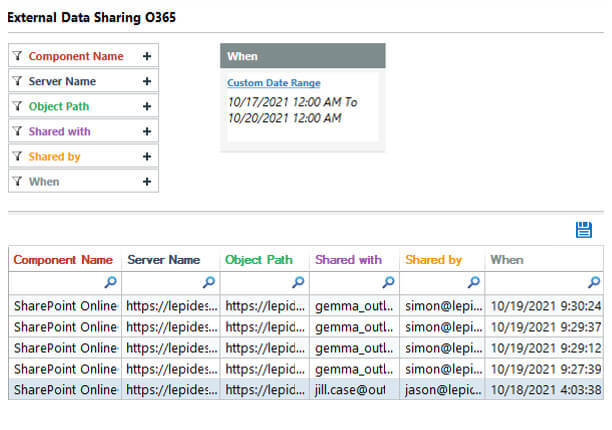 Keep Track of Permission Changes
Our Solution keeps track of all changes made in the permissions of documents, folders, lists, libraries and site collection. It sends real-time or threshold-based alerts on critical permission changes via email, as updates to LiveFeed report and as push-notifications to Lepide Mobile App. This continuous permission change monitoring helps you avoid unauthorized data access and privilege abuse.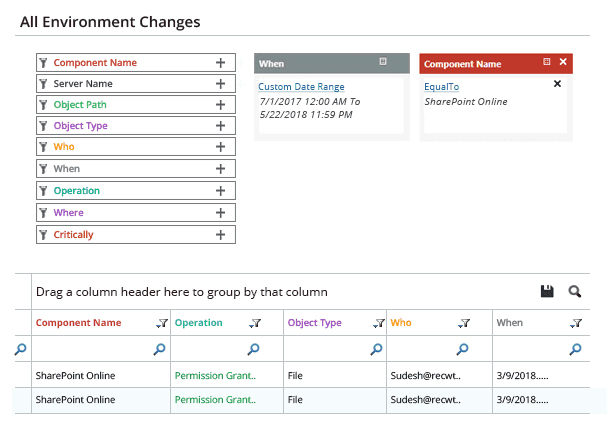 Automated or Manual Report Sharing
Our predefined audit and compliance reports can all be scheduled to be delivered to intended recipients through email or by storing at a shared location. If you opt to save the reports on the disk, the target users will be notified automatically by email.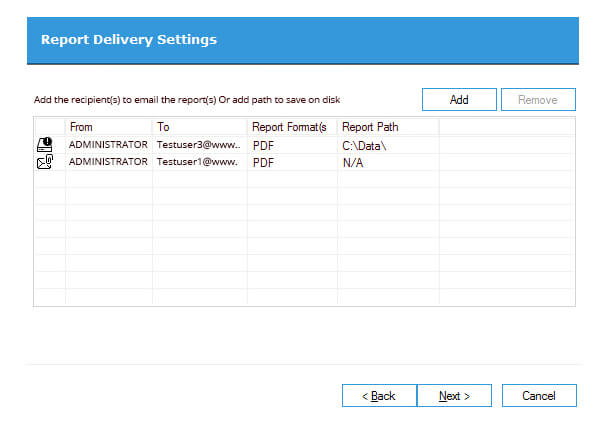 Spot Users with Excessive Permissions
Lepide automatically identifies users that may have excessive permissions based on their data usage patterns. For example, if a user has access to a file containing sensitive information, and they have not accessed that file in over a year, Lepide will assume that the permissions are no longer required. You then have the option to modify the permissions of that user to implement zero trust.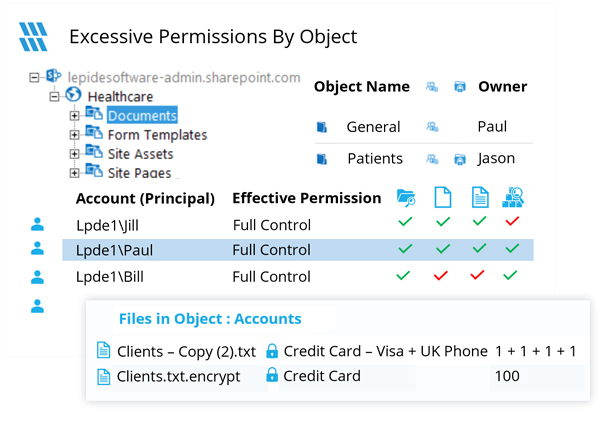 Want to see it in action?
Take a virtual tour of the Lepide Data Security Platform in our web-based demo. See how Lepide aligns with your use case, whether it be ransomware, Active Directory security, Microsoft 365 security, data protection, data access governance or more.
Launch in-browser demo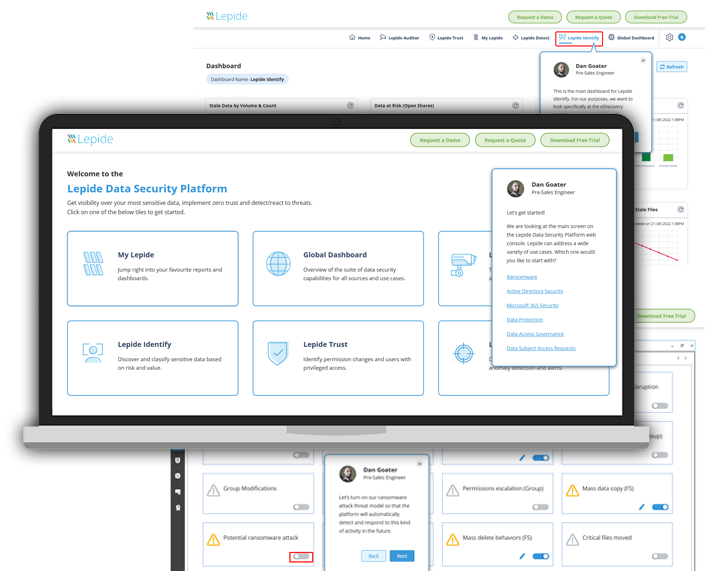 On-Premise and Cloud Protection From a Single Console
Our Success Stories
Western Connecticut Health Network
Lepide is straightforward to use and effective right off the bat. Plus, the level of patience, attentiveness and technical knowhow is far beyond most support and sales teams I've seen before.

Drayke Jackson

Security Engineer

Edinburgh Napier University
We chose Lepide as they were able to offer us threat detection and response, and a way of separating out reporting duties to a web console – all from one platform.

Kevin Gallagher

Senior Systems Administrator

City of
Danville
Lepide is a perfect fit for our IT Security and Compliance requirements. It helps us cut out a lot of wasted time and money and now we know we can be compliant with industry standards.

Agnel Dsilva

Information Technology Administrator