How CISOs Can Win Over the Board on Cybersecurity Strategy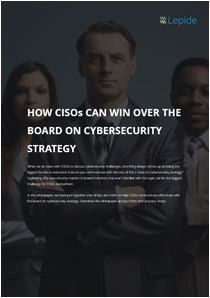 When we sit down with CISOs to discuss cybersecurity challenges, one thing always comes up as being the biggest hurdle to overcome; how do you communicate with the rest of the C-Suite on cybersecurity strategy? Explaining why data security matters to board members that aren't familiar with the topic can be the biggest challenge for CISOs everywhere.
In this whitepaper, we have put together a list of tips and tricks to help CISOs communicate effectively with the board on cybersecurity strategy. Download the whitepaper and put them into practice today!