Get Your Free Risk Analysis
What We Analyze
Our risk analysis process is completely free and turnkey, so you can just sit back and relax as our engineers do all the heavy lifting. As part of our risk analysis process, we will assess the following key areas of your data security:
Overview of Current Permissions and Changes
We will determine how many of your users currently have privileged access and the number of permission changes you are seeing so that you can spot over privileged users and prevent privilege abuse.
Analysis of Changes Being Made to Your Data
We will see whether your users are behaving in a "normal" way when it comes to your data and determine how many anomalies are happening. Spot the signs of a data breach in progress.
Overview of Your Environment States
We can show you whether your environment is posing a risk to your data. Our report will show you how many open shares, stale users and data you have that can be cleaned up to improve security.
Our Recommendations for Risk Remediation
We break down the risk you are currently facing in terms of priority and give you actionable steps towards improving the security of your data. This is the most important page in the report!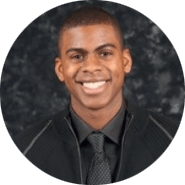 Lepide's Risk Analysis Report gave me a really clear picture of where we were struggling and offered practical, realistic advice for how we could improve our data security. Thoroughly recommend it.
Drayke Jackson

Security Engineer