Add More Intelligence to Your
Active Directory Security

Hundreds of pre-defined reports combined with proactive anomaly spotting, gives you total visibility over the state of your Active Directory.

Audit and reverse Active Directory permission changes so that you can maintain a policy of least privilege and better govern access to data.

Automated responses can be triggered from real time alerts to help mitigate potential Active Directory threats and attacks.
Reduce Your Threat Surface Area & Minimize Downtime
Identify security states and changes that lead to a larger threat surface area. Reverse unwanted changes easily.
Reduce downtime by automating common IT helpdesk requests that can otherwise be time consuming and complex to remedy.
Simplify IT Tasks
Account Lockouts

Object Restoration

Password Expiration

Password Resets
Threat Surface
Open Shares

Stale Data

Inactive Users

Configurations

Permissions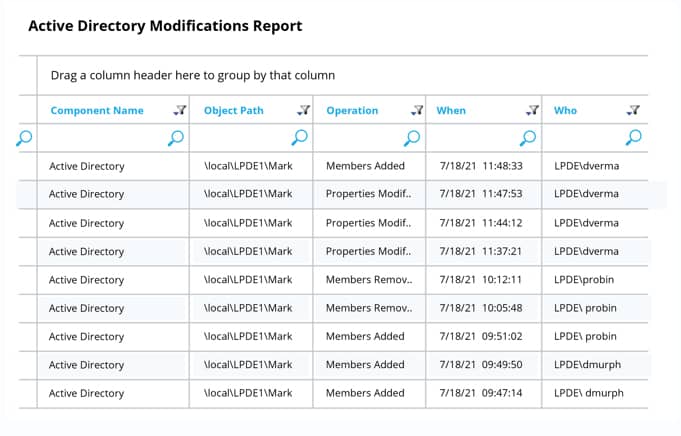 Track and Store All Active Directory Events for Future Investigations
Maintain a complete history of Active Directory events, with advanced searching, sorting and filtering capabilities to make investigations easy. Our Active Directory change records are simple, and contain all essential audit information in one place. Read more
Easily Audit the Structure of Your Active Directory
Active Directory structures can become complex and difficult to understand as an organization grows and evolves. Attackers can easily exploit a lack of visibility over this structure. Lepide gives you the ability to easily see who has what levels of access in Active Directory and how they got them so that you can easily visualize your AD structure.
Read more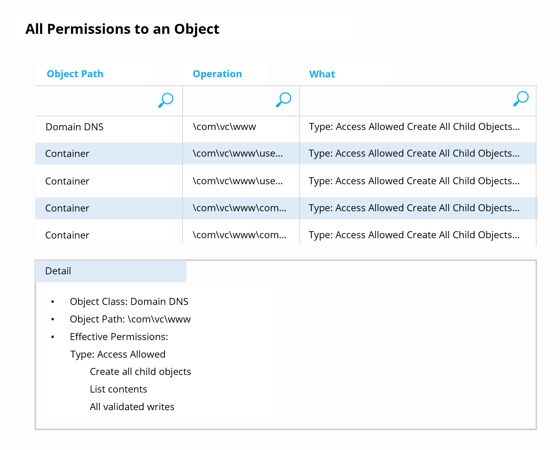 Want to see it in action?
Take a virtual tour of the Lepide Data Security Platform in our web-based demo. See how Lepide aligns with your use case, whether it be ransomware, Active Directory security, Microsoft 365 security, data protection, data access governance or more.
Launch in-browser demo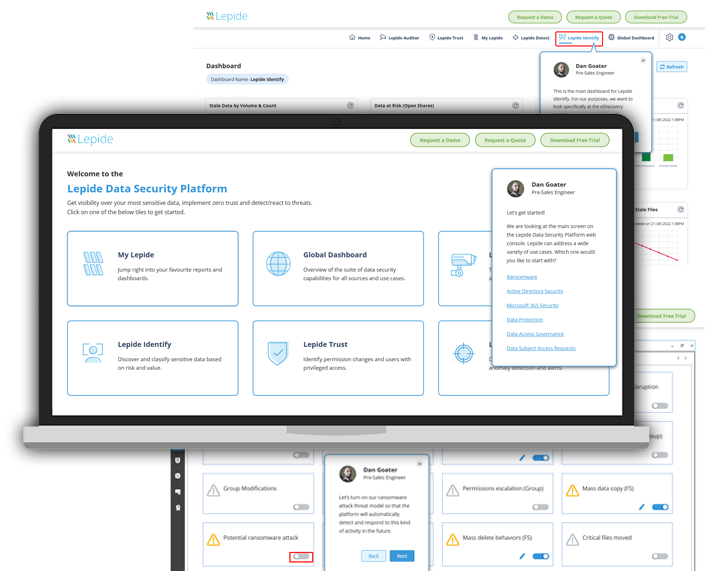 On-Premise and Cloud Protection From a Single Console

We use Lepide for the security of our Azure and On-prem environment, its real time alert system is awesome!

Read more case studies
Our Success Stories
Western Connecticut Health Network
Lepide is straightforward to use and effective right off the bat. Plus, the level of patience, attentiveness and technical knowhow is far beyond most support and sales teams I've seen before.

Drayke Jackson

Security Engineer

Edinburgh Napier University
We chose Lepide as they were able to offer us threat detection and response, and a way of separating out reporting duties to a web console – all from one platform.

Kevin Gallagher

Senior Systems Administrator

City of
Danville
Lepide is a perfect fit for our IT Security and Compliance requirements. It helps us cut out a lot of wasted time and money and now we know we can be compliant with industry standards.

Agnel Dsilva

Information Technology Administrator