Upcoming Webinar The New US Data Privacy Environment: Are You Ready? 10th August, 2pm EST
Register Now
✕
|
sales@lepide.com
|
+1-800-814-0578
|
OneDrive for Business Auditing Software
OneDrive for Business often contains very sensitive data that must be constantly monitored for both security and compliance reasons. Auditing and monitoring what changes are taking place within OneDrive for Business will help you get better control over the data you store in the cloud. Lepide Data Security Platform enables you to get insight into the changes taking place in your files, folders, security groups and configurations through real time alerts and pre-defined reports.
Track File/Folder Changes
Understand what's happening with your data and whether the changes being made are affecting security.
Track Permission Changes
Determine whether any changes made to permissions, configurations or security groups are putting your data at risk.
Classify Sensitive Data
Discover and classify sensitive data on OneDrive so that you can prioritize risk and focus your security strategy on what matters most.
"Environment visibility at a glance. The real time alerting, and
live feed of changes are awesome."
Lepide is straightforward to use and effective right off the bat. Plus, the level of patience, attentiveness and technical knowhow is far beyond most support and sales teams I've seen before.
Drayke Jackson

Security Engineer
We chose Lepide as they were able to offer us threat detection and response, and a way of separating out reporting duties to a web console – all from one platform.
Kevin Gallagher

Senior Systems Administrator
Lepide is a perfect fit for our IT Security and Compliance requirements. It helps us cut out a lot of wasted time and money and now we know we can be compliant with industry standards.
Agnel Dsilva

Information Technology Administrator

How Lepide Helps Audit OneDrive for Business Changes
Lepide's OneDrive auditing solution tracks all changes made to OneDrive for Business groups, configurations and file/folder changes. Overcome the limitations of native OneDrive auditing by providing reports that are readable, actionable and detailed.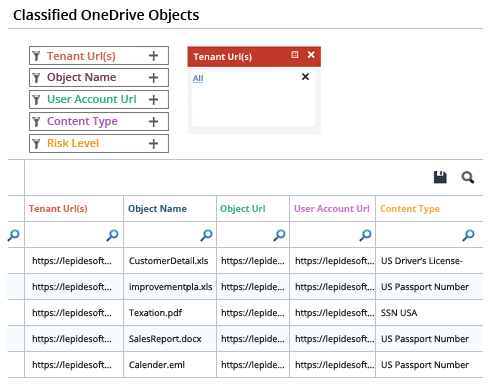 Discover and Classify Sensitive Data in OneDrive
As more and more organizations make the switch to cloud-based collaboration and storage platforms, it is more important than ever to ensure that you know where your sensitive data is and how it is being shared. With Lepide, you can discover, classify, tag and score data based on the content, risk and associated compliance mandate, so that you can focus your security strategy on the data that matters most.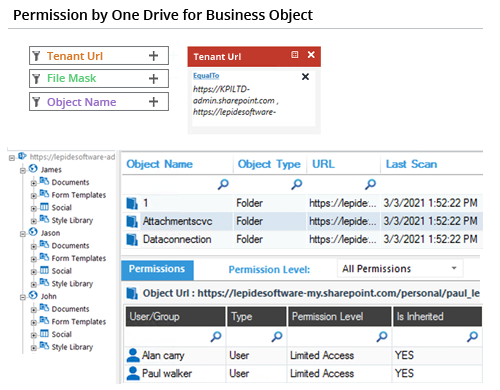 Analyze Permissions on OneDrive for Business
Easily identify the most sensitive data you have stored in OneDrive and, most importantly, who has access to your most sensitive data. Being able to determine who has access to what and revoking excessive or unnecessary permissions around your most sensitive data is fundamental in a data-centric approach to security.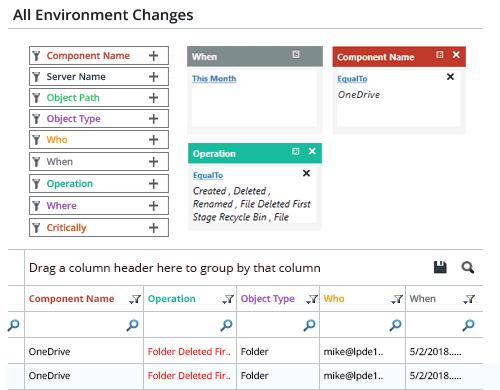 Track File and Folder Level Changes
Easily assess all activity surrounding the files and folders within OneDrive using our intuitive and easy to read report format. Within a single view you can get a historical view of who is creating and deleting files and folders, when files are being viewed, moved or even renamed. Having this visibility will ensure you have complete accountability as to who is doing what surrounding the critical data shared through Microsoft OneDrive.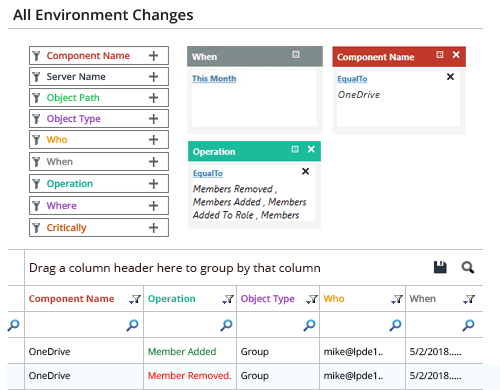 Track Security Groups and Configuration Changes
Equally as important as understanding the user interactions around the data is to be able to determine if any configuration changes are made as well as changes to fundamental security groups delegating specific roles and access to not only the configuration but also the data itself such as changes to the site collection admin group.
Protect Core Systems – On-Premise and in the Cloud
You can also integrate with any of your favorite apps or SIEM solutions for even wider coverage.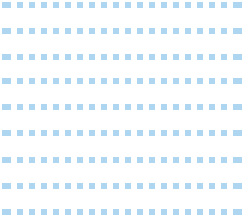 Ready To Start Auditing Azure AD?
We offer a fully functional free trial that runs for 15-days with no obligation at the end. If you don't want to trial the solution, you can schedule an in-depth, personalized demo by clicking on the link below.
START FREE TRIAL
Schedule a Demo