Upcoming Webinar What's New in Lepide Data Security Platform 21.2? 21st October, 2pm EST
Register Now
✕
Trying to manually query your Active Directory can be a tedious task, and trying to get to the bottom of specific elements of your Active Directory manually can be quite a challenge. Our Active Directory query tool takes this pain away. Using our Active Directory query solution we can give you instant access to specific information within just a few clicks of the mouse. And best of all it's free – yes, 100% free, no catches, gimmicks. Just free. This solution allows administrators an easy way to query Active Directory and receive detailed user information of all objects saved by the user. The generated information can be saved in CSV format and used for future reference. Additionally, the results can be optimized with the use of "Advanced" button option. This helps administrators to generate improved attributed results for the Domain as per each query.
Key Features

Makes it much easier for Windows administrators to quickly run queries against specific users in the Active Directory.

Utilizes the user credentials of Logged-on client (administrator).

Exports details to a CSV files for further interrogation as needed.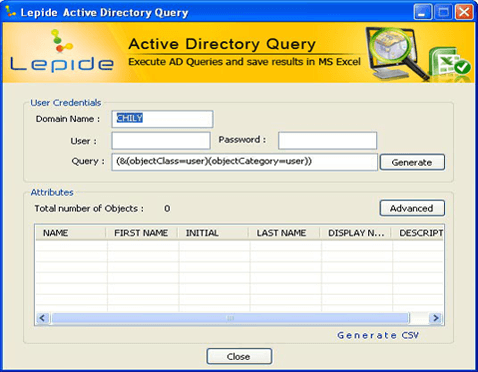 How to Query Your Active Directory

Install the solution
Enter Domain Name you would like to query
Enter credentials for the domain
Enter the query you would like to make
Click on 'Generate' button
Review the results...