sales@lepide.com
+1-800-814-0578
Monitor and Report on Exchange Server Changes for Free
The Lepide Change Reporter shows changes made to mailboxes, mailbox databases, role groups and Exchange Server configurations. With this free Exchange Server tool, you can see "where and when" changes were made to your Exchange Server environment. Once installed, it's yours, for free, forever!

Intuitive Dashboard
You can now see changes occurring in your Exchange Server environment with a simple, yet powerful, intuitive dashboard. It enables you to determine changes being made to your Exchange Server 24 hours a day and spot anomalies.

Instant Visibility
Lepide Change Reporter is an automated monitoring solution, which track changes made to Exchange Server objects daily. Our Exchange Server tool offers data collection and consolidation for different user activity from multiple sources in your Exchange Server environment.

Noise-free auditing environment
The free tool collects raw logs and transforms them into meaningful and precise information, removing the noise in the process. It eliminates the need to analyze mountains of native logs by providing information about every activity in easy-to-interpret and readable formats.

Better than Native Auditing
See the 'when and where' details for objects modified in your Exchange Server environment. The freeware also indicates which objects were added, changed or removed from the Exchange Server.
Download the Lepide Change Reporter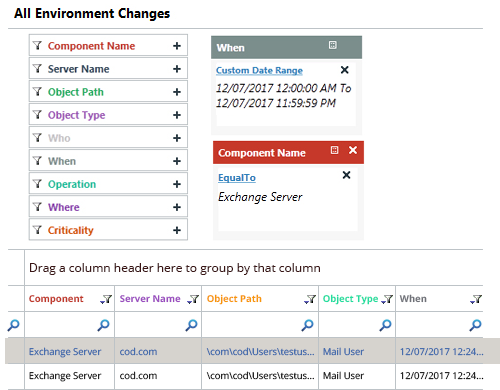 Start Your Journey to Better Exchange Server Reporting
Our "All Environment Changes" report included in the Change Reporter freeware, provides information on all the changes being made to Exchange Server Configurations. You can also get answers to the 'when and where' auditing questions to help you increase visibility and provide some context to changes.
Remember, the Change Reporter freeware only provides initial awareness over changes being made. If you want complete visibility over your Exchange Server, it is recommended that you take a free trial of Lepide Exchange Server Auditor.
"It does what it says on the tin! No more questionable oopsies about who deleted or changed what when you weren't looking. A must have as part of your freeware collection."