sales@lepide.com
|
+1-800-814-0578
|
Analyze Current Permissions and Spot Excessive Permissions
Lepide enables IT teams to analyze current permissions applied to shared files and folders. It helps you ensure that only the right people have access to the right data, thus minimizing the risk of security breaches. With Lepide, you can instantly see who has received which permission, and from where, on a shared file or folder, and spot excessive permissions.
Identify Excessive Permissions
Generate a report on all users with excessive permissions so that you can begin to reduce risk.
Track Permission Changes
Get notifications when permissions to your sensitive data change, as this could create users with excessive permissions.
Implement Zero Trust
Find out what your users are doing with your data and whether the changes they are making are affecting your security.
Ensure an Effective Permissions Strategy with Lepide Trust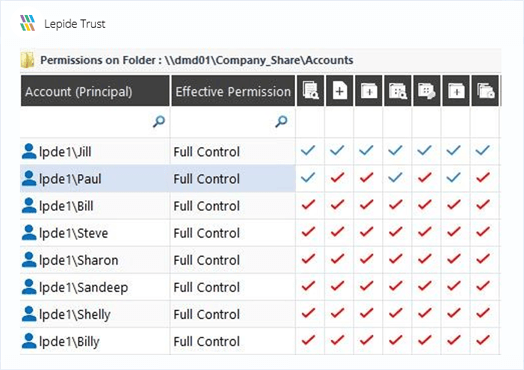 Determine Who Your Privileged Users Are Find out who has access to your most sensitive data and how that access was granted to ensure you aren't at risk.
Remove Excessive Permissions Ensure you are operating on a policy of least privilege by monitoring changes to permissions and reversing unwanted changes. Doing this will ensure that your potential attack surface is greatly reduced.
React to the Signs of Privilege Abuse Combine with Lepide Detect to take action when the signs of privilege abuse manifest themselves in your environment. Identify the user and restrict their access easily.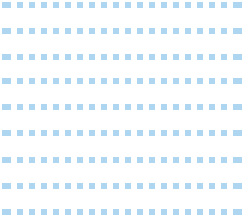 GET A 1-2-1 DEMO
Get Started with Lepide Trust
Request a personalized, 30-minute demo of Lepide Data Security Platform to see how it can be used to protect sensitive data, meet compliance and respond to security threats.
Protect Core Systems – On-Premise and in the Cloud
You can also integrate with any of your favorite apps or SIEM solutions for even wider coverage.
Lepide is trusted and used by thousands or organizations across the globe to secure data and meet compliance.
Lepide is straightforward to use and effective right off the bat. Plus, the level of patience, attentiveness and technical knowhow is far beyond most support and sales teams I've seen before.
Drayke Jackson Security Engineer
While price was a factor, we ultimately chose Lepide as they were able to offer us threat response, and a way of separating out reporting duties to a web console.
Kevin Gallagher Senior Systems Administrator
Lepide is a perfect fit for our IT Security and Compliance requirements. It helps us cut out a lot of wasted time and money and now we know we can be compliant with industry standards.
Agnel Dsilva Information Technology Administrator
REQUEST A FREE RISK ANALYSIS
See Current Threats and Get Advice on How to Respond
The Lepide Risk Analysis is a completely free, turnkey service that enables organizations to see where their current threats are and how to respond.