Exchange Monitoring and Reporting Tool
The Lepide Auditor for Exchange is a single platform for all your Exchange on-premises and Exchange Online monitoring and reporting requirements. You can monitor the health of Exchange Server, monitor, and report any changes, and keep on top of your mailbox permissions and more with Lepide Exchange Auditor.

In-depth reporting
All required audit information is delivered in a single pane of glass, including who, what, when and where for any change made. The reports are fully customizable and easy to sort, search and filter down.

Proactive Monitoring
Our Exchange Server and Exchange Online monitoring solution enables you to easily keep track of when changes are being made to mailboxes, permissions, configurations and more.
Want to see it in action?
Take a virtual tour of the Lepide Data Security Platform in our web-based demo. See how Lepide aligns with your use case, whether it be ransomware, Active Directory security, Microsoft 365 security, data protection, data access governance or more.
Launch in-browser demo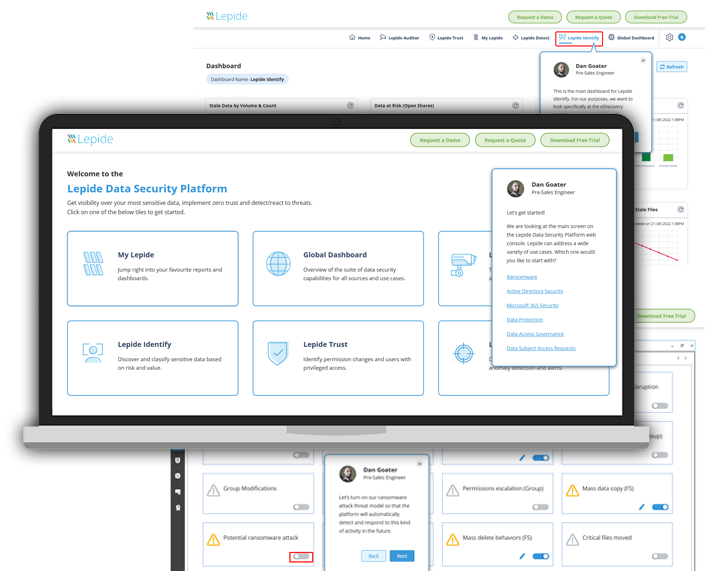 How Lepide Monitors and Reports on Exchange Server and Exchange Online States and Changes

Mailbox modifications
See when Exchange Server or Exchange Online mailboxes are created, moved, deleted, modified and disabled. Also report on modifications to mailbox settings, such as delivery options, message size restrictions, mailbox expiry dates and more.

Exchange permissions modifications
Find out when Exchange Server or Exchange Online access rights are modified, including who modified them, when it happened, where the change took place, and exactly what was changed. Maintain zero trust with strict visibility over permission changes.

Policy modifications
Track and ensure compliance protocols and regulatory requirements by getting visibility over when modifications are made to Exchange Server policies, including when policies are created, modified and deleted.

Exchange role modifications
Visibility over the changes taking place to Exchange Online roles ensures the security of your Exchange Online environment, enables better detection of unauthorized access, and helps to maintain data integrity.

Other Exchange reports
There are hundreds of Exchange Server and Exchange Online reports in the Lepide solution, including modifications to mail contacts, address book, address list, domains, public folders, policy, groups, and much more. If there's a change that can be tracked, Lepide will track it!

Monitor Exchange Server Health
Exchange Server health monitoring in Lepide Data Security Platform provides a simple yet powerful means of keeping track of the health status of your Exchange Environment. It enables you to keep track and alert based on predefined criteria pertaining to EDB file size, mailbox size, disk space, CPU utilization and much more.

We use Lepide for the security of our Azure and On-prem environment, its real time alert system is awesome!

Our Success Stories
Western Connecticut Health Network
Lepide is straightforward to use and effective right off the bat. Plus, the level of patience, attentiveness and technical knowhow is far beyond most support and sales teams I've seen before.

Drayke Jackson

Security Engineer

Edinburgh Napier University
We chose Lepide as they were able to offer us threat detection and response, and a way of separating out reporting duties to a web console – all from one platform.

Kevin Gallagher

Senior Systems Administrator

City of
Danville
Lepide is a perfect fit for our IT Security and Compliance requirements. It helps us cut out a lot of wasted time and money and now we know we can be compliant with industry standards.

Agnel Dsilva

Information Technology Administrator

Complete coverage for your on-premise, cloud, or hybrid environment