User & Entity Behavior Analytics Solution
Audit, monitor and alert on how your users and entities are interacting with your critical data (copying/moving/modifying) and spot trends so that you can quickly react to potential threats.

Monitor Data Interactions
See how your users are interacting with your sensitive data.

Detect Potential Anomalies
Spot potentially dangerous interactions and system state changes automatically.

Spot Trends in Behavior
Analyze trends in user/entity behavior to determine deviations from the norm.

Track All Access Attempts
Determine which users are attempting to access your critical data/systems.

Alerts
Immediate alerts when users make changes outside of their previously learned behavior
Start Analyzing User Behavior and Spotting Anomalies
A fundamental step in any data-centric audit & protection strategy is to ensure you know what changes your users are making to your data and whether these changes are affecting your security. For this, you'll need a Data Security Platform, like LepideAuditor, that provides permissions analysis functionality.
Need More Proof of LepideAuditor's ROI?
If you're interested in seeing where your cybersecurity strengths and weaknesses lie, then our professional risk assessment service may be for you.
Our engineers will do all the heavy lifting for you and generate a detailed report to show you where your biggest security threats are – all for free with no obligation!
Schedule Free Risk Assessment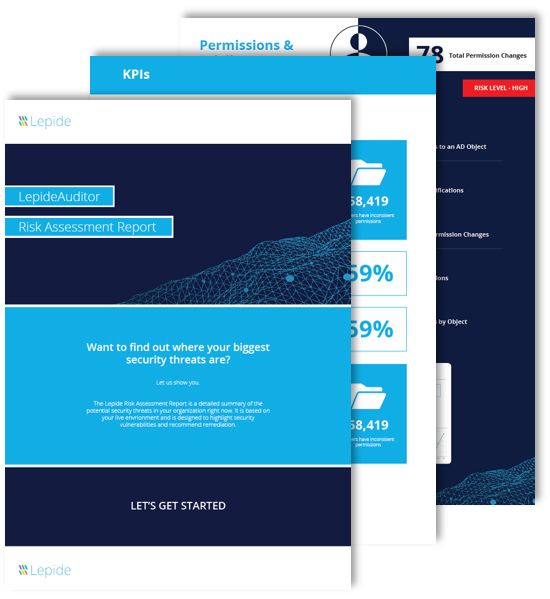 What Else Can LepideAuditor Do for You?

Discovery & Classification
Find out where your most sensitive data is and what makes it sensitive.
Learn More ->

Permissions & Privileges
Determine who has access to what and whether access levels are appropriate.
Learn More ->

States & Changes
Get insight into environment states & changes that pose a risk to your data.
Learn More ->