sales@lepide.com
+1-800-814-0578
Monitor and Report on Group Policy Changes for Free
Group Policy Objects offer IT admins a centralized way to manage the resources and settings of their IT infrastructure. A slight error in these settings can have serious repercussions to the security of your organization. With the Lepide Change Reporter freeware, you can detect changes being made to Group Policy Objects to help overcome the limitations of native auditing methods.

Easy-to-use
Our Group Policy Freeware is easy to install, configure, and use. After adding the domain, you can view the changes made to Active Directory and Group Policy Objects in the predefined report. It is also very easy to modify the listing of an added domain.

Instant Visibility
Our free Group Policy monitoring tool shows all changes that have been made to Group Policy. The Radar Tab displays this change information in an easy to digest way to make it simpler to detect and react to unwanted Group Policy changes.

Noise-free auditing environment
Our tool records every change made to Group Policy by processing and converting raw log into intelligent audit data. This data is stored and displayed in a predefined report.

Better than Native Auditing
Relying on native auditing for Group Policy isn't practical. To help you identify threats to your IT security faster, The Lepide Change Reporter freeware provides you with easy-to-understand details on configuration changes and user activities.
Download the Lepide Change Reporter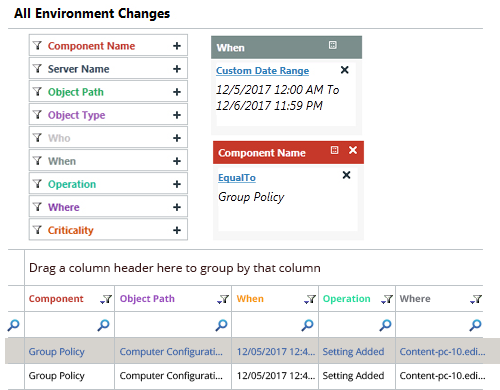 Start Your Journey to Better Group Policy Reporting
Our "All Environment Changes" report included in the Change Reporter freeware, provides information on all the changes being made to Group Policy Objects. You can also get answers to the 'when and where' auditing questions to help you increase visibility and provide some context to changes.
Remember, the Change Reporter freeware only provides initial awareness over changes being made. If you want complete visibility over your Group Policy Objects, it is recommended that you take a free trial of Lepide Group Policy Auditor.
"It does what it says on the tin! No more questionable oopsies about who deleted or changed what when you weren't looking. A must have as part of your freeware collection."