Office 365 Auditing
Office 365 is the backbone of operations and communications in many organizations across the world. Many depend on it for their communications, data storage and data sharing requirements. Unauthorized configuration changes can potentially prevent Office 365 users from performing business critical tasks, such as using documents on SharePoint Online or sending emails through Exchange Online. Disruptions like these can result in severe financial losses. To help prevent this from happening, LepideAuditor enables you to audit Office 365 (Exchange Online and SharePoint Online) to give you full visibility on changes taking place. LepideAuditor is easy to use, scalable and allows you to overcome all manner of security, operations and compliance challenges – all from a single console.
View all changes from an easy-to-use GUI
Our graphical dashboard is the perfect place to summarise the changes taking place in Office 365 (Exchange Online). From this easy-to-use, intuitive interface you can see a summary of all changes made, your most active admins, modification trends, deletion trends and more. Having these changes in one place allows you to get instant visibility into any unwanted change trends or anomalies, as well as helping you to improve server performance through consistent health tracking. You can also get more in-depth into Exchange Online changes taking place via our LiveFeed, which displays the changes as they happen.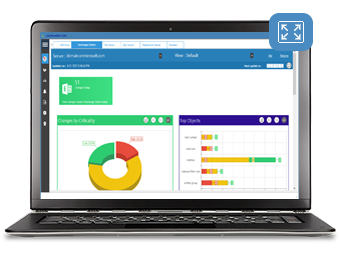 Dedicated predefined reports to help you audit Office 365 and meet compliances
LepideAuditor enables you to audit every change in the configuration of Exchange Online; including changes to mailboxes, eDiscovery, Remote domain lists, Unified Messaging and policies. These changes are displayed in 39 different predefined reports, which can be drilled-down and filtered to extract the vital data. Reports are also available to help you meet various compliances; including PCI, HIPAA, GLBA, FISMA, SOX and GDPR. These reports can be saved as CSV, PDF or MHT files on the disk drive.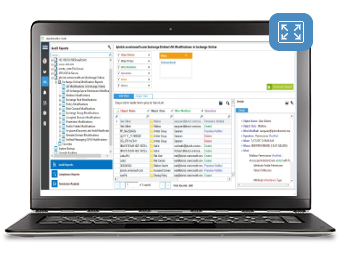 Generate real-time or threshold alerts for any scenario
As soon as a critical change is detected, LepideAuditor sends real-time alerts via email or as push-notifications to LepideAuditor App (available for both Android and Apple devices). You can also configure the solution to send threshold based alerts whenever a change is repeated a certain number of times in a predefined interval.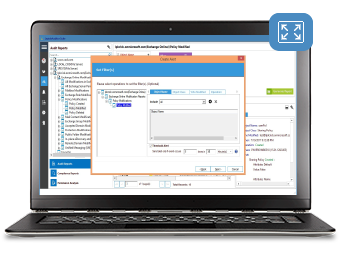 Track Office 365 (Exchange Online) changes on your mobile device
The LepideAuditor App is available for any Android or Apple device. Once the App is installed on your mobile device, simply configure the LepideAuditor console and you will start receiving alerts for critical changes as push notifications. Read more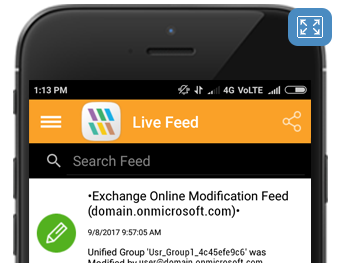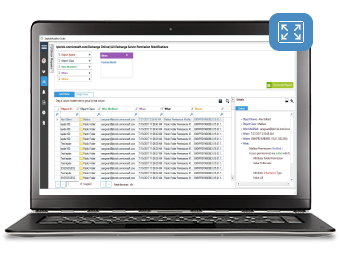 Analyze permission changes in Exchange Online
LepideAuditor monitors every change being made in the permissions of Exchange Online. When these changes are detected, alerts can be sent in real-time via emails to selected recipients or push-notifications to the LepideAuditor App. Continuous permission monitoring allows administrators to take corrective measures whenever unwanted access privileges or administrative rights are granted to any user.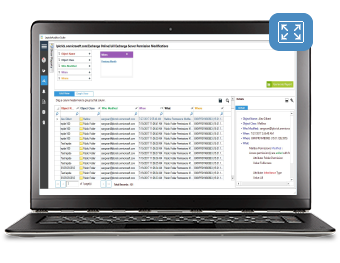 Organize raw logs into easy-to-understand reports
LepideAuditor processes raw logs and displays the important information in an easy-to-read report. One record, with answers to the "who, what, when and where" questions, is displayed for a single change. Before and after values for every change are also displayed in order to give you context. All changes can be analyzed from both text-based reports and graphs.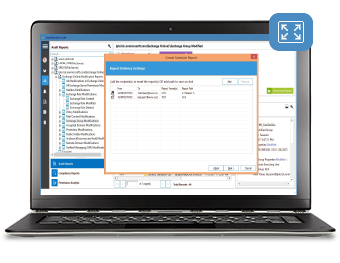 Share audit reports with selected recipients
Predefined reports can be delivered at periodic intervals through email or saved as a PDF, CSV or MHT file at a shared location. Once saved, users can be notified through email.
❝
LepideAuditor is simple to install and setup and is an easy-to-use solution for auditing your IT environment.
Ahmed Nabil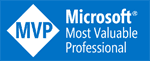 ❝
LepideAuditor takes the strain out of change auditing and regulatory compliance with one of the most comprehensive solutions on the market.
IT Security Guru


❝
It's rare to find a solution which covers a such a wide range of auditing services, but 'LepideAuditor' is one of those rare exceptions.
Mahdi Tehrani

Active Directory Lead
❝
LepideAuditor is one of the most simple to use and feature-packed security suite for Microsoft-based environments. If you fear security breach, this is one of the most essential security perimeters.
Erik Blum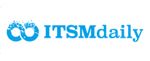 ❝
LepideAuditor is an excellent audit solution. It gives IT teams complete information about what's happening in the IT systems, the health of their servers and backup history.
Prajwal Desai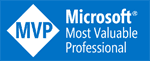 ❝
The LepideAuditor is an invaluable toolset for any System Admin to audit Active Directory, Group Policy and Exchange server changes.
Marius Ene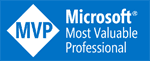 ❝
I really enjoyed the way LepideAuditor performs to audit the changes made to Active Directory and Group Policy Objects. I will certainly recommend it to anyone who is looking for an easy-to-use third party auditor.
Roman Nedzelský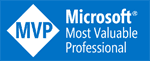 ❝
LepideAuditor is highly recommended as it not only meets all requirements for Active Directory and Group Policy change auditing but also it is easy and friendly to use.
Roberto Di Lello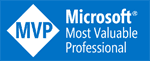 ❝
LepideAuditor is an excellent auditing solution. Some key features of the solution are compliance reports, health monitoring, alerts/notifications and the backup/restore functionality.
Mayank Dhama

IT Expert
❝
LepideAuditor honored as Gold winner in the 12th Annual 2016 Info Security PG's Global Excellence Awards® in 'Auditing'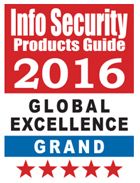 ❝
LepideAuditor is a solid product that will likely do a good job for anyone who wants to know what administrative actions are being taken in their organization.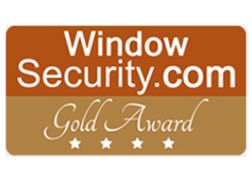 ❝
LepideAuditor received a gold certification in data loss prevention.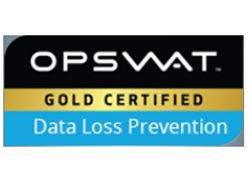 ❝ LepideAuditor has brilliant search capabilities and was easy to use from the perspective of a non-technical end user – highly recommend it.❞

❝ LepideAuditor provided us with complete visibility over what was happening in our IT environment in a simple, cost-effective and scalable way.❞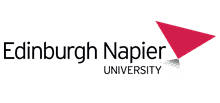 ❝ We're very pleased with how much more insight LepideAuditor gave us and impressed with the attentive customer service they provided.❞

❝ LepideAuditor takes the strain out of change auditing and regulatory compliance with one of the most comprehensive solutions on the market. ❞