Upcoming Webinar - Why the CISO Needs to Take a Data-Centric View on Security April 22 at 2 pm EDT
Register Now
✕
|
sales@lepide.com
|
+1-800-814-0578
|
Exchange Server Change Tracking
Whether it is data security or compliance, you need a simple and highly effective solution to see who made what change, where and when in your Exchange Server environment. Inability to keep an eye on these Exchange Server changes can lead to data breaches or disruptions to organizational functioning. Lepide Exchange Server Auditor provides a simple, cost-effective way to audit Exchange Servers. The predefined reports provide "before" and "after" values for each configuration change to help you fully understand the meaning of the change. It gives you complete insight into your Exchange Server environment to help you overcome compliance and security challenges.
"Environment visibility at a glance. The real time alerting, and
live feed of changes are awesome."
Lepide is straightforward to use and effective right off the bat. Plus, the level of patience, attentiveness and technical knowhow is far beyond most support and sales teams I've seen before.
Drayke Jackson

Security Engineer
We chose Lepide as they were able to offer us threat detection and response, and a way of separating out reporting duties to a web console – all from one platform.
Kevin Gallagher

Senior Systems Administrator
Lepide is a perfect fit for our IT Security and Compliance requirements. It helps us cut out a lot of wasted time and money and now we know we can be compliant with industry standards.
Agnel Dsilva

Information Technology Administrator

How We Track Exchange Server Changes
Track All Exchange Configuration Changes Lepide Exchange Server Auditor audits every configuration change made to Exchange Server, including: Mailbox Modifications Accepted Domain Modifications Exchange Role Modifications In-place eDiscovery and hold Modifications Policy Modifications Distribution Group Modifications Remote Domain Modifications Protection Modifications Any change in configuration is displayed with both before and after values that lets you see what exactly has been changed. In the Radar Tab, you can create a customized view to keep an eye on the Exchange Server changes that are most important to you. The domain-dedicated Radar tab also helps keep you aware of all configuration changes made in the entire domain.
Audit All Mailbox Modifications Our solution lets you audit all changes made to user mailboxes. Whenever a mailbox is created, deleted, modified, disabled or moved, our Exchange auditing solution will let you know. It also records the changes in the settings of Exchange Mailboxes, such changes in message delivery restrictions, storage quota and other configurations.
Real-time Alerts for Critical Exchange Server Changes IT administrators can configure Lepide Exchange Server Auditor to send real-time alerts for all changes made to the configuration of their Exchange environment. You can send these alerts as emails to any recipient, as live updates to LiveFeed report of Radar Tab, and as push-notifications to the Lepide Mobile App. These alerts can be enhanced with advanced filtration and threshold limit. You can also choose to run your own customized script with the alerts to prepare a quick incident response mechanism. It lets you perform any task, such as disabling a user who has modified the Public Folder or removed the mailbox of a user who is trying to access the mailbox of other users.
Granular Reporting Our Exchange Server auditing solution parses and converts raw audit logs into meaningful records, stored permanently in the SQL Server database and displayed in the predefined audit reports. These reports can be sorted, searched and more to meet your specific auditing requirements. You can schedule automatic delivery at periodic intervals in CSV, PDF or MHT format through email or by saving at a shared location. Administrators can delegate access to these reports to users, see who can view it using the provided credentials in a secured Web-based console.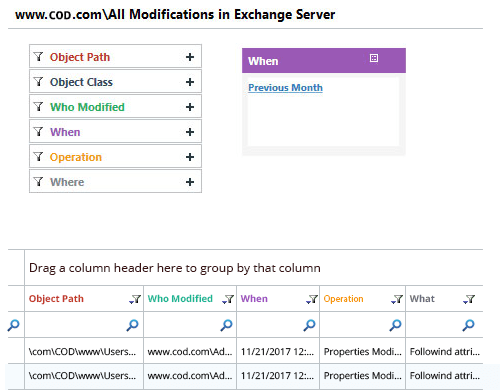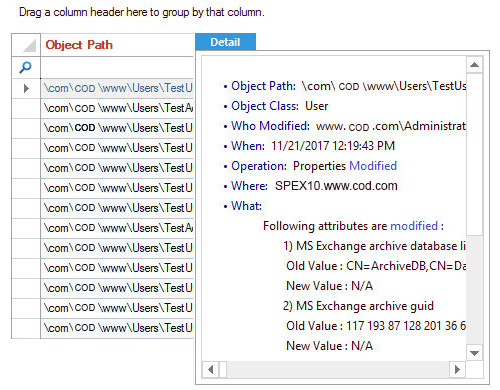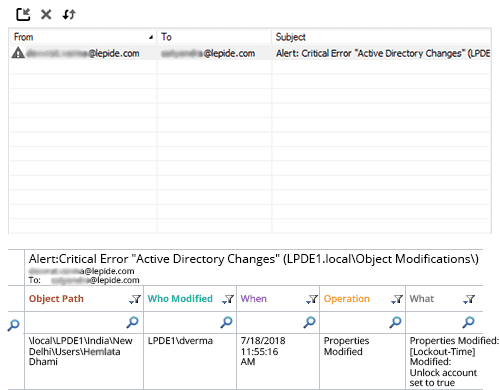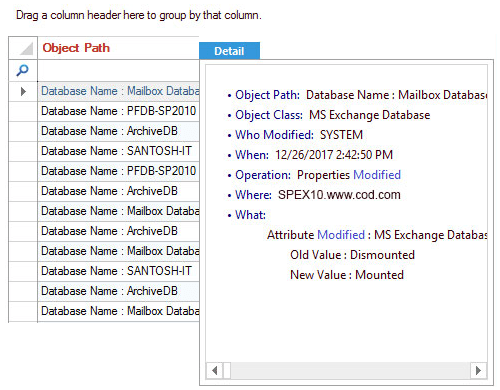 Protect Core Systems – On-Premise and in the Cloud
You can also integrate with any of your favorite apps or SIEM solutions for even wider coverage.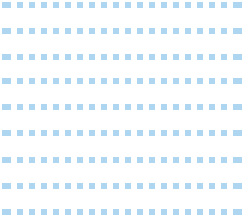 Ready To Start Using Lepide?
We offer a fully functional free trial that runs for 15-days with no obligation at the end. If you don't want to trial the solution, you can schedule an in-depth, personalized demo by clicking on the link below.
START FREE TRIAL
Schedule a Demo