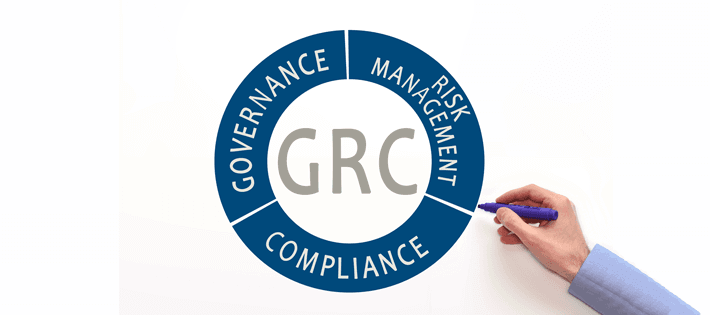 Before reading this article, you may be asking yourself: Do I even need a GRC solution? The simple answer is yes.
An ever-changing regulatory landscape, combined with numerous high profile security breaches, has helped create awareness amongst companies about the critical role GRC solutions play. Not employing GRC solutions could leave your network environment without the flexibility needed to keep exposure and vulnerability in check.
In this blog, I'll explain how Lepide Data Security Platform enables you to diagnose security and compliance risks with ease.
The key concepts
GRC refers to a managing strategy which encompasses corporate governance, risk management and compliance with regulatory requirements. The three pillars of GRC can be further explained as follows:
Governance involves an overall management approach used to direct, monitor and manage a company effectively for the achievement of an organization's objectives. It includes a set of policies, rules and procedures that are implemented across multiple lines of business.
Risk Management includes a set of methodologies and frameworks to identify, analyze or mitigate the security threats in an organization which might affect its normal functioning. Such processes are critical, as they help in identification and mitigation of such risks that can hinder the achievement of the company objectives.
Compliance involves a company conforming to a set of processes and requirements as defined by laws, policies, contracts, strategies and others imposed by governmental bodies, industry mandates or regulators. It is needed for the smooth functioning of business operations, data retention and business practices. All compliance regimes and control frameworks are handled under this.
An Integrated GRC strategy
Those organizations fully employing GRC strategies are capable of identifying and analyzing the factors that are critical in managing and controlling enterprise risks. Implementing an integrated GRC approach ensures:
A Central platform that helps in having a common understanding of how the organization operates.
IT resources are used effectively and efficiently with optimal investments.
Relevant best practices are implemented, and all redundant work is eliminated.
Confusions due to duplicate work and different processes are reduced.
Management capabilities are well-managed and up-to-date.
Addressing issues in GRC
With data management tides on the rise, securing data and remaining compliant has become difficult. I've highlighted a few critical GRC issues that I see plaguing many organizations to this day:
A non-integrated approach
Enterprises are bombarded with new regulations seemingly every year. Often, the only way organizations can comply with these complex regulations is on an ad hoc basis, as they simply do not have the resources. Whilst this can work in the short term, if you have the time and patience to do it, it does nothing to mitigate risks in the future. Adopting an integrated approach, on the other hand, enables organizations to be responsive and transparent.
Functioning in silos
In most cases, each business unit has its own set of objectives, which leads to a mismatch at different levels within the organization. Developing a comprehensive framework can be difficult without a single approach to GRC. It is vital to have a single view across the whole organization, in which everyone can achieve the same objectives that help in adapting to the dynamic and accelerated pace of any business.
Complying with regulatory requirements
It can be a daunting task to stay compliant with the growing number of regulatory requirements out there. In organizations where GRC is not a part of the culture, it can be even more challenging. Adapting and complying with ever changing regulatory requirements is easier with a comprehensive framework based on a single view of an organization.
Technological advancements
There has been an impressive growth in technology over the past few years, and most businesses have benefited from this progress. The challenge now comes from developing a technically flexible framework capable of handling the evolving regulatory landscape across various business channels.
Changing the mindset
Compliance and risk management should be taken seriously at every level of your enterprise. Unless (and until) the highest-level executives take governance culture seriously, nobody else will. Set an example by embracing GRC strategy at the top level and you'll see this filter down to all other levels in the organization.
Rise in cyber-security risks
The rise in the number of cyber attacks is a growing concern for all organizations, due to the far-reaching consequences. Not being able to secure your resources against insider threats and external hackers has a monumental effect on progress and sustainability. Enhancing risk management by getting a better idea about risk exposure, helps create new processes to deal with new risks.
Telltale signs your organization needs a GRC Solution
Let's take a look at some of the signs which could suggest your company needs a GRC solution as part of your overall business strategy. You may need a GRC solution if:
You have an extremely regulated work environment with complex regulatory requirements.
Your company has numerous sites, offices, plants and facilities which need central coordination and reporting with common standards and methods.
Your organization has high operational complexity.
You have a low-risk appetite or "risk tolerance".
You struggle to deliver timely, accurate and regular event reports.
You are unable to adapt to changing regulatory and risk environments.
You find that the cost of risk and compliance management has increased more than you can justify.
Using Lepide Data Security Platform to help meet compliance demands
Lepide Data Security Platform, being one of the most comprehensive auditing solutions on the market, enables you to employ a continuous change auditing and reporting strategy that ensures that you know what's going on in your network.
It enables you to meet compliance standards (including PCI, HIPAA, FISMA, SOX, GLBA, and GDPR) easily through pre-defined reports. The real-time and threshold-based alerts delivered also help you spot insider threats, detect data leakage, combat ransomware spread and prevent privilege abuse. So, sit back, relax and let Lepide Data Security Platform do the work!