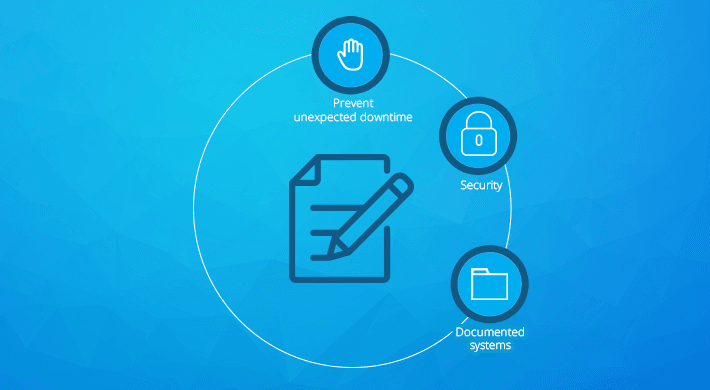 In many organizations, servers are managed without any oversight, and this often leads to unwanted configuration changes. Here are three reasons why you should consider implementing change control in your business, no matter how large or small.
Change control is a business process that aims to ensure a systematic approach is taken to making configuration changes to IT systems. But many organizations don't have a process for managing IT change, which can disrupt critical line-of-business systems. Change control is facilitated through Requests for Change (RfC), which document proposed changes, describes why they are necessary, shows that they've been tested, outlines the potential risks of making the change, and provides a rollback plan should there be unexpected issues.
But it doesn't have to be that complicated. A small business could reduce the documentation requirements by revoking administrative privileges from IT staff so that critical changes can't be made without manager approval, while delegating permission to perform everyday maintenance tasks, such as supporting end-user devices and managing user and group objects in Active Directory.
1. Prevent unexpected downtime
Whenever a problem arises, whether it's with a single PC or distributed cloud-based application, the first troubleshooting question you should ask is 'What's changed?'. IT systems don't just stop working, there's always a reason, and the first place to start looking is who changed what in the hours leading up to the outage. A change on one server could lead to disruption in service on another, and even if only a single server is involved, unplanned changes can lead to outages.
2. Security
Getting security right is hard, and it's always a fine balancing act between usability and security. But allowing IT staff to make unapproved changes to servers can unintentionally expose systems and sensitive business data to security vulnerabilities that were otherwise impossible, or at best difficult, to exploit.
3. Documented systems
Supporting properly documented systems is easier than dealing with an unknown quantity. If you know what changes have been made, decisions can be made on further changes, and you can make more educated guesses about where to start your troubleshooting efforts should there be an issue.
Even if your servers where not documented from the get go, documenting any changes going forward will put you in a better position to support those systems and upgrade them when necessary.
Prevention is better than cure
Preventing unwanted change is the best course of action, but some things are out of our control, such as changes in the hardware environment, or automated scripts that apply updates or perform maintenance tasks.
To get a better insight into what's happening in your IT systems, use Lepide Data Security Platform to monitor changes across any on-premise or cloud platform.