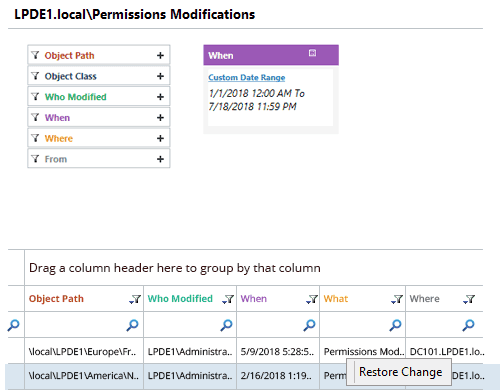 Audit and Reverse Active Directory Permission Changes
Whenever permissions change, you need to be aware of it. Our Active Directory auditing solution keeps track of every permission change in the Active Directory, records it in its granular reports, and sends real-time or threshold-based alerts for such critical changes. It also allows you to view all permissions to an object and compare the permissions of an object between two dates. All effective permissions held by an Active Directory Object are also displayed. You can also conduct historical permission analysis between two specific time intervals. You can easily reverse the unwanted permission changes to an ideal state (that you have defined and captured earlier).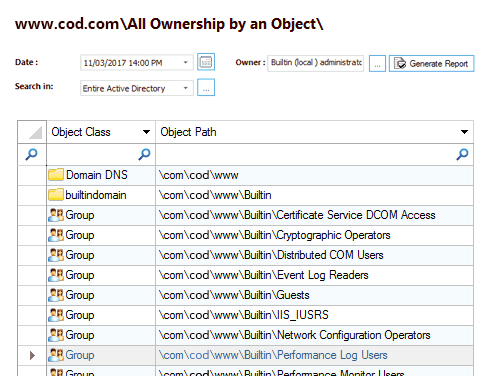 Audit Active Directory Security Settings
Lepide Active Directory Auditor offers you dedicated reports to help keep track of the security settings of Active Directory objects. In addition to permissions, you can also compare audit settings, and ownership of an object between intervals. You have the option to track all changes made in audit settings and object ownership, and also view them on any particular date. Our solution lets you search for an object in the audit entries or see a list of owners of a selected object.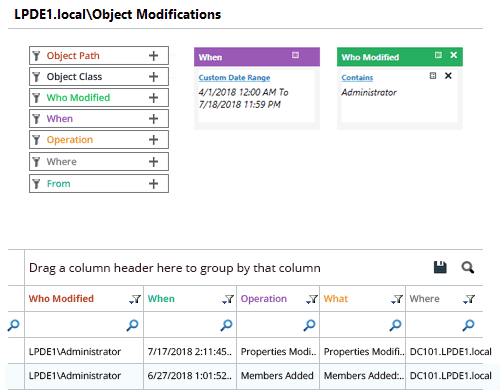 Active Directory Privileged User Monitoring and Audit
Lepide Active Directory Auditor lets you track the members of administrative groups in Active Directory to give you a clear picture of the privileged users. Our solution also offers a way to track all activities of Active Directory privileged users and sends real-time or threshold-based alerts for any critical change made by a privileged user account.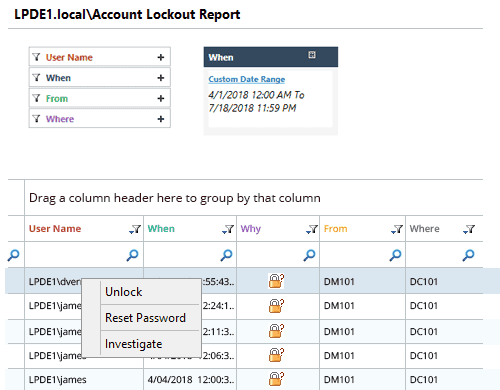 Audit and Troubleshoot AD Account Lockouts
In any IT environment, it is advised that you lock accounts that are inactive for a long period of time or on which suspicious activities were taking place. However, locking an Active Directory user account can impact other activities linked to that account, which could be a mess left to the IT team to clean up. Lepide Active Directory Auditor comes helps you better handle user account lockouts, by auditing the account lockouts and providing the option to unlock or reset their passwords. You can also investigate which tasks, services, or processes will be impacted because of this account lockout.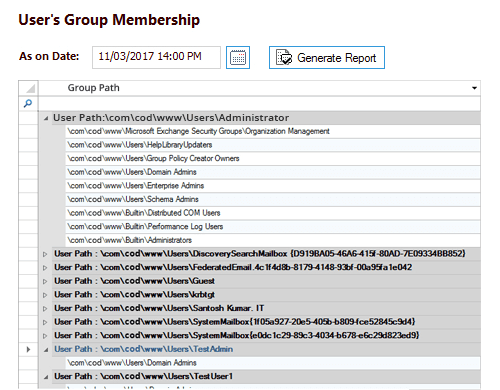 Active Directory Objects' State Reports
Lepide Active Directory Auditor periodically captures backup snapshots of Active Directory objects and saves their state. You can use these snapshots to generate historical reports on the state of users, groups, computers, and organizational units (the four important objects) at any given point in time. It gives you a clear picture of exactly when any of these objects were created or modified and what it's properties are.
‹
›