Start My 15-Day Free Trial
Using LepideAuditor for SOX Compliance Management
SOX, also known as the "Public Company Accounting Reform and Investor Protection Act" and the "Corporate and Auditing Accountability and Responsibility Act", applies directly to service organizations. SAS 70 (Statements on Auditing Standards No. 70) framework was superseded by SSAE 16 (Statement on Standards for Attestation Engagements No. 16) to provide the framework organizations need to adhere to SOX Compliance. On 1st May 2017, SSAE 16 was replaced by SSAE 18 (Statement on Standards of Attestation Engagements No. 18). To meet IT standards of SOX, organizations must regularly audit their entire IT infrastructure and keep a record of all changes made. Auditing Windows Server, Active Directory, File Server, and other server components natively is a very complex and time-consuming process. For instance, an IT Administrator could waste a full working day tracking just user logon and logoff activities due to the volume of data they will need to sift through. With over 270 pre-defined reports, LepideAuditor gives IT teams the power to easily adhere to the requirements of SOX compliance.

Over
5,000
Organizations Use LepideAuditor to Meet
Regulatory Compliance Mandates


How We Help in Meeting SOX Compliance Mandate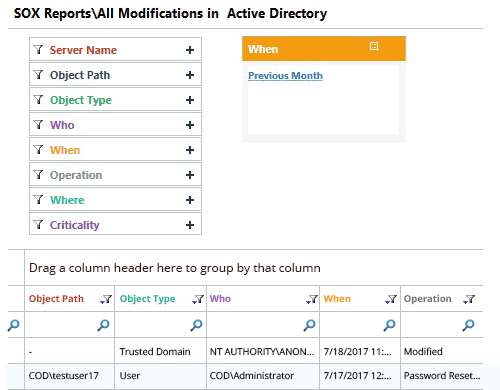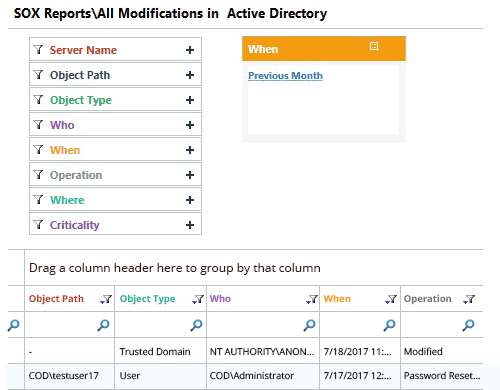 Monitor All Changes in IT Environment
Organizations are required to audit all aspects of their IT environment; including Active Directory, Group Policy Objects, Exchange Server, SharePoint, SQL Server and File Server, NetApp Filer, Office 365 and Dropbox. Native auditing suffers from numerous drawbacks that can be difficult to overcome, such as creation of multiple event logs for a single change, the absence of pre-defined reports and more storage consumption. LepideAuditor helps you overcome these limitations and provides continuous auditing of these server components from a single dedicated platform. It can also be configured to notify you of critical changes in real-time through email or push-notifications to the Android/Apple App.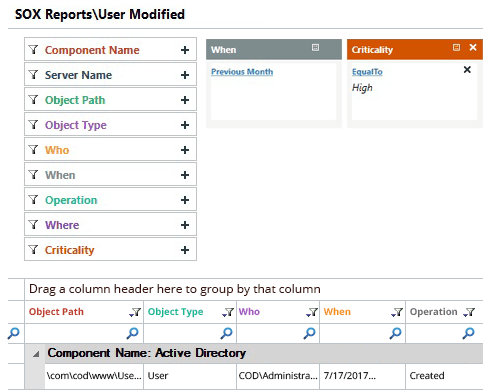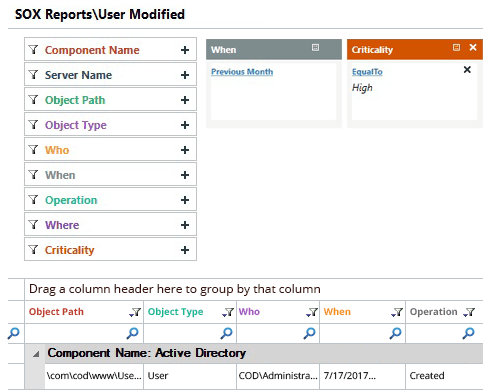 Audit Changes in Users of Financial Data
Changes in the accounts of users that process Financial Data should be properly audited. Any critical change in their configuration should be immediately brought to the attention of IT administrators. Our solution monitors every change made in the configuration of Active Directory users, Exchange user mailboxes, SharePoint users and SQL users. It also tracks all changes made in user permissions for all vital server components.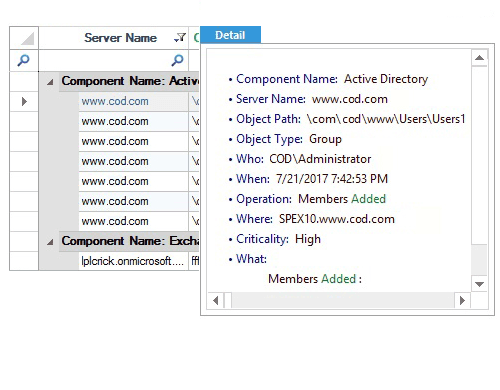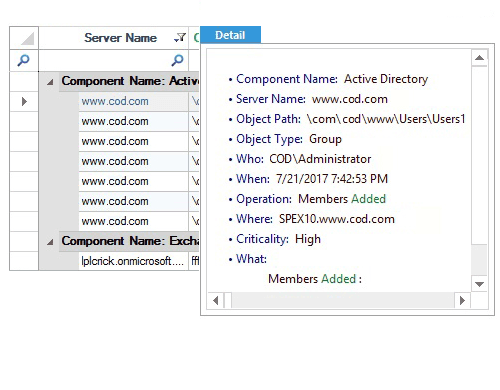 Audit Changes in Groups of Users
User Permissions are generally delegated by group memberships. Therefore, a sudden new membership could lead to full administrative privileges being given unexpectedly to a regular user account. To prevent this obvious threat to security, it is required to track changes in groups and their memberships. Predictably, native methods can be very complex when it comes to tracking these changes. LepideAuditor, however, tracks and alerts on all changes made in groups and group memberships automatically.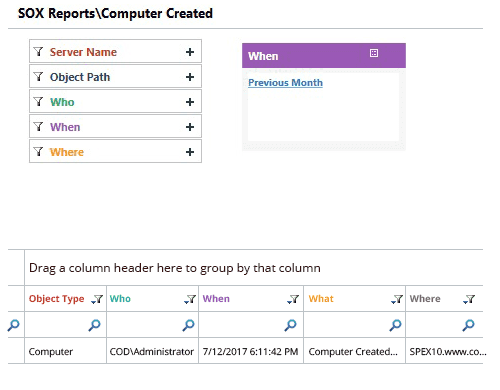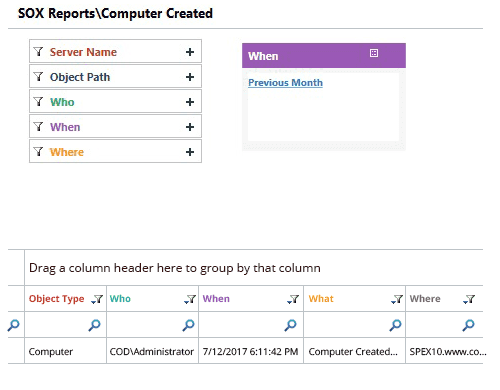 Audit Changes in Computer Objects
Computers are configured as objects in Active Directory so that they can be a part of organization's network. An unwanted change made in the configuration of computer object can disconnect that computer from the network; blocking it from accessing the network resources, server programs and data. LepideAuditor audits all changes made in the configuration of computer objects and sends real-time alerts to selected recipients via email and push-notifications to the LepideAuditor App.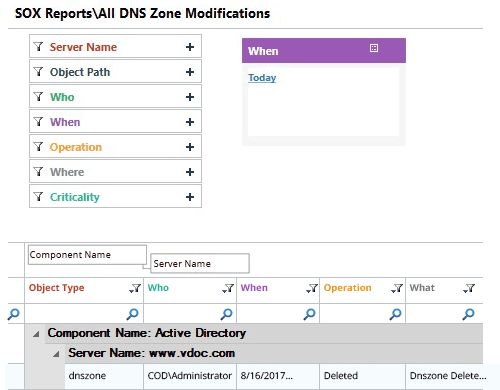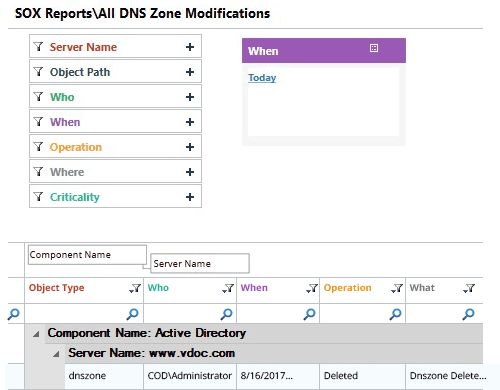 Audit Changes in Windows Server
If the configuration is wrong, the Windows Server operating system can malfunction. If the Operating System is experiencing problems, then all services, data and user authentication hosted through the concerned primary domain controller may be unavailable. This downtime can be damaging to the organization. To avoid such issues, it is recommended to audit all changes made in the configuration of Windows Server; such as changes in the NTDS folder, Sites, subnets, Schema, DNS Zone, or other AD Configuration changes. LepideAuditor does this all with its pre-defined audit reports. It also takes regular backup snapshots of the state of Active Directory objects and Group Policies, which can then be used to restore unwanted changes and deleted objects.
❝
LepideAuditor is simple to install and setup and is an easy-to-use solution for auditing your IT environment.
Ahmed Nabil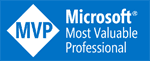 ❝
LepideAuditor takes the strain out of change auditing and regulatory compliance with one of the most comprehensive solutions on the market.
IT Security Guru


❝
It's rare to find a solution which covers a such a wide range of auditing services, but 'LepideAuditor' is one of those rare exceptions.
Mahdi Tehrani

Active Directory Lead
❝
LepideAuditor is one of the most simple to use and feature-packed security suite for Microsoft-based environments. If you fear security breach, this is one of the most essential security perimeters.
Erik Blum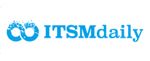 ❝
LepideAuditor is an excellent audit solution. It gives IT teams complete information about what's happening in the IT systems, the health of their servers and backup history.
Prajwal Desai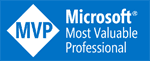 ❝
The LepideAuditor is an invaluable toolset for any System Admin to audit Active Directory, Group Policy and Exchange server changes.
Marius Ene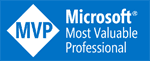 ❝
I really enjoyed the way LepideAuditor performs to audit the changes made to Active Directory and Group Policy Objects. I will certainly recommend it to anyone who is looking for an easy-to-use third party auditor.
Roman Nedzelský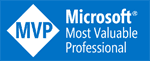 ❝
LepideAuditor is highly recommended as it not only meets all requirements for Active Directory and Group Policy change auditing but also it is easy and friendly to use.
Roberto Di Lello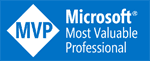 ❝
LepideAuditor is an excellent auditing solution. Some key features of the solution are compliance reports, health monitoring, alerts/notifications and the backup/restore functionality.
Mayank Dhama

IT Expert
❝
LepideAuditor honored as Gold winner in the 12th Annual 2016 Info Security PG's Global Excellence Awards® in 'Auditing'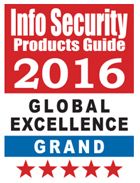 ❝
LepideAuditor is a solid product that will likely do a good job for anyone who wants to know what administrative actions are being taken in their organization.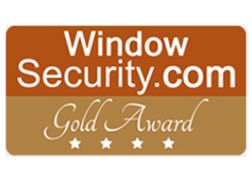 ❝
LepideAuditor received a gold certification in data loss prevention.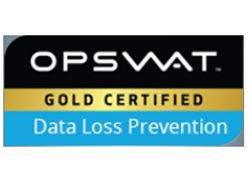 ❝ LepideAuditor has brilliant search capabilities and was easy to use from the perspective of a non-technical end user – highly recommend it.❞

❝ LepideAuditor provided us with complete visibility over what was happening in our IT environment in a simple, cost-effective and scalable way.❞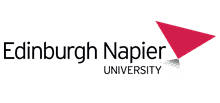 ❝ We're very pleased with how much more insight LepideAuditor gave us and impressed with the attentive customer service they provided.❞

❝ LepideAuditor takes the strain out of change auditing and regulatory compliance with one of the most comprehensive solutions on the market. ❞

More from Lepide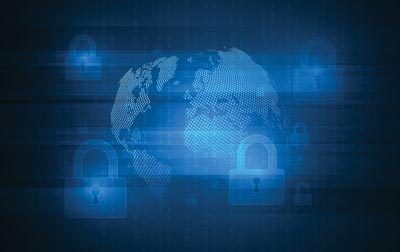 Blog
Top 5 Human Errors That Could Lead to a Data Breach
The blog explains five most cited examples of erroneous behavior that might compromise the integrity of our security posture.
Learn More ->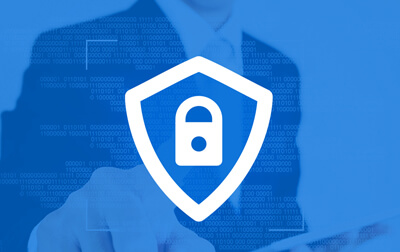 Whitepaper
How CISOs Can Win Over the Board on Cybersecurity Strategy
In this whitepaper, we have put together a list of tips and tricks to help CISOs communicate effectively with the board on cybersecurity strategy.
Learn More ->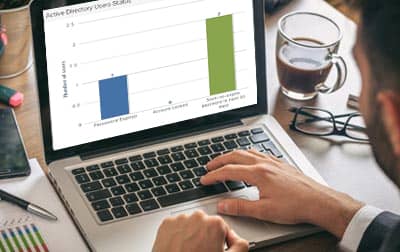 News
"On the Fly" Classification Introduced into LepideAuditor 19.1
The latest version of LepideAuditor introduces key new functionality to help users with data discovery, classification and user/entity behavior analytics.
Learn More ->