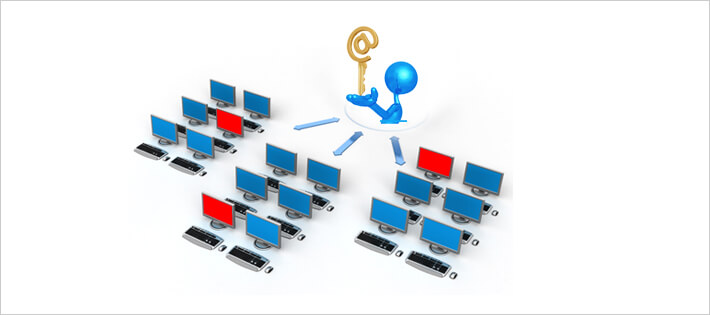 Managing provisional requests of end users in a large network managed through Active Directory service can become overwhelming for IT administrators at some point of time. In an enterprise environment, to optimize the processes and reduce the dependency on admin staff, deploying a self service portal system would be the best possible solution.
Microsoft's System Center Service Manager (SCSM) is an integrated platform developed for automating IT service management and delivering a responsive support for Active Directory self service. Through the self service module of SCSM, some of the biggest challenges of providing high level service to the AD end users can be easily met.
Firstly, SCSM reduces the risk of unauthorized configuration changes to user devices, thereby, preventing compatibility issues, service disruption and data loss for users.
Second most important thing about SCSM self service portal is that it reduces the overall cost of help desk support which adds up to a significant percentage of the budget. However, with SCSM, users are provided the authority to manage their own accounts
The self service portal of Service Manager offers high end user satisfaction in terms of software provisioning, service requests, access to resource base and IT announcements. Through this portal, active directory users easily access information and resources, in turn decreasing the number of calls to the service desk. Following are the benefits that AD users receive with service manager self service portal:
Search through announcements and knowledge base for information about their issues
Raise incident tickets and open, close or view the incident status
Request installation or self-provision of software on their devices with minimum IT involvement
Reset passwords of their accounts (only when SCSM is integrated with Microsoft Identity Lifecycle Manager)
Nevertheless, Microsoft's Service Manager has its own set of limitations that force AD administrators to look for other third party solutions like Lepide Active Directory Self Service.
A major disadvantage is that the SCSM portal is quite slow. Actually, the self service portal is built as an ASP.Net that runs as an application on IIS (Internet Information Services). IIS web sites run using an application pool and it is possible that in a single "App pool" many applications may be running at a single time. What makes the self service portal slow is a setting in IIS which states that the App pool will get recycled after a configurable period of inactivity. Since the SCSM portal gets recycled whenever it is not being used for a long duration, the App pool forces a JIT compile because of time out. So the first time a user accesses the portal after the App pool gets recycled, it takes a long time for compilation.
Furthermore, end users are only able to open, close and view their incidents through this portal, not update them. To update user incident, via the end user portal, customization is required and for that Microsoft has released a new source code (version SCSM 2010 R2). Without upgrading to this version, incident updation is not possible through SCSM self service portal.
In lieu of SCSM, Lepide Active Directory Self Service tool offers better scope for Active Directory self service management. This tool comes with features which allow end users to update their AD profile, update their incident tickets, reset their account passwords and unlock their user accounts, all from a single user module. Moreover, this software offers some additional features like automatic account unlock, automatic password reset and report generation, thus helping both AD administrators and users.