Upcoming Webinar - Why the CISO Needs to Take a Data-Centric View on Security April 22 at 2 pm EDT
Register Now
✕
|
sales@lepide.com
|
+1-800-814-0578
|
Track Changes Made to Files and Folders
Electronic data is easier to manage than physical data, but in some ways, it is more vulnerable. Using Lepide File Server Auditor, you can not only deal with insider threats, but also address common regulatory compliance requirements. Our Solution gives organizations full visibility over the changes made to their Windows File Servers and NetApp Filers. IT Administrators can audit changes in File Server to get answers to common auditing questions (who, what, where and when). They can easily track and compare files and folders permissions on file servers.
"Environment visibility at a glance. The real time alerting, and
live feed of changes are awesome."
Lepide is straightforward to use and effective right off the bat. Plus, the level of patience, attentiveness and technical knowhow is far beyond most support and sales teams I've seen before.
Drayke Jackson

Security Engineer
We chose Lepide as they were able to offer us threat detection and response, and a way of separating out reporting duties to a web console – all from one platform.
Kevin Gallagher

Senior Systems Administrator
Lepide is a perfect fit for our IT Security and Compliance requirements. It helps us cut out a lot of wasted time and money and now we know we can be compliant with industry standards.
Agnel Dsilva

Information Technology Administrator

How We Track File Server Changes
Tracks All Changes Made to Files and Folders File or Folder Created File or Folder Renamed File or Folder Modified File or Folder Moved File or Folder Deleted File or Folder Copied A single-line record of the change is shown in the reports. Just by looking at a record you will understand who made what change, where and when. We also give the details such as time, drive, folder name, file name, process and event details. Delegate the rights to selected users to view the selected reports in a Web-based secured console. You can also schedule it for auto delivery in CSV, PDF, or MHT format through your email or by saving at the shared location.
Real-time Alerts for the Critical Changes Lepide File Server Auditor delivers real-time alerts for more proactive and accurate reporting. These are delivered whenever any critical change in the files or folders is detected. You can improve the alerting mechanism with advanced filtration and threshold limits. These can be accompanied by your customized scripts that will automatically perform any action; including disabling a user account or removing the permissions of a user.
Granular Change Reporting All changes to files and folders are recorded in a SQL Server database and displayed in predefined audit reports, which can be customized with filtration, search, sorting, grouping by and other options. These reports can be saved manually and scheduled to be delivered through email or via saving at any location at periodic intervals. You can create a customized version of any modification report to focus only on specific files, folders or operations. These reports can also be delegated to be accessed by users through a secured Web-based console.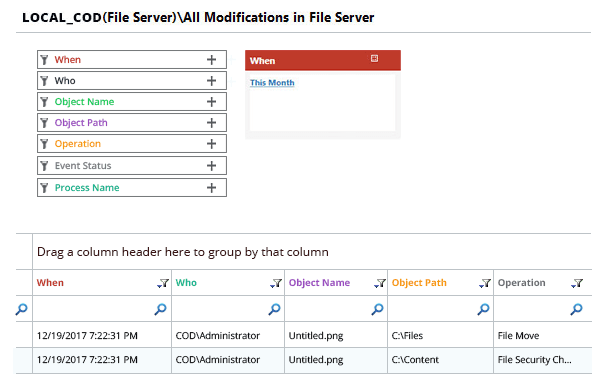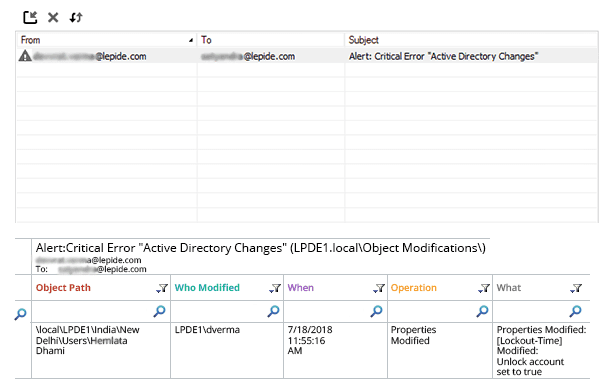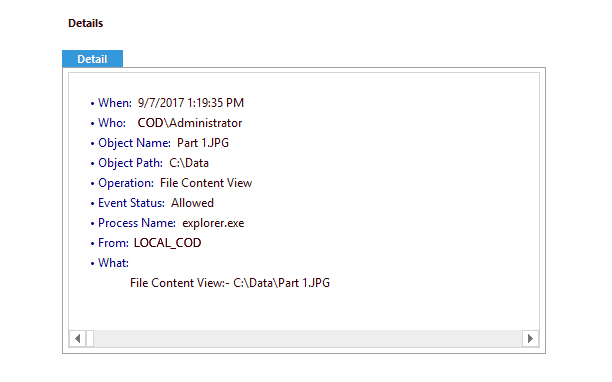 Protect Core Systems – On-Premise and in the Cloud
You can also integrate with any of your favorite apps or SIEM solutions for even wider coverage.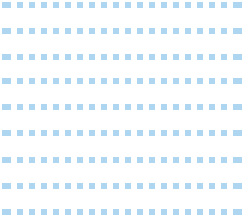 Ready To Start Using Lepide?
We offer a fully functional free trial that runs for 15-days with no obligation at the end. If you don't want to trial the solution, you can schedule an in-depth, personalized demo by clicking on the link below.
START FREE TRIAL
Schedule a Demo