Active Directory Cleanup
Unnoticed obsolete Active Directory accounts are a big threat to network security but locating and managing them on a regular basis is a tiring task that uses up substantial resources, efforts and time of IT staff. Opt for the simplified method to keep Active Directory clean without IT staff involvement and do away with inactive and obsolete accounts on regular basis with LepideAuditor Suite. LepideAuditor Suite is a complete AD cleanup solution that simplifies obsolete account detection in Active Directory and helps to manage them through automated actions i.e. reset password, delete, disable and move inactive accounts to another OU. Routine cleaning of Active Directory is intricate and time consuming and thus the software provides the facility to automate and schedule Active Directory cleanup actions; just schedule required actions to and get the cleanup done at regular intervals.

"LepideAuditor is straightforward to use and effective right off the bat. Plus, the level of patience, attentiveness and technical knowhow is far beyond most support and sales teams I've seen before. "

"While price was a factor, we ultimately chose Lepide as they were able to offer us threshold alerting, a way of separating out reporting duties to a web console and a site license with extended support and maintenance. "

"LepideAuditor is a perfect fit for our IT Security and Compliance requirements. It helps us cut out a lot of wasted time and money and now we know we can be compliant with industry standards."

"All the features that LepideAuditor has are simple to use and give us all the information we need to know that our data is secure and that we can be compliant with industry standards."

"LepideAuditor is a very helpful means of monitoring the activity around our valuable data and core infrastructure. The audit logs are structured in a presentable format via intelligent reports."
How We Cleanup Inactive Active Directory Accounts
Find Inactive User Accounts Easily locate user accounts that are obsolete or not in use for a long time. Define inactivity period to consider any user account obsolete or inactive and remove, disable or move them to another OU, as required.
Get a Quick Overview of Your Entire Network Get an idea of all inactive users and computers within entire network with Dashboard. Dashboard provides quick overview of users and computers that are inactive for a certain period i.e. 30, 60 and 90 days.
Manage Your Inactive Accounts Simplify inactive or obsolete account management by performing various actions, as required:

Delete accounts that are obsolete

Reset passwords of inactive accounts to avoid misuse and unauthorized access

Disable inactive accounts that are currently inactive

Move inactive accounts to another OU

Schedule and Automate AD Clean-up Actions Schedule and automate the tasks of setting password, disabling, moving or deleting inactive accounts and maintain clean and secured Active Directory.
Generate Comprehensive Reports Get comprehensive reports on inactive accounts, never logged on users and real last logon details of accounts. Reports can be generated for the required period and sorted or filtered for more precise details. Like Active Directory cleanup actions, reports can also be scheduled on daily, weekly and monthly basis and mailed to intended recipients in CSV, HTML and PDF format.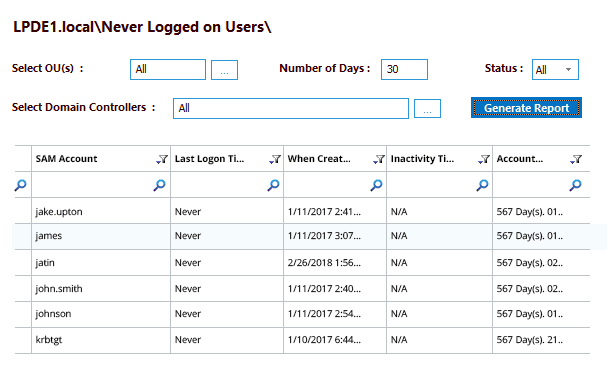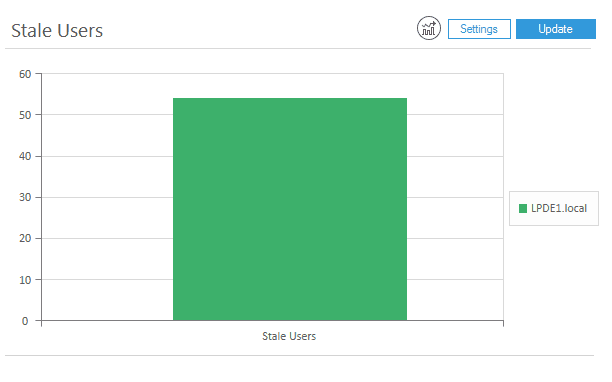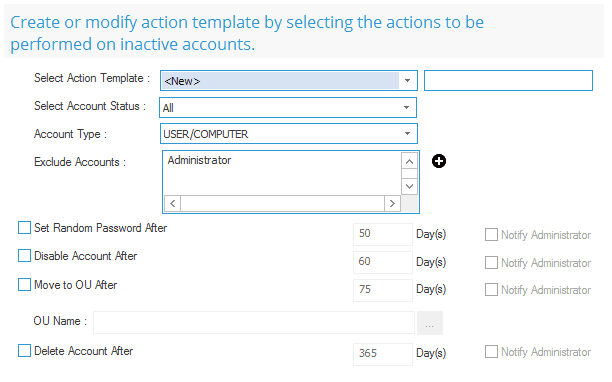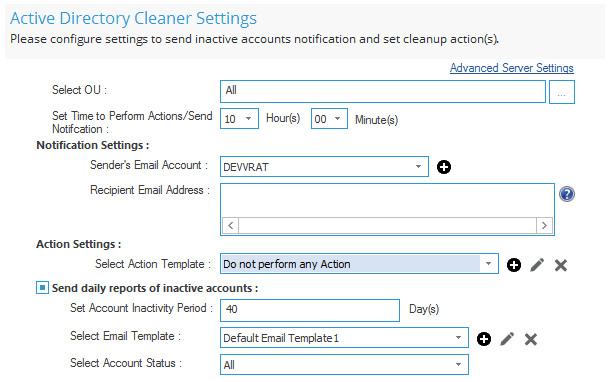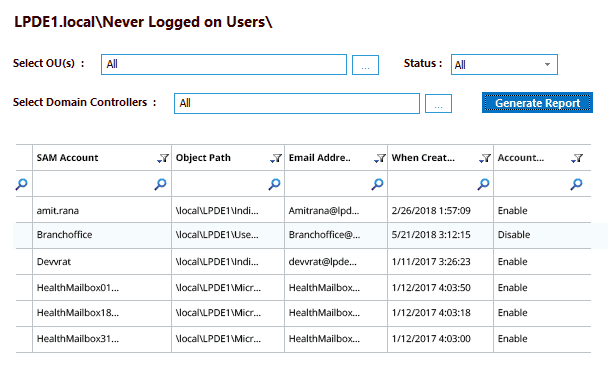 Protect Core Systems – On-Premise and in the Cloud
You can also integrate with any of your favorite apps or SIEM solutions for even wider coverage.
Ready To Start Active Directory Cleanup?
We offer a fully functional free trial that runs for 15-days with no obligation at the end. If you don't want to trial the solution, you can schedule an in-depth, personalized demo by clicking on the link below.
START FREE TRIAL
Schedule a Demo