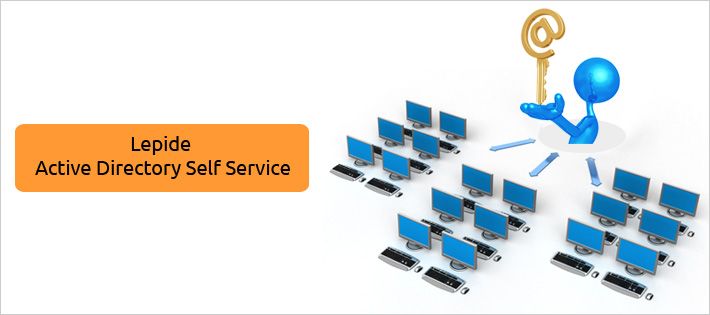 Active Directory is used for an array of network services to store information and data related to network and domains. Active Directory utilizes central database and enables administrators to assign policies, share software and perform critical updates for entire organization. Active Directory may consist of thousands of users and different domains and can be small, large or anything in between. AD controls access and sets security wall therefore, any unauthorized access can prove fatal for the information system of the organization.
Mentioned below are the reasons and AD management complexities that force an organization to use Active Directory Self Service:
Eliminate HelpDesk Tickets- Usually, domain users raise ticket when they come across account lockouts or at times when they need to update their personal information. Users raise tickets which first goes to managers and after their affirmation, these tickets reach helpdesk technicians who offer solutions to all tickets. This lengthy procedure is totally eliminated by Active Directory Self Service thereby eradicating HelpDesk expenses as the end users perform self password resets and account unlocks.
Real time user information update – Active Directory Self Service helps a user to update their personal information such as address, phone number, email id etc without having doubts about security.
24X7 Access – Its web-based interface ensures 24 X 7 access which allows the users to reset a forgotten password and unlock account without any outside assistance at any time of the day.
Reduces frustration – In a typical working scenario, user as well as technicians often face typical delays, frustration and loss in productivity due to system downtime or password reset request. Active Directory Self Service not only reduces the burden from helpdesk but also helps them in working with minimum delays.
Deploy resources for better tasks – Active Directory Self Service reduces the routine password tickets and enables the technical staff to serve better productive purposes and enhance value to organization. This feature makes the technicians avoid repetitive tasks and helps them to get engaged in more challenging tasks. All these changes bring a sense of responsibility amongst the helpdesk technicians and supports growth to the technical resource.
High ROI- The software is designed to reduce the load from helpdesk and therefore helps an organization to in-turn reduce costs for workforce. Additionally, domain users performing self account unlocks and self password resets beats system downtime and increases productivity thereby increasing return on Investment.
Tracking accountable users – Each and every action performed through Active Directory Self Service is stored as a log database. The reports regarding actions performed can be checked and accountable users can be easily tracked down.
To put AD self service into practice, a centralized platform is required from where the admin can assign permissions and authority to AD users. Lepide Active Directory Self service provides the organization with that centralized platform and helps to maintain a simplified as well as secure AD self service structure.